10 Best Tools & Services for Digital Marketers
There are so many digital marketing tools in the market which makes it very difficult to choose the right one for your business. Here we present our list of best tools in the market which could be useful for digital marketers and other business owners and entrepreneurs.
SEO tools
1) Google Keyword Planner
One of the best free keyword research tools in the market is Google Keyword Planner. Although the main goal of the tool is to be used for PPC campaigns of Google Adwords ads, but many people use this keyword tool to find relevant keywords for their niche and website keyword optimization.
For more advanced SEO services such as on-site internal linking, SEO content strategy, local search marketing, etc. you could consult with an SEO company to get more expert advice.
2) Ahrefs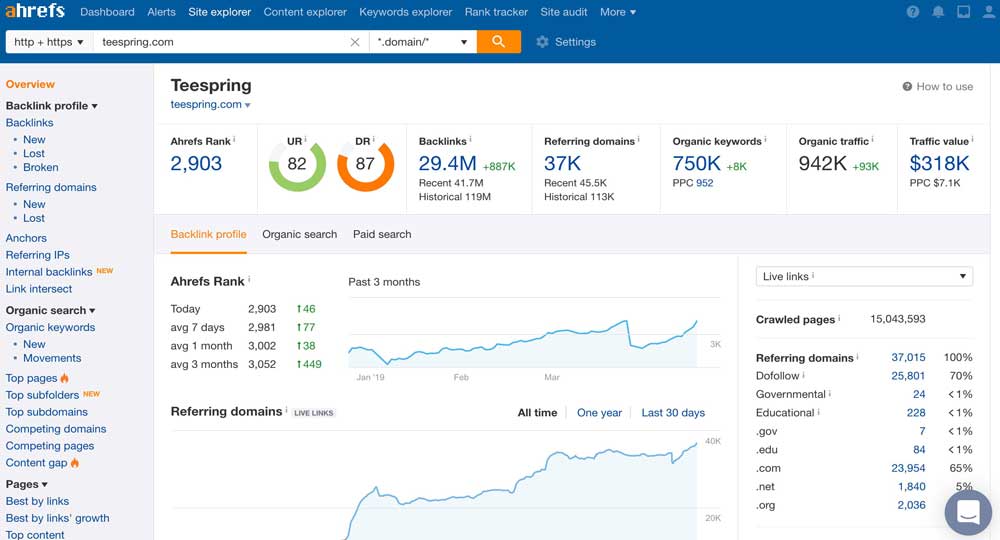 If the basic features of a keyword tool like Google Keyword Planner aren't enough for your needs, then we recommend Ahrefs. It contains lots of advanced keyword and backlinks features which could be helpful for many digital marketers in order to optimize and enhance their site performance in the eyes of search engines.
Ahrefs provides limited features with its free plan while more tools and advanced options could be found within higher plans which could cost $99/month or higher.
Social media marketing tools
3) Hootsuite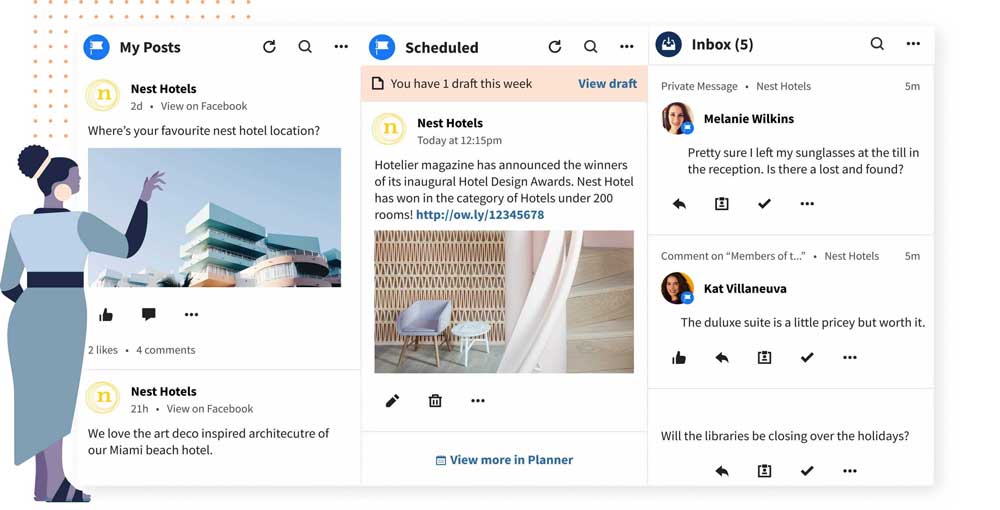 Hootsuite is a popular and powerful solution for social media networks management. Social media content – which is stored in and accessible through a cloud – could be posted by members anytime through the interface. Users could also schedule to publish multiple posts at the same time.
Content performance could also be tracked using Hootsuite. For instance, public conversations, conversions and ROI about a specific subject or your brand could be tracked or calculated using the tool.
Several pricing plans are provided, starting from $29/month to $599/month.
4) Buffer
Another great tool for social media management is Buffer, which has a simple and clean interface. Also, when it comes to doing social media tasks, users are provided with lots of advanced options by Buffer.
The tool tries to offer complete solution for social media management needs: users could make and schedule social media content, use smart analytics to track post performance, and take advantage of the inbox for followers engagement.
Most well-known platforms for social media such as Pinterest, Instagram, Linkedin, Facebook and Twitter are compatible with Buffer.
Buffer offers free plans as well as paid memberships which could cost as much as $99/month.
Content marketing tools
5) Clearscope
Producing content is really easy when you could get help from a content optimization platform such as Clearscope.
Primary and secondary keywords could be researched and obtained from the service. Furthermore, keyword placements and density for your content will be suggested by Clearscope too.
And in order to better integrate with other platforms, there are plugins for WordPress and Google Docs which make using this content tool even easier.
Clearscope comes with custom plans and $350 is the lowest amount which customers are charged per month.
6) BuzzSumo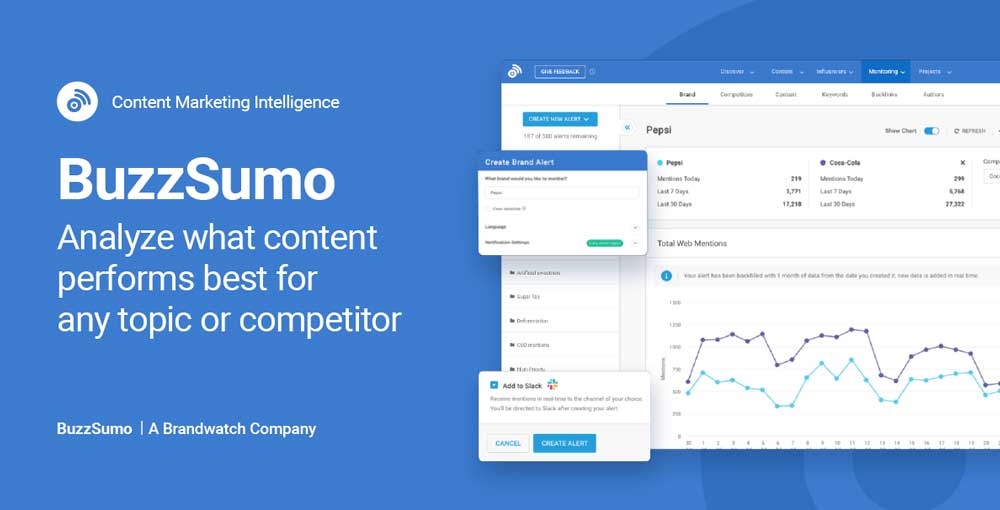 Another great content platform which could be used for promotion and research of the content is BuzzSumo.
For those wanting to discover the content which could get plenty of likes and shares, BuzzSumo could be the right tool. It also allows you to see the trending content on Facebook, using the Facebook analyzing option.
Moreover, finding top influencers on social networks such as Twitter and Facebook is possible using BuzzSumo. After that it's a lot easier to connect with those influencers in order to make and promote content with a great amount of leads and traffic.
Users have to pay $99 to $499/month (or higher) depending on the plan they choose.
Design tools
7) Crello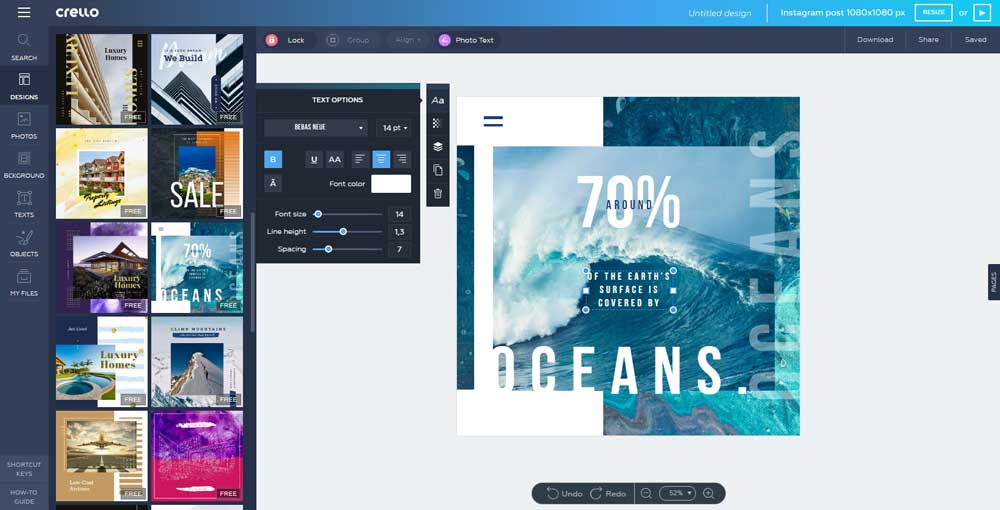 If you're looking for a designing tool which could cover your needs for web and social graphics and animations, then Crello could be a great choice for you.
Resumes, ad visuals, business cards, logos, email headers, and social media images are among the things you could design with Crello.
More than 30,000 templates are offered by the tool which could be optimized and customized by you according to your requirements. And those could be done easily using an intuitive and user-friendly editor.
Users have also access to a huge database of media including more than 140 million videos and images.
Two pricing plans are provided by Crello: free plan or $9.99/month plan.
8) Canva
Each day, millions of users use Canva for their image and video designing needs. The tool offers great features to design Facebook covers, YouTube thumbnails, social media posts, flyers, logos, posters, presentations and more.
Having access to over 60 million stock videos, photos, images, etc. and over 60,000 templates, users could easily create their favorite graphics and videos using the templates and other visual material provided by Canva.
Pricing plans include Free, Pro, and Enterprise. Paid memberships include more advanced features, templates and stock graphics, with a price tag of up to $30 monthly for each user.
Email marketing tools
9) Mailchimp
Email campaigns could be orchestrated and automated with a social advertising and email marketing tool such as Mailchimp.
Besides normal email marketing features, Mailchimp offers many more options like segmentation, ad retargeting, popup forms, survey forms, landing pages, and so on.
Another great advantage of using Mailchimp is its ability to integrate with many other platforms such as WordPress. This feature, along with the fact that the cost of using Mailchimp depends on the total contacts' numbers and starts as free, makes Mailchimp one of the most popular email marketing tools available.
10) HubSpot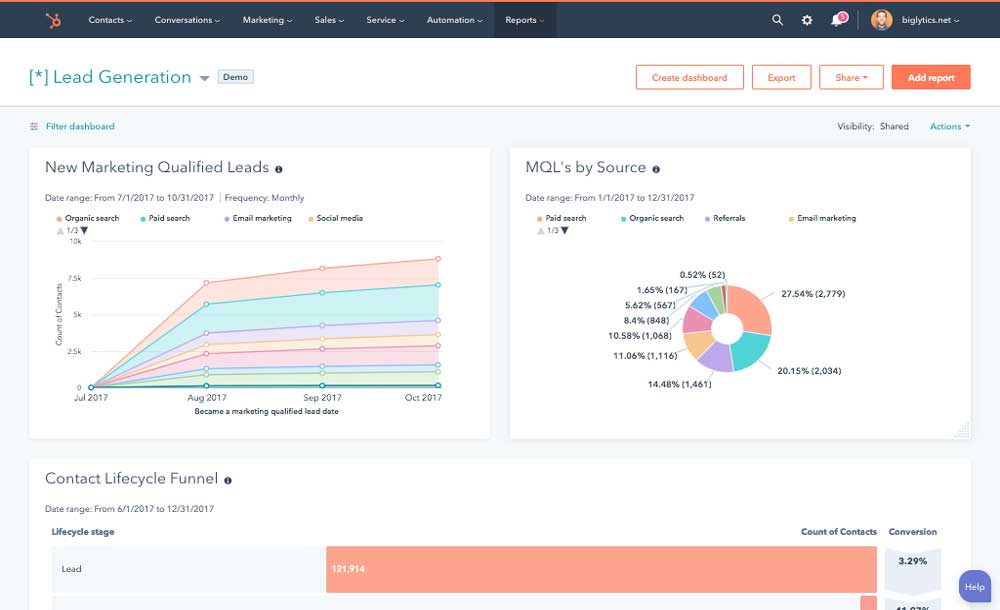 Hubspot offers a comprehensive marketing and sales software which includes several tools and features to grow and promote businesses.
Lead capturing could be done using its live chat feature, and popup forms and web forms could be created using the software. In addition, users could make email marketing campaigns, use free CRM to gather customers data and analyze the behavior of their site visitors.
Hubspot also offers automation features for sending emails, generating leads and segmenting lists.
Using Hubspot could be quite expensive with plans costing as much as $3,200 per month. It also comes with free plans as well.