EaseUS Data Recovery Wizard Review and Pricing (2023)
Many of us have been in situations in which we've lost some files and want to recover them whatever it takes, because those are so precious to us, or they contain our business information. EaseUS Data Recovery Wizard is a great software which could help users in these situations.
No matter how your files have been deleted – through just delete command, Shift+Del/Command+Del, or emptying recycle bin or trash, or maybe your system got formatted accidentally, or got infected by malicious virus or malware and lost some/all data – EaseUS undelete software could help recover your files and documents.
What is EaseUS Data Recovery Wizard?
The well-known business EaseUS, which specializes in data management solutions, created EaseUS Data Recovery Wizard, a flexible and potent data recovery program.
Users may use this program to restore lost, erased, or inaccessible data from a variety of storage media and file systems.
EaseUS Data Recovery Wizard aims to be the best program available for recovering your valuable information, regardless of whether your data loss resulted from malware assaults, formatting, unintentional deletion, or any other cause.
Features
When it comes to data recovery, speed is often of the essence. EaseUS Data Recovery Wizard performs admirably in this department. The software employs two scanning modes – Quick Scan and Deep Scan – to retrieve your lost files.
Quick Scan is lightning-fast and suitable for recently deleted files, while Deep Scan delves deeper into your storage media to find more elusive data. The speed of the Deep Scan can vary depending on the size of your storage device, so patience may be required for larger drives.
However, the trade-off is that it can recover files that other software might miss.
The true test of any data recovery software lies in its ability to recover a wide range of file types. EaseUS Data Recovery Wizard shines here, with the capability to retrieve documents, photos, videos, audio files, emails, and much more.
Whether you've lost an important Excel spreadsheet, a family album, or a critical project presentation, this software has got you covered.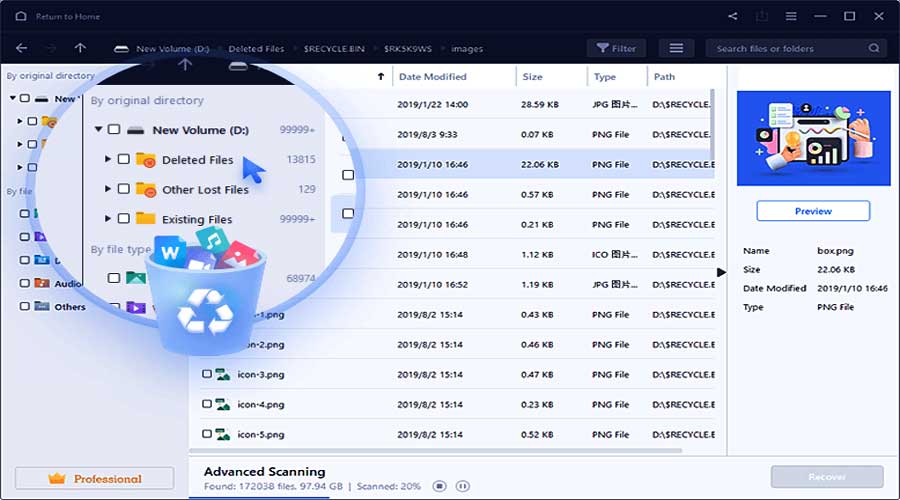 Other key features include:
EaseUS recovery software, undelete data from desktop computers, notebooks, laptops, servers, hard drives, memory cards, SD cards, USB drives, floppy disks, etc.
Compatible file systems include: NTFS, FAT 32, FAT 16, Ext3, Ext2, and HFS.
All types of file formats are supported. It means that using this software, users could undelete photos, videos, MS Word documents, audio and music files, pdf files, zip files, and other lost files.
The EaseUS application is able to recover data formatted, hidden, deleted, raw or lost partitions and volumes.
What types of files are supported by EaseUS Data Recovery Wizard?
This software offers a variety of file recovery functions, including basic undelete (whether accidentally or as a result of emptying the recycle bin) and retrieving data lost occurred by formatting a hard drive. EaseUS Data Recovery Wizard Pro can recover data from different storage devices such as USB drives, flash drives, SD cards, and SSDs.
A variety of file system formats are supported by the EaseUS Data Recovery Wizard, including NTFS5, NTFS, HFS+, EXT2/EXT3, and FAT, among other ones.
Unfortunately, ext2/ext3/ext4 disks aren't supported, which is a bad news for Linux users.
Does the EaseUS recovery software use AI to recover files?
It has various features that photographers and anyone who need to restore images will find very appealing. It employs artificial intelligence to fix mistakes in corrupted photo and video files while providing you with a preview of the file prior to the restoration being finished.
These characteristics may be applied to batches of images if you need to fix a lot of photographs at once. It also utilizes the same algorithms to try to fix documents and PDFs.
Pricing & download
Like most other software in the market, EaseUs allows you to try the its Data Recovery Wizard using a free trial version.
Please note that the free version could recover up to maximum of 2 GB of files and information. Pro version (with a $69.95 tag price) doesn't have this limit, of course.
Also, lifetime technical support and upgrades are provided only with the paid versions which are priced at differently depending on the plan. For instance, the lifetime license costs $149.95.
Annual and Monthly licenses are available as well, priced at $99.95 and $69.95 per year, respectively.
'Technician' ($299) is another edition, which is most suitable for professional users who want to offer technical services to their customers and clients.
Unlike the free tool, all paid applications include unlimited upgrades and tech support. And please remember that all paid versions of these EaseUS software have free trials as well.
Mac version download: http://download.easeus.com/free/mac_drw_free.dmg
Windows version download: http://download.easeus.com/free/drw_free.exe
It's also worthwhile to reiterate that unlike many similar competitor products in the market that their free versions only scans for the deleted files, and the main task – which is files recovery – is done only after you purchase the full package of the software, EaseUS free recovery tool lets you get back up to 2GB of the deleted data. So it's a great choice for those who don't to spend a dime for a small amount of recovery.