Disk Drill Review & Pricing (Mac & Windows)
You know how it feels if you lose an important file and recreating is not an option, it doesn't matter whether it is photos of family or documents of office, data loss is data loss. You just don't understand what to do and how to deal with it, all you know is to regret over the lost data.
Well, not anymore, Disk Drill has got you covered whether you lost the files with emotional sentiments attached or the files with important information about your business or work.
The best part about this software is that it can help you recover the lost data from all the devices that can be connected to your computer. This means you can recover files from any storage device whatsoever and that too without having to go through a lot of efforts.
What is Disk Drill?
The Disk Drill software is available for both Windows and Mac operating systems, and provides a full recovery toolkit in order to recover any lost data. This platform-independent software offers numerous algorithms for data recovery and can recover data from any platform.
The Disk Drill's recovery algorithms can read NTFS, FAT32, EXT, HFS+, and many more file systems and allow it to recover data from anywhere and everywhere. This software can even recover data from obscure file types and this makes it one of the widely used software.
This easy to use software has a user-friendly interface and also has a free version where you can recover data up to 500 MB.
It has a series of features that help in making this software an ultimate data recovery option for people who want to safeguard their important data. The premium version of this software promises to retrieve and recover any amount or any size of data of any type.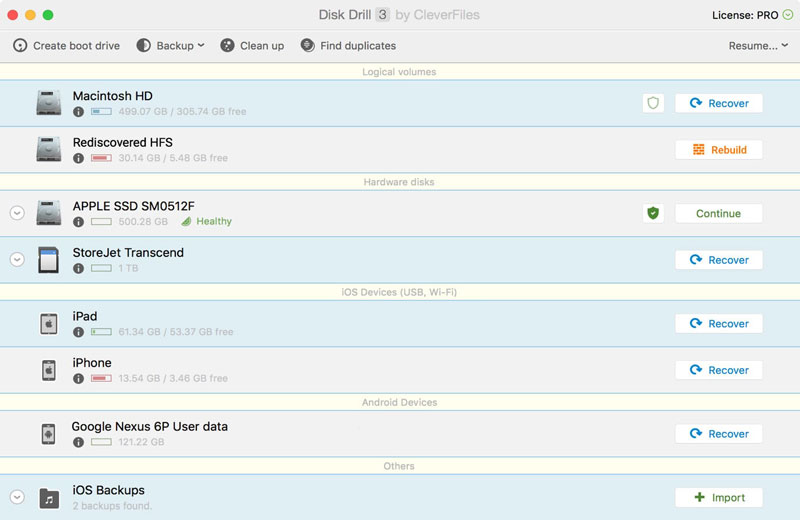 Data recovery at its best
You can lose any data anytime, the factors which make you lose data may be anything. The most common factors behind any data loss are a sudden power-cut or when your boot drive fails or when there is a virus attack or you unintentionally empty your recycle bin.
There can be other numerous factors that can lead to data loss but your one solution to it is the Disk Drill Software.
This software ensures reliable and consistent data tracking allows you to trace all the lost data and recover it. The moment you install it into your system, it can scan all of your system, your external storage devices and any of your phones, iPods or any other devices for lost data and help you recover them.
Anything that you have lost like music, pictures, videos, documents, or any other file format, you can recover them all with the help of the Disk Drill.
Features
The Disk Drill offers numerous features that include Multiple Scanning Options, a Recovery Vault, ISO/DMG Backup, the ability to Pause/Resume/Stop the sessions, Partition Recovery and many more. The multiple scanning options enable you to look at the lost data in a customized way in order to get the most fruitful results.
The Recovery Vault has a very significant role in preventing any further loss of any file and creates a backup of any deleted file immediately. The ability to pause/resume/stop the sessions give you all the flexibility you need as a user. The Partition Recovery option helps you not only recover files from a damaged partition but also lets you heal it with its special healing algorithms.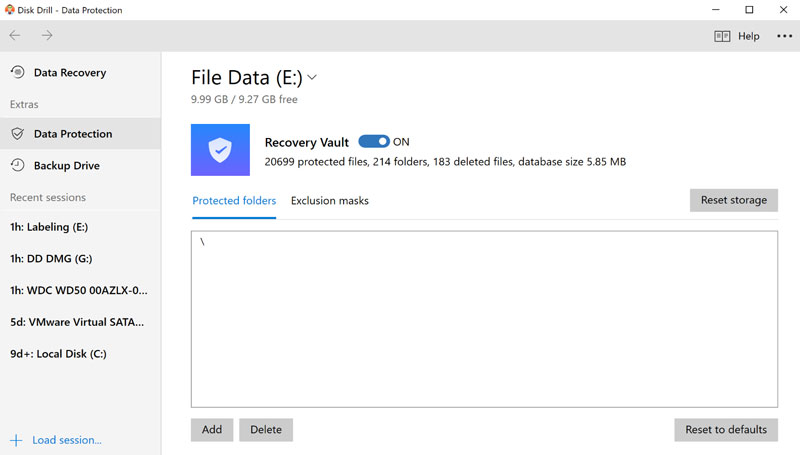 Efficient scanning
The Disk Drill has the ability to look for the traces of data that has been removed with its multiple scanning options available for you to choose from. All these scanning options are free to use and help you recover any data that you have lost.
The quick scan can help you find the traces of recently deleted data and can bring it back out of thin air. The idea behind this is that it looks for the traces of recently deleted files which are actually still in the system and take time to get completely disappeared.
The advanced options of scanning include the deep scan and as the name signifies it actually looks for the files very deeply and can also trace files that were deleted months or years ago.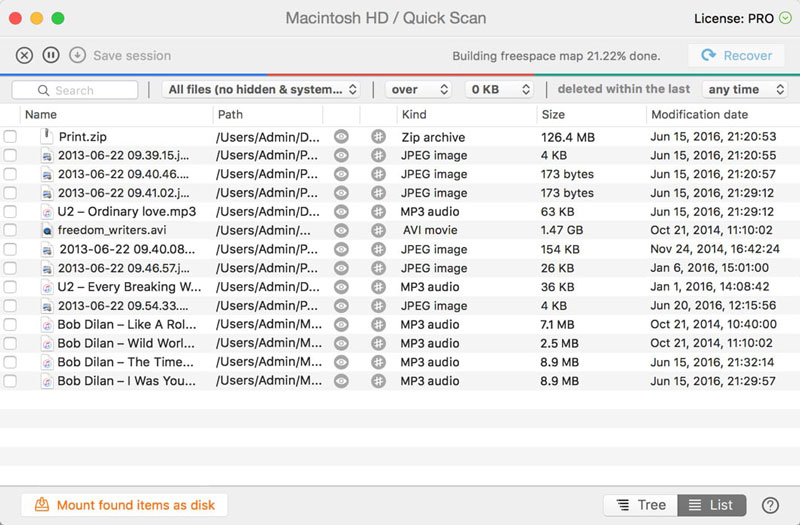 Managing the scan sessions
The recovery time or even the scanning time in external storage devices can be time taking if you are looking for any long-lost data.
This time-consuming process can't be completed in one go with you sitting quietly in front of your computer because it is not humanly possible to sit for hours in front of a computer and do nothing. The Disk Drill allows you to carry out the scanning and recovery in sessions, where you can just pause and resume your scanning as and when you want.
The best part is if you have found out the one file you were doing this whole scanning for, then you have the option to stop the scan and look no further.
Pricing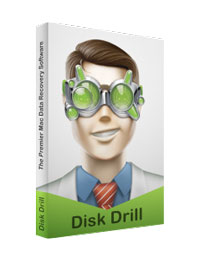 The software comes in three plans: Basic, Pro and Enterprise.
The Basic plan is free and includes the free options such as guaranteed recovery, recovery vault and free data protection.
The Pro plan is priced at $89 with extra features such as all file systems and storage types, lost partition search, rebuild HFS+ and more.
And with a price tag of $499 is the Enterprise plan which is more suitable for business usages. Offered tools include forensic data export, commercial data recovery and accesses for up to 10 users.
Conclusion
Where can you find recovery software as good as the Disk Drill which also understands your needs and can be optimized accordingly? The answer is nowhere and this is the best available for all your data recovery needs.