Hoverboard Segway: Review, Prices, and more!
They're called by many different names – self-balancing boards, hands free scooters, or just Segways (all of which are unofficial names just given by people and users) – and are very popular these days. Thousands of videos on Youtube and other video upload websites could be found displaying great joys – and sometimes failed usages! – and using these cool and trending devices.
And these handle free scooters aren't just offering riding. Some additional features such as built-in Bluetooth speakers, turn on/off remote, built-in GPS locator, etc.
How to use
Using these cool boards are very easy, although it might take some time to fully get used to the device. Just step onto it calmly and stay relaxed. There are pads beneath your feet which are pressure-sensitive. The board goes forward when you leans forward and goes back when you lean backwards. It's very intuitive and after some time users think that the device is able to read their minds since it execute the moving commands so well!
Charging, range, and speed
These hoverboards have a very low battery charging time: many take about 2 hours to reach full charge level. Each charging gives about 15 miles of using the device. However, you should keep in mind that the range and speed of these Segway like hoverboards greatly depend on the model you purchase. While most models support a top speed of about 10 miles per hour, some better models could reach 12 miles per hour as well.
And there is a similar case for hoverboards range as well. Depending on the quality and the price of the model, it could vary from 4 to 28 miles.
Pricing
Because of the popularity of these devices, many "fake" hoverboard products which are mainly produced and exported by Chinese manufacturers, have found their way into the market. These are usually low-priced to lure costumers – even with a price as low as around $200. So if you find one which cost you this low, be almost sure that it's a fake one and needs to be avoided because of safety issues.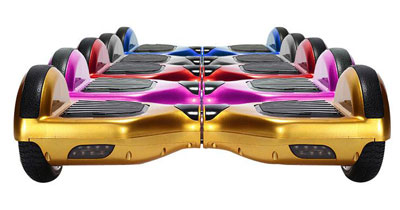 When browsing websites such as Amazon and Ebay listing hoverboard Segways for sale, you'll notice a big range in prices. As said earlier, cheaper ones – which usually are of low quality parts especially battery and charger – could be bought at about $200. Regular models at Amazon are priced at least about $500. The number is higher – around $800 – from better models. (Check out these deals and discounts we found for top quality hoverboards on web.)
Safety issues
Since the first days of releasing these hoverboards to the market, there have been numerous counts of unhappy incidents regarding using them. Most of them were due to bad quality batteries catching on fire, or novice users with low control on the device falling on the ground.
In response to concerns of low quality products, Amazon website stopped selling hoverboards which didn't have the minimum safety standards.
So it is highly recommended that users only purchase Hoverboard Segways only from trusted stores, online or offline, to avoid ending up with a low quality and unsafe toy in their house.
Videos
In the end, it might be interesting for some people to see videos on how to use these personal transporters, unboxing, tutorials, fail videos and so on. Just type hoverboard in the search box in Youtube and you'll get thousands of related results.
Some examples:
[unboxing and review of a model]
[some hoverboard tricks!]
[fails compilation]