QIEWA Q1Hummer Electric Scooter Review
These days the market is filled with different electric scooters manufactured by various brands. But if you are looking for a truly great scooter which could give you high maximum speed and distance range then you should consider QIEWA Q1Hummer.
Without any more talk, let's take a look at different aspects of this amazing scooter made by QIEWA:
Speed & distance
One of the main features of this amazing electric scooter is its high speed ability which makes it very similar to a motorcycle.
Depending on the road and the rider's weight, it could have a speed up to 37MPH which is way higher than most scooters on the market.
In addition, you could expect a maximum distance of about 65 miles when you ride QIEWA Q1Hummer.
And what makes it even greater than a normal bike or motorcycle is the fact that you could fold this scooter quickly and put it on your car or bring it with you wherever you go easily.
In fact, the scooter features three adjustable speed modes of 37, 25 and 12 MPH, so that it better suits your local regulations or personal requirements.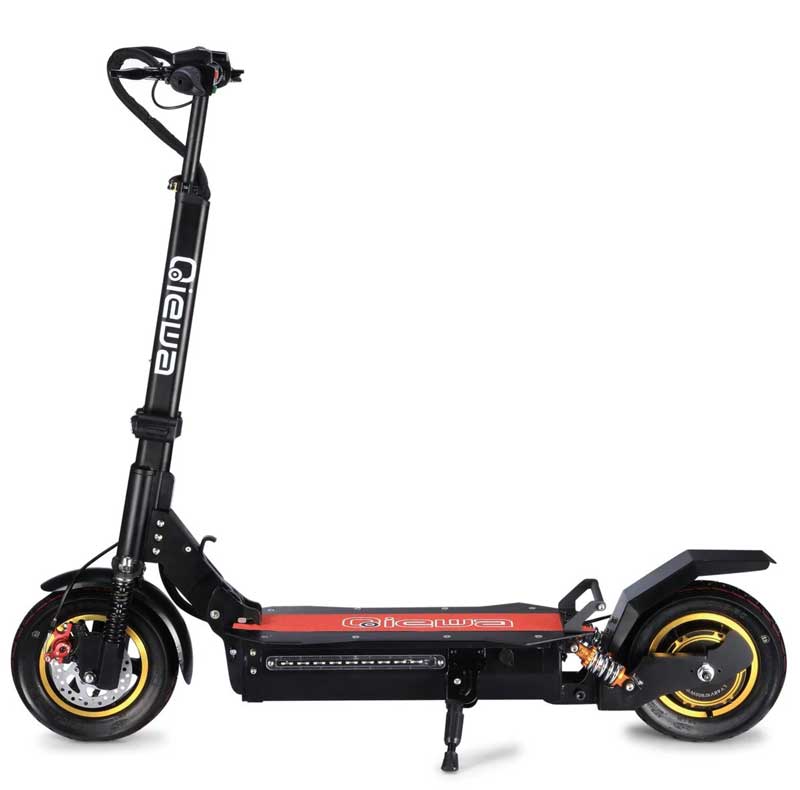 Motor & brakes
An electric scooter with such high speed and distance options must be equipped with powerful motor and brakes.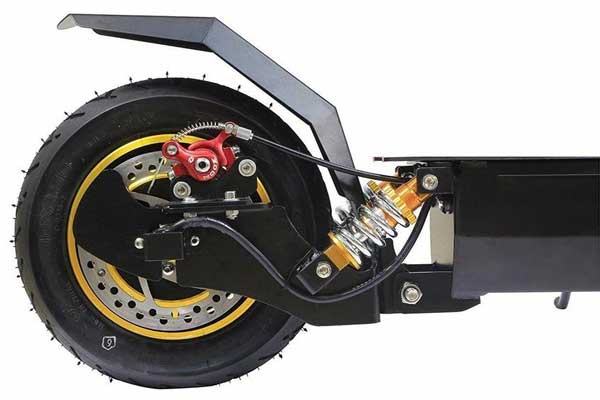 If that's what you're thinking then we should say that you are absolutely true.
QIEWA Q1Hummer comes with a powerful single motor which is 800Watts/48Volts which makes this scooter to have such a high speed which was mentioned before.
On the other hand, to power such a powerful motor they used a 26AH 5C battery which is able to be used with that energy-saving motor.
Moreover, to make sure the scooter would stop in time in case of high speed or riding down a hill road, for example, they've equipped Q1Hummer with double disk brakes.
That certainly adds to a safe and sensitive driving while riding this QIEWA scooter.
Remote control
It's another feature that only few – if any – other electric scooters in the market are equipped with: a remote control.
And it's not only a luxury option which you could use to show off to your friends.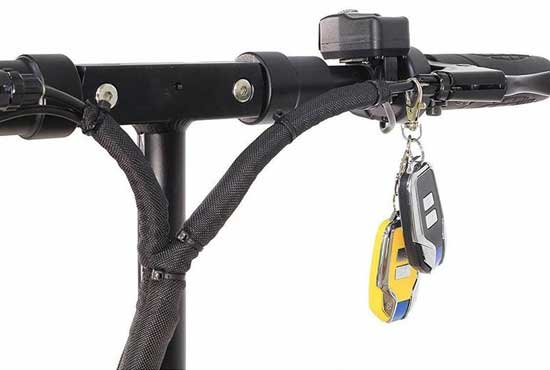 You are probably thinking of a way to prevent others from using or even stealing your precious scooter if you truly consider buying such an expensive scooter.
But that shouldn't be a difficult task since QIEWA Q1Hummer provides several anti-theft features to help you protect it.
This is how its remote control comes to the scene. You just need to lock the scooter with the remote or simply turn it off to activate the feature.
Plus, the anti-theft alarm could sometimes be helpful too.
In other words, just customize the settings of your scooter's remote control so that you could feel more safe and secure next time you ride your electric scooter in public places.
Structure & design
In addition to a beautiful design, Q1Hummer offers great riding options in terms of the condition and weather.
Just don't soak it in the water and it can almost withstand any condition such as drizzling and rain.
That's because the manufacturer has given waterproof function to the scooter making it safe to drive on rainy days or park it outside.
Up to 280 KG or 550 lbs. could be loaded on Q1Hummer due to the hard frame and shock-absorbing design.
And without worrying about loose or shake problems, you could adjust the handlebar height as you like.
On the other hand, the scooter could endure more vibration and impact because of a harder folding mechanism they've used with QIEWA Q1Hummer.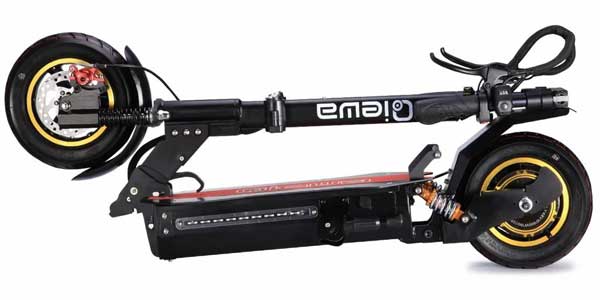 More features
Main specs of QIEWA Q1Hummer include:
Charging time: 8-12 hrs.
Mud flap
Kick stand
Horn
Light: tail braking light + side light + headlight
Handlebar: adjustable range from 38in – 48in
Electric instrument gauge
Scooter Weight: 55lbs
IP65 waterproof
2 second quick-folding
USB charging function
Anti-slip treads & great shock absorption are features that you could expect from the 10 inches pneumatic tire
Stable braking due to double disk brakes
Anti-theft remote key fob
smoother driving due to dual shock absorber
Max load weight: 550lbs
Lithium battery: 26Ah
Max driving speed: 37MPH
Conquer 35 degree incline
Max drive distance: 65 Miles
Motor power: 800 Watts
Pricing
Visit QIEWA Q1Hummer scooter page at Amazon located at https://www.amazon.com/dp/B07TV2GM6G which includes more customer reviews & ratings, price and shipping information.
Please remember that the item could be delivered to your house for free when you order it through Amazon website.
On the other hand, when you open the Qiewa official website (qiewascooter.com) you'll learn that it lists the Q1Hummer scooter about twenty bucks below the Amazon price.
That could excite you until realizing the fact that receiving your electric scooter from the official manufacturer website could take about 30 days – give or take – which is a long waiting time for many people.
Just don't forget to wear your helmet while riding this electric scooter, especially with driving higher speeds.