SpyToMobile Review
While giving cell phones or tablets to kids and being in touch with them is a good thing for parents, however many times these gadgets might worry parents because of potential harms done through these new technologies such as cyberbullies or online predators.
Many parents try to help their children avoid these kinds of dangerous situations by remotely tracking and controlling them using software known as cell phone monitoring/spying apps. SpyToMobile (or Spy2Mobile as it is called sometimes) is one of well-known applications in this category which offers useful tracking services with a price of 99 cents per day.
In addition to tracking you children's cell phone activities, you could also know for sure their location at any given time. So no more worries if they are really in school or note. You could also set the SpyToMobile app so that it sends notifications or alerts to your cell phone each time your kids enter or left a zone predefined by you before.
SpyToMobile features
SpyToMobile app monitors several types of data listed below:
Call history: Using this option enables you to know different information related to each call, incoming or outgoing, including phone number, contact's name, date and time, call duration.
Contact lists: Details and info such as name, phone number, etc. that are stored in the contacts of the device could be viewed by you.
SMS messages: You could access all received and sent messages, and even the ones that were deleted after the app was installed on the tablet or cell phone are trackable.
Location (GPS): This allows you to track the monitored gadget on the map in real time, so you could see everywhere it goes covered by GPS signal.
WhatsApp messages: Please note that to use this feature the app needs to be installed on a rooted Android device.
According to the app development company, you could monitor more than one phone or tablet at the same time (in fact up to 1000 devices) with your SpyToMobile account. To do so you just need to enter the same email address while installing SpyToMobile on the additional devices.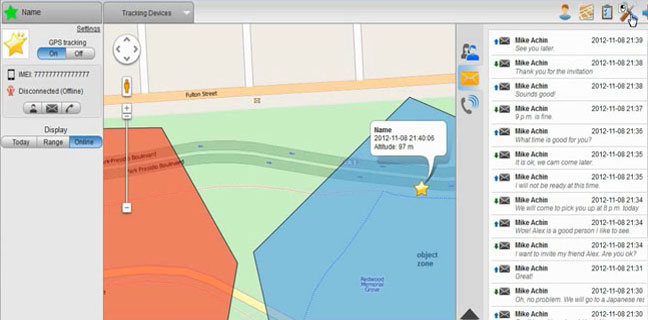 The interesting fact about Spy2Mobile app is that it's not necessary that the target phone be always connected to the internet. Even when the device is disconnected, the app collects the information until the smartphone or tablet connects to a Wi-Fi or mobile data network. Then the software sends the data to your account so that you could access them when you want.
If you want to try a demo before you buy the app, you could check out the SpyToMobile website and follow the related link on the menu.
The cons
Although SpyToMobile provides its features and services at an affordable price (if you want to use the app not for a long time), but the app lacks some important features which may be seemed necessary by some users. These include email tracking, phone call blocking, tracking internet activities, IM tracking, and so on. So in case you need all or some of these features and Spy2Mobile services don't satisfy your needs, you could have a look at other famous mobile tracking/monitoring apps such as Flexispy or mSpy which were reviewed before on TechaLook.
Another weakness of the SpyToMobile app is its incomplete compatibility with mobile devices, as it could only be installed and run on Android gadgets. So again, if you need a phone spy software for iOS devices like iPhone or iPad you could turn to other powerful apps mentioned above.