Top 5 Best RC Boats
Remote controlled boats are some of the most exciting hobby toys available and for good reasons too. They are brightly colored, high-speed, and are a super fun way to pass the time. There is a wide range of boats available on the market ranging from small beginner boats, to more high-end advanced boats.
So, whether you're a complete beginner or an experienced racer, there's bound to be a great RC boat out there for you.
You may be wondering how to find the best RC boat with so many options available to you. Don't worry. This article covers some of the top-rated RC boats to help you get started with your search. With this list you'll be racing on the water in no time.
How to find the best RC boats for lakes
There are many things you will want to consider when choosing an RC boat for yourself. You will have to consider what kind of boating experience you're wanting, and you'll want to use your skill level to help guide your decision. Here are some things to look for that can help you.
How fast do you want to go?
One thing to look for as you begin your search for the best RC boat is speed. Ask yourself how fast you want your boat to drive. If you're a complete novice you may want to start out with a boat that doesn't exceed 30 mph.
Anything faster is going to be a little bit harder to control, and you don't want to be overwhelmed. If you've had some experience driving RC boats before and love racing, a faster boat could be perfect for you.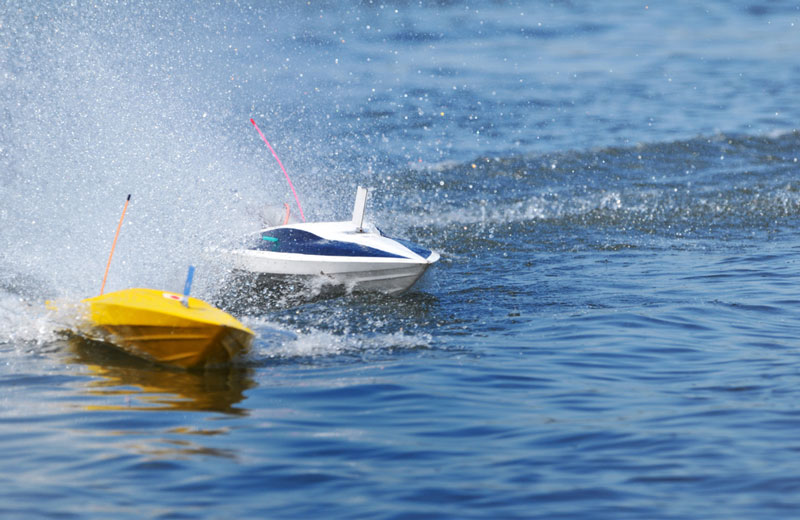 How long do you want to play?
Battery life is another important factor to take into consideration when you buy a remote-controlled boat.
You don't want to spend your money on a boat that you think is great, only to find out that it comes with a short battery life.
Do your research on finding which boats have the best battery life. Many manufacturers include two batteries so you can get double the amount of boating time. This is a great deal and definitely something to look for when choosing an RC boat.
How far do you want to go?
When buying an RC boat, research the range of the RC boat before deciding which one you want. The range of the boat is how far it can travel in the water without losing signal. RC boats have a wide variety of ranges but again, if you're a beginner, it's best to find a boat that's range isn't too long as you don't want your boat to get too far away from you.
You'll always want to be in control of your boat even if you're more experienced, so decide which distance you are comfortable with.
How much are you willing to pay?
Finally, remote controlled boats come in a wide range of prices too. There are cheap options as well as boats that cost hundreds of dollars.
Be sure to have an idea of what your budget is ahead of time, and what features you want your boat to include to help you know what to look for. If you have a tight budget, there are some great affordable options that still include all of the best features so don't feel like you have to empty your pockets to find a great RC boat.
What other features are important?
Be on the lookout for an RC boat's features when choosing one for yourself. RC boats have a wide range of features, and most of them are really useful.
Any boat with an anti-capsize system is going to be extremely helpful if your boat flips over in the water because it will help you flip it upright and get back to driving. Some boats are also equipped with low-battery and out-of-range alarms to help you stay in control and know when it's time to bring your boat back to shore.
Best beginner remote controlled boats
The Aqua Boat
https://www.amazon.com/Altair-Aqua-Boat-Anti-Capsize-Water-Cooled/dp/B07MYB96Z5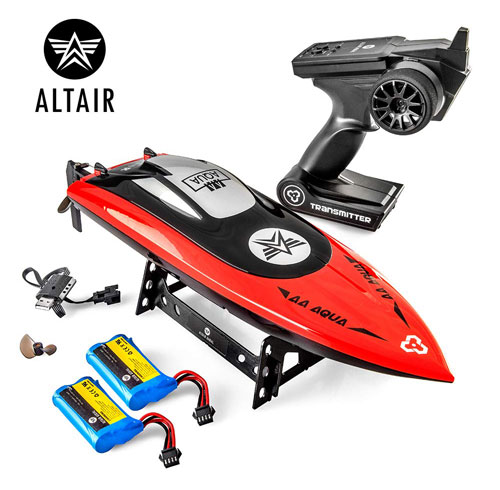 The Aqua boat from Altair Aerial is one of the best RC boats on the market, and is great for beginners too. This bright red boat comes packed full of features and Altair is known for their great, American customer service so they will be happy to help you answer any questions you may have.
Here are the main features of the boat:
Reaches speeds of 20 mph
Child safe propeller system
Anti-capsize hull system
2 batteries for a total of 20 minutes of driving
100-meter range
Weight: 1.25 lbs.
Measurements: 17.2 x 10.7 x 6.1 inches
AA Wave RC Boat
https://www.amazon.com/Altair-Wave-Boat-Anti-Capsize-Watercooled/dp/B07MYB7N52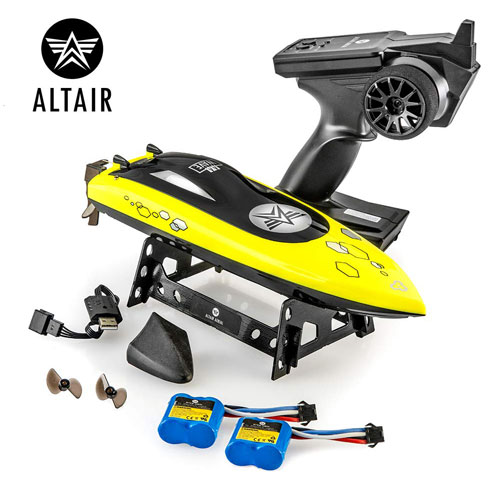 If you're looking for a smaller RC boat that's perfect for beginners, then you will love the AA Wave. This boat is extremely easy to use and can reach serious speeds on the water. You will have a blast racing this boat on the water with friends or family.
Take a look at the main specs and features of this boat:
Anti-capsize hull system
Reaches speeds of 20 mph
390 foot range
2 rechargeable batteries & 20 minutes of driving time
Weight: 1.76 lbs.
Measurements: 14.5 x 10.6 x 4.5 inches
Top Rated Electric RC Boats
Force1 H102
https://www.amazon.com/Remote-Control-Boat-Pools-Lakes/dp/B073WJGD8V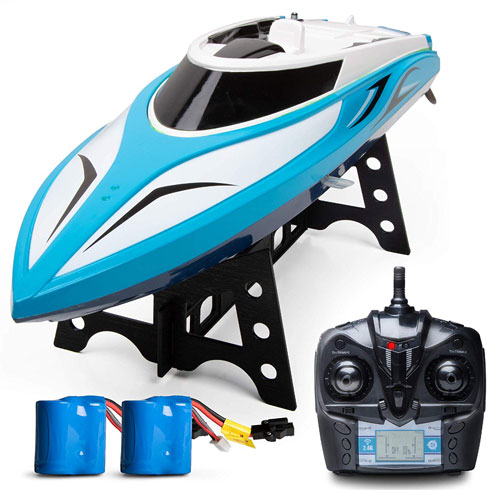 The Force1 H102 Boat has all of the features that make an amazing remote-control boat. The boat comes with two batteries for double the driving time and is easy enough to drive that even kids can use it.
Here are some of its primary features and specs:
4 Channel remote control
Capsize recovery system
2 rechargeable batteries
Reaches speeds of 20 mph
Weight: 2.3 lbs.
Measurements: 12.2 x 27.7 x 26.2 inches
Pro Boat Recoil
https://www.amazon.com/gp/product/B00VF46CBQ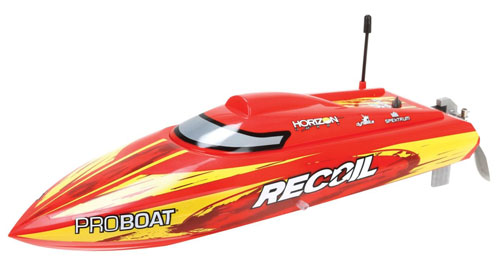 This boat is a little more expensive but one of the best RC boats you can buy. It races along the water fast and is a real showstopper.
The Recoil comes with high-quality features and is perfect for anyone looking for some outdoor excitement.
The main features of this boat include:
Reaches speeds over 25 mph
Self-righting hull system
Water-cooled brushless motor
Aluminum rudder
Weight: 3.85 lbs.
Measurements: 17.5 x 7.8 x 7.1 inches
Babrit F1 High Speed Boat
https://www.amazon.com/Babrit-Remote-Control-Electric-Boat-Orange/dp/B01ERN8PQG
If you're on a tighter budget and wanting a smaller boat, don't overlook the Babrit F1 High Speed boat. This boat is great for beginners or anyone who doesn't want a big RC boat taking up storage space.
It's fast, affordable, and packed full of great features that will make driving this boat easy for anyone who picks up a controller.
Here are the specs and features you'll get with this boat:
Reaches speeds of 15-20 km/h
Strong signal transmitter
Range of 35-50 meters
3-hour charge time
Weight: 14.1 oz
Measurements: 17.3 x 5.1 x 6.3 inches
Whether you're interested in competitive RC boat racing, or just looking for a fun toy for the summer, RC boats are great for anybody. Once you decide your budget and what kind of boating experience you want, you can begin searching for the perfect remote-controlled boat.
These reviews are top-rated choices and can help you make your decision. In no time you will be on the water having the time of your life with one of the best RC boats.
FAQ – Best remote-controlled boats
How do RC boats work?
A remote-controlled boat works by using a transmitter and sending a radio signal to a receiver and then back to the boat. The receiver interprets the signal and uses the boat's motor to go forward or turn.
Can RC boats be used in saltwater?
Most remote-controlled boats are not meant to be in saltwater. Saltwater can cause rust and other forms of damage to the electronic parts of your RC boat. If you're looking for a boat that you can take in saltwater, be sure that it is marked "saltwater safe" before you purchase it.
Where to buy and RC boat?
You can sometimes find RC boats at hobby stores, but you will most likely have better luck and more options if you search on Amazon or a manufacturer's website. Amazon allows you to read other customer's reviews and they have the largest selection of products and often run deals and coupons.