Splashtop Pricing & Review
Remote access applications are still very popular these days, even after the worldwide situation we all experienced a while ago. Here we review one of the top software for remote access which is Splashtop.
Security
When it comes to accessing business and personal information remotely, one of the main issues is security. No matter the connected device contains private data related to personal or corporate matters, protecting it from intruders and unauthorized users is really important.
Protecting information and security is one of the main advantages of Splashtop. That's because powerful security integrations have been used in the program in order to strengthen the software.
For instance, Amazon Web Services, which uses DDoS protection, encryption, firewalls, etc. to protect its platform, has been used for hosting Splashtop cloud services.
And to add an additional protection layer, defense mechanisms and intrusion detection have been put in place.
Two-factor protection is supported and Splashtop allows no devices to be used without authentication. TLS and 256-bit AES encryption are used to secure all data transfers. And in order to secure sensitive information, a connected device screen could be blanked remotely by technicians.
Performance & interface
Splashtop makes it possible for users to use various devices in order to access and share screen remotely. Moreover, smartphone apps as well as desktop applications work smoothly and are attractive.
Although it's hard to find any fancy features, but you could expect to find an intuitive and simple user interface.
But you should remember that the exact user interface would depend on some factors such as the device you use and the subscription you purchased.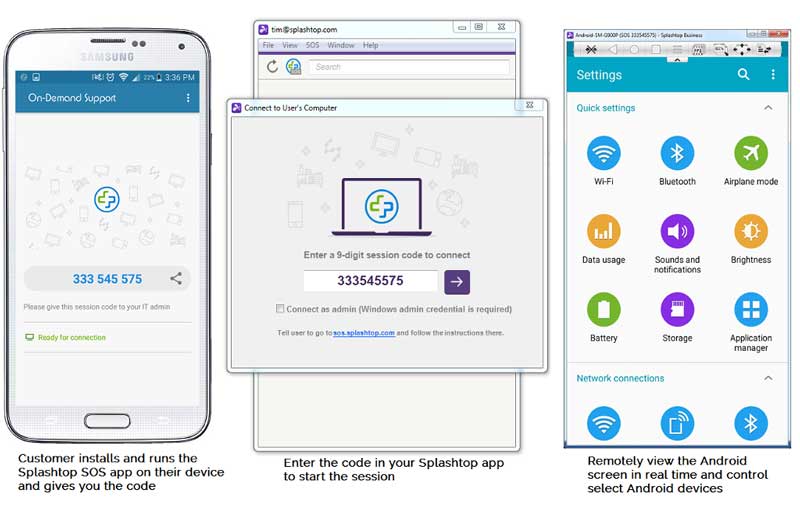 According to tests performed by experts regarding Splashtop performance and speed, it has done quite well, proving to be a responsive and fast software.
In Splashtop you'll be provided by an efficient and fast file transfer option. But although the program promptly registers mouse clicks and tracking, sometimes when you use screen share features you might experience a small lag.
Splashtop installation
One of the great things about Splashtop is its free trial option which demands from the user no payment information in order to test the program for seven days.
If you want to use the remote access service offered by Splashtop you just have to equip the intended devices with necessary apps, and give some personal information when registering a new account.
After that, the setup process will guide you through the required steps after your account has been created. Of course, these depend on the plan you've selected when buying the software.
With a click of a button you could connect your devices and access necessary information remotely, provided that you have installed the streamer package and Splashtop app on the proper devices which you want to access to and from.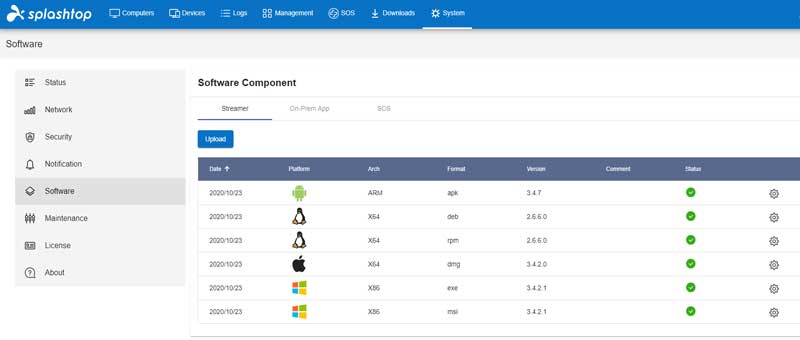 Pricing
Depending on your needs and requirements you could choose from a variety of plans provided by Splashtop.
The basic plan is the 'Business Access Solo' costing $5 per user per month, which simply allows you to access your computer from anywhere.
Naturally, access for more users and across more computers comes with higher plans which could cost up to hundreds of dollars per year.
In addition, educational settings could also benefit from the remote access program too. That could be done through specially-designed share tools included with education plans starting at about $30 per year for a teacher.
Please note that all plans include the free 7-day trial and all payments are billed annually.
Conclusion
Both beginner and professional users could benefit from Splashtop which comes with a user-friendly and responsive user interface. The software is especially useful for those looking for high security and targeted plans. Also, users could expect comprehensive knowledge base and additional features when using Splashtop software.