Google and Mattel Plans to Make a New View-Master
Google and toy maker Mattel have recently announced that they have agreed on a plan to make a new version of the View-Master based on Google Cardboard – a virtual reality solution using a cell phone.
View-Master toys which have been available since 1939 – and were popular among kids of many generations -, use stereoscopic images – usually from places and locations across the world – on reels to give viewers a feeling of 3D viewing or a basic level of VR. The new version of View-Master is similar to ski goggles and uses an android smartphone equipped with Mattel app and Google Cardboad app to produce desired 3D images.
Google Cardboard is a simple solution based on a cardboard head mount and user's smartphone to let them experience and enjoy a sense of VR.
Since Google first released Cardboard platform in Jun 2014, many companies and producers have made kits and head mounts in different colors and designs. Now, Mattel wants to offer one of his own, based on its historic and once-popular toy.
The details of cooperation came out after several days of rumors and speculations about the secret talks between two companies.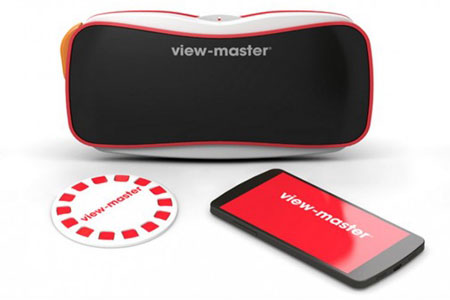 Many experts see the newly announced gadget as the latest effort by the challenged Mattel – with a 30 percent declined stock price in the last year – to get back to its popular position in the toy industry, which some experts predict would have no remarkable effect. Among the challenges the new headset toy will be facing is the need for a smartphone, which in many cases parents are reluctant to give their own to children, or even buy a new one just for entertainment.
The release date of new View-Master has been set around Fall 2015. Mattel is going to sell the gadget for $30. Additional "experience reels" for the viewer – each offering several areas and experiences to users – will be available with a $15 price tag.