Apple Watch Price, Specs, and News
Apple finally released more info on its smartwatch device, Apple Watch. The announcement that came Monday includes price, features, and specifications of the new wearable tech.
The new Apple smartwatch will be available in three versions: Edition (featuring 18k gold), Sport, and Standard.
The Apple Watch Edition price starts at $10,000 and could go up to a whopping $17,000 depending on the plus features and options. You should pay either $350 or $400 for the Sport version, depending on the case size (38mm/42 mm). And finally, the standard version which comes with a steel case could cost between $550 and $1050.
The smartwatch easily connects to iPhone and through that you could access Apple Watch Store to download apps for your watch. The connection is not limited to Bluetooth since the gadget is equipped with Wi-Fi.
In addition to an iPhone, the watch could also connect to another Apple Watch, sharing some information with friends and family.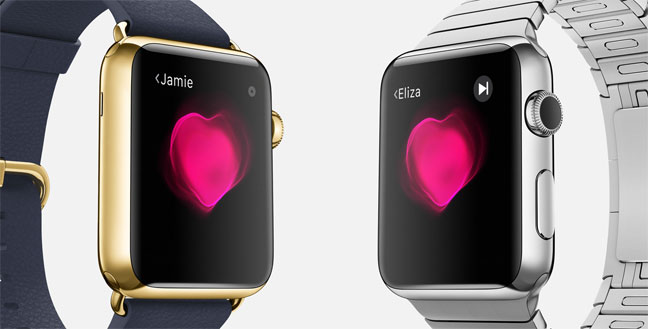 The battery life that's around 18 hours is one of the main weak features of this Apple wearable, which many critics believe could hurt the popularity of the device because of the need to regularly recharge it. It may be so until Apple fixes it; Perhaps in later versions.
One of the great and happy features is the vast range of faces you could use with your watch. It suits many styles and tastes and for every age group.
If you haven't used a smartwatch in the past you may think that what's the big deal with an ordinary device that only tells the time? If that's the case, you should know that smartwatches do lots of other tasks in addition to displaying the time. Here, for example, Apple Watch enables you to do many abilities you do with other devices. Let's have a look at them: you could use it to listen to music (like an iPod), organize your daily exercises routine with it (like a fitness tracker), connect to your iPhone, communicate with your home smart gadgets (like smart locks and thermostats), and even pay your bills.
And, you could almost be sure that in the future lots of other tasks will add to the above list by introducing new features and apps to the market.
You could preorder the Apple Watch on April 10 in US, UK, Canada, Australia, Germany, France, Japan, China, and Hong Kong. The shipping will begin April 24.