Banggood Review
Featuring more than 70,000 products, Banggood is an online shopping website trying to offer the best services and support in addition to the best products, as they believe.

Banggood is originally based in china. And in order to be able to perform shipping to US and UK customers much faster, the company has warehouses in these countries as well.
But one of the great advantages of its service over that of competitors is its 3-day Price Protection Guarantee. It works in a way that when sometimes, for instance, in case of a price drop on other retailers or websites, customers find a product cheaper than what they paid for in this website, they could get the difference as a refund from Banggood.
Banggood Benefits
These are some of the benefits mentioned by the official website or other review resources:
Various payment options like Credit Card, PayPal and Boleto
No minimum order quantity
Product warranties (with some restrictions)
Low cost or free shipping
International shipping
Professional, Helpful & friendly customer services
Providing partnering potentials
And finally "Best bang for buck" (as their motto says)
How it works
Banggood website, very similar to other online stores, enables user to find products based on the recommendations available on the frontpage, through categories or search function.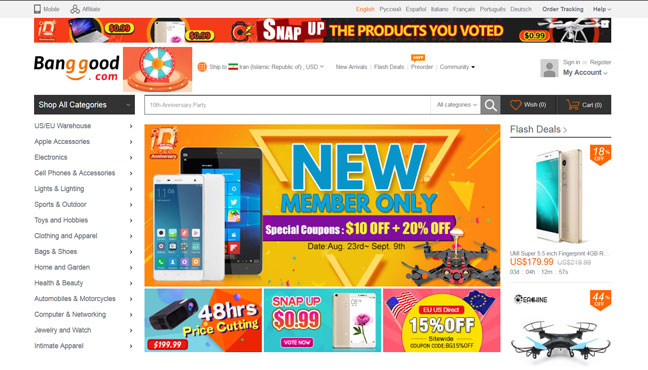 A vast variety of product categories are available on the website. These include jewelry and watch, computer and networking, automobiles and motorcycles, health and beauty, home and garden, bags and shoes, clothing and apparel, toys and hobbies, sports and outdoor, lights and lighting, cell phones and accessories, electronics, Apple accessories, and so on.
Users could also check out the top selling products on the website. And as they claim, they're constantly updating what they provide their users as products. This is due to "stay current and fashionable".
Refund policy
Unfortunately we couldn't find any details about refund policy (e.g. products replacements, repairs or exchanges) on the Banggood website.
The best explanation for this is that different circumstances of customers regarding the refunds could be discussed with the company's customer service. And so, available options would be provided to them through that as well.
But what we have learned from other resources is that China is the only returns option country. Also, the shipping payment for returns is by the customers.
Different review websites such as ResellerRatings, Trustpilot and SiteJabbers have various customer comments and feedbacks for this website. These include both negative and positive reviews. But the overall ratings are generally good for the company.
Below some of the feedbacks have been selected for an overview:
SiteJabber reviews
One of the customers who has recently purchased a product from Banggood (a battery charger) has complained about the product dysfunction and the high cost of return fee to China. Although he praises the website for offering good prices on products, however he warns other users for being prepared for receiving some items which might not work as claimed.
There are similar other complaints on SiteJabber mostly related to the issues such as delayed order arrival, wrong, damaged or non-working items, and long returning time period.
TrustPilot reviews
In general, Banggood has a very high rating on the TrustPilot website (8.6/10 based on more than 4200 customer ratings).
Most positive comments cover good features such as great after-sale center, great communication, responsive customer service, and so on. On the other hand, negative feedback include issues like the ones mentioned earlier such as wrong delivery and return policy.