How to Recover Deleted Data from iPhone
Nowadays most of our data is on our phones. And the exciting thing about it is that you can easily access all your data with just a few taps. That's very helpful, but at the same time it can also be challenging if you lose access to your data. And unfortunately such a thing can and might happen at times. It all comes down to knowing how to handle and manage such a situation.
If you lose data on your iPhone, the main issue is that you think it will be really hard to recover. Not only that, but iPhone data might include personal information, your photos, apps and so on.
A lot of people don't really create a backup of their phone, so knowing how to recover data is very important and a crucial thing to focus on. But once you do it adequately the payoff will be extremely impressive.
Is it possible to recover your phone's data?
Yes, and one of the best tools for that comes in the form of iMobie PhoneRescue. This is a professional data rescue tool for mobile apps. It allows you to recover contacts, messages, photos or just about any type of data from your device.
If you ever lost phone data and you want to make sure that there are no problems, then PhoneRescue is the right option for you.
It's extremely convenient, reliable and among some of the best tools that you can find on the market. That being said, quality really matters and once you tackle it correctly, the payoff can be second to none.
This tool is designed to be very easy to use, adaptable and you will have no problem using it when you want to recover deleted iPhone text messages, images, videos, and so on.
Recover from iOS device
The first recovery option is to actually recover from iOS device. This is known to work quite well but it can also be a bit challenging. Here are the tips you need to follow in order to pull this off properly.
Launch PhoneRescue on the computer, connect the iOS device via its USB cable and select Recover from iOS device in the app.
Click Next, wait until the scanning process is complete. Now you will be able to see the scanned data and select what you want to recover. The great thing about PhoneRescue is that it allows you to partially recover content, something that can be extremely convenient and helpful.
In order to recover content you need to select the data you need. Click Recover to computer to save data on your computer, or you can save it directly to the device if you want.
Recover from iTunes backup
You can also Recover from iTunes Backup. For a lot of people this works great because they have an option to create automatic iTunes backups whenever they connect their device. So this can be extremely helpful.
Choose Recover from iTunes Backup. You will need to choose one of the iTunes backups available on iTunes or on your computer. Select the latest one if possible. But you can also go with an older one based on your own requirements.
You can choose Only Scan Backup, or you can Compare the data located in the backup with the stuff you have.
Now you will be able to select what kind of data you can recover. It includes messages, contacts, calendars, reminders, notes and so on.
Once you check the desired data type, you will need to click on a button to either save it to your device or save it to your computer. This is a very seamless and simple process that works extremely well.
Recover from encrypted iTunes backup
You can Recover from Encrypted iTunes Backup too. The idea here is that a lot of people end up keeping the Encrypt iPhone Backup option On, and that can be a problem. But iPhone data recovery tool PhoneRescue can actually help you with this problem.
Choose the Recover from iTunes Backup option, press Next and you will get to choose the desired iTunes backup. You will need to choose the encrypted backup.
Enter the password if you remember it. If you don't, add in information that will help PhoneRescue recover the password. Enter the password when requested.
Now you have to select the type of data you want to recover, usually you will have a list with all the items listed. Choose which ones you want to recover to your phone or computer.
Recover from iCloud
For most Apple users iCloud is the most secure service that they can use. And it makes sense to keep a backup there. But how can you recover from an iCloud backup? Believe it or not, this is actually quite an easy thing to do.
Select Recover from iCloud, sign in to the iCloud service and then choose a category to organize the iCloud content.
You will receive a list with your current devices and backups they have in iCloud. You can also opt for data comparison if you want.
Select what type of personal data you want to recover, and then press the button to recover either to mobile phone or your computer.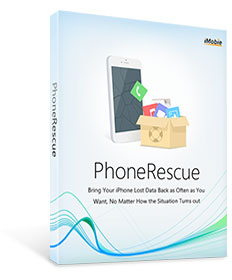 The great thing about iCloud recovery is that you don't really have to interact with your phone that much. For most people this is a seamless and very interesting option that works great as long as you use and adapt it correctly.
As you can see, PhoneRescue is one of the best tools that you can find out there in regards to iPhone data recovery.
Sure, you can easily delete data accidentally or deal with data loss without even knowing. But the best thing that you can do is to actually take your time and figure out what approach suits your needs.
Thankfully, one of these options should be able to help recover data quickly and it will certainly be worth it. Just make sure that you pick the best option and you will be very happy with how fast you can access your data!