Wondershare Data Recovery Review (Mac & Win)
No matter what files or data have been deleted from your hard drive, camcorder, USB drive, or memory card, Wondershare Data Recovery software could easily restore and recover those lost data and files.
Using Wodnershare recovery software is very easy. The interface and wizards are very user-friendly, and previous data recovery skills or working with similar applications isn't required.
Features
Supporting over 500 file formats – most main file types of documents, videos, music, photos, emails, archives, etc. could be restored using this great tool. These include JPG, GIF, PNG, TIFF, PDF, DOC, PPT, MP4, MOV, AVI, RAR, 7z, ZIP, WAV, MP3, AAC, AIF.
Compatible with various storage devices and systems – the Wondershare software could be used to recover data and files from devices like memory cards (miniSD, microSD, SDHC, SD, MMC, etc.), USB flash drives, camcorders/digital cameras (Sony, Canon, Nikon, Kodak, etc.), external hard drives (Samsung, Toshiba, Western Digital, Seagate, Apple, etc.), and Mac or Windows based hard. drives.
Preview before recovery – while the program is running to search for lost files, users could see what have been found on the list updating on the screen. This way they don't need to wait very long time (until the recovery is done) to know what could be retrieved by the application.
Safe recovery – users could run this Wondershare program with no worries regarding their system and files' safety. That's because the application is well designed to do the main job with no harm done to your computer or data. Main file systems such as NTFS, FAT16, FAT32, and so on are supported.
How it works
To recovery files with Wondershare program users have two main options: Manual Recovery Mode or Wizard. Users with more experience might want to use the manual method which gives them plenty of options such as the location they want to search, the file formats they're looking for, or activating the program's Deep Scan feature. Although this feature makes application run slower but makes it more successful in getting formatted files recovered.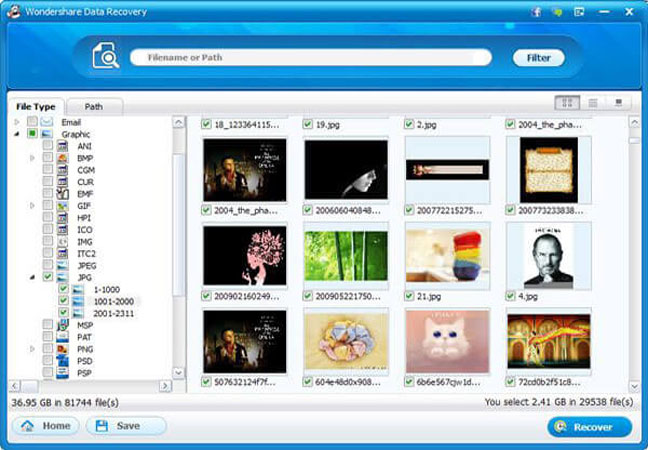 On the other hand, novice users could simply let the Wizard help them in doing the recovery task. After answering two simple questions: the location and type of files which have been deleted, the program will begin searching for the lost files.
Please note that the software only retrieve files which you select, and save them in a folder specified.
Download
Wondershare Data Recovery software could be downloaded and installed on both Windows and Mac OS X.
The trial version of the application is free to use and include all the features. There is only one limitation on this trial which makes it impossible for over 100MB of files to be recovered. To remove this, users need to buy a license.
Windows licenses for one PC start from $29.95 (per year) to $39.95 (lifetime). The same plans are more expensive for Mac users: To use the software on one Mac system you should pay $79.95 per year, or $89.95 for a lifetime access. For more info on pricing plans – such as multiple-PC usage licenses – please check out the Wondershare website.
Windows free trial download (Windows XP-10): http://download.wondershare.com/data-recovery_full542.exe
Mac free trial download (OS X 10.6-10.10): http://download.wondershare.com/mac-data-recovery_full737.dmg