EaseUS MobiSaver Review & Download (Android & iPhone)
EaseUS MobiSaver software is one of the best data recovery products for iOS and Android phones and tablets. This powerful mobile tool features great preview and export options suitable for both advanced and basic cell phone users.
There are various situations in which a phone recovery process is needed. They include improper handling, accidentally formatting/deletion, virus/malware attacking, rooting, OS malfunction/error, etc. EaseUS MobiSaver software could help users take back data which is important to them.
More features and options of the application could be reviewed below:
Features
Multiple data type support – MobiSaver is able to recover deleted documents, audio and music files, videos, images, contacts, text messages, WhatsApp messages, MMS, call log, notes, bookmarks, and so on.
Compatible with various devices – no matter what iOS or Android powered device is considered for retrieving lost data, the program is able to do the process for the gadget. Supported devices include iPhone 4, iPhone 5, iPhone 6, iPad Mini, iPad Pro, iPad Air, iPod Touch, HTC One, HTC Desire, Google Nexus, Samsung Galaxy Note, Samsung Galaxy S3/S4/S5/S6, etc. Almost all versions of Android from 2.3 up to 6.0 are supported by this mobile recovery application.
Preview & export – before any actual data and files retrieval by MobiSaver, users could preview what information they could get. For easy printing or reading, data such as messages could be exported in HTML type files. Also recovered contacts could also be exported to VCF, HTML and CSV formats in the computer.
3 modes for iPhone recovery – in case no backup files is available after an accident or inaccessible ones, MobiSaver could come to help through three methods: the first one is retrieving from iCloud backup. The second mode is iTunes backup extraction which is especially helpful when the files could not be found in the smartphone or tablet. The third mode is iOS device recovery which is retrieving data from the iPhone or iPad directly.
How it works
After installing MobiSaver on their computer, users could easily use the software to recover their lost files or data from their iPhone or Android devices. After finding out about a data loss it is very important to stop using the tablet or phone and immediately start the recovery process.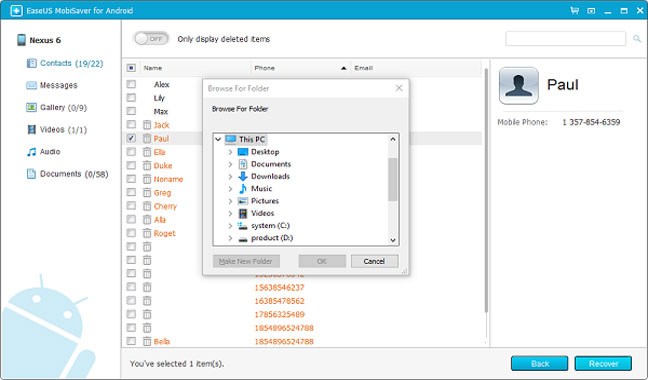 The first step is connecting the gadget to the computer with the USB cable. After that the software could scan the iTunes/iCloud backup (for iOS gadgets) or the device for deleted files.
When the scanning is completed, the program allows users to select which files they want to restore by displaying a preview of retrievable lost files by detail.
The last step is when the "Recover" button is clicked and the mobile recovery software asks for a folder to save the files and data it retrieves on the computer. Also depending on the data type, various formats could be chosen for exporting such as HTML, CSV, etc.
Pricing and download
There are two different versions of this EaseUS software: MobiSaver for iOS and MobiSaver for Android. The Android version is only available to install on Windows laptops or desktop computers. The price of this edition is $39.95 which has a trial downloadable from: http://download.easeus.com/trial/emsa_trial.exe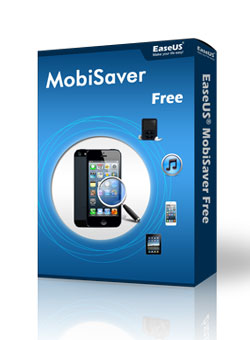 The iOS version which is suitable for iPad, iPhone and iPod data restore purposes is available for both Mac ($79.95) and Windows ($59.95) computers. The software is compatible with iOS 9 as well.
The trial for Mac edition could be downloaded here: http://download.easeus.com/trial/ems_mac_trial.dmg
And for Windows edition trial download follow this: http://download.easeus.com/trial/ems_trial.exe
Please note that completely free versions of MobiSaver software could also be accessed by users for both Windows and Mac operating systems.