SendPulse Automation 360 Review
Marketing automation is one of the marketing processes that, if done right, can get your product or service to the next level by reaching thousands of potential customers, but if done wrong, can backfire horribly and burn your product's reputation –it has happened many times-, so you have to make sure you are using the appropriate automation tools.
SendPulse Automation 360 is a marketing automation solution that can help you get spread the word about your product or service in the most time/cost efficient way and guaranteeing that you reach your best audience possible.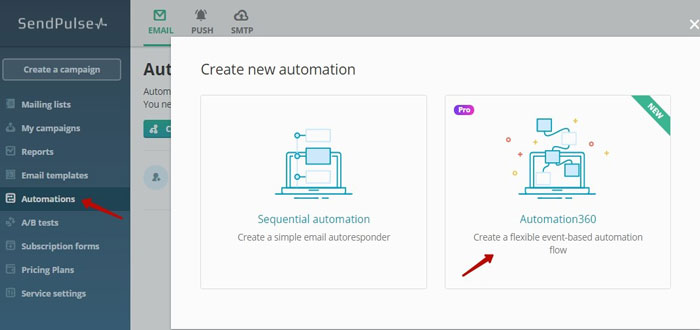 Here are some of its key features of Automation 360:
1. It is free if you have less than 2500 subscribers
Starting a newsletter for your company or project can prove to be a very challenging situation when you don't have the workforce and/or the budget.
If you want your new business or personal project to start on the right foot, you might want to give SendPulse Automation 360 a try. It is free as long as you have less than 2500 subscribers and you can send up to 15000 emails a month to improve your company's growth, while at the same time getting familiarized with Automation 360's system in case you want to continue using it at a very low cost after you pass 2500 subscribers.
2. It features triggered emails
One of the most important aspects of marketing automation is to know exactly when the right time is to send your relevant emails. While there are lots of services that only feature time scheduling, Automation 360 lets you set up triggers that, when activated, send the relevant email to the customer. This is particularly useful if you own an online store, since it helps you remind customers that they left products at their carts, welcome new customers via a personalized email after they register for your site or send a "thank you" note after they make a purchase.
3. Offers multiple channels
Some people don't check their personal emails very often unless they're expecting to get a mail, and since not everyone has setup an email client for their phones, this channel is not always appropriate for every audience –even without taking into account the strict spam filters most email platforms have nowadays-. But with Automation 360, you can send that perfect "thank you" note or polite reminder to a customer via SMS texts or web push notifications.
4. Comes with a conversion counter
A conversion is when a general effort made by you, like sending emails, displaying ads or offering redeemable coupons, converts into a desired action by your client, like redeeming the coupon, subscribing to your newsletter or buying your products.
With Automation 360 you can identify which actions are a total success and which ones might need a little refinement by looking at the conversion counter included with the service.
5. Provides a very powerful data filter
If you have a product or service that is highly targeted, you probably want to save money by not sending emails or deals to everyone in your database that doesn't fit your target.
Automation 360 offers a lot of different filters that allow you to send different messages based on different variables, conditions or trigger events.
6. Visual statistics
Especially if you don't have a dedicated department in your company to gather raw marketing data and translate it into a more eye-appealing, easy-to-understand manner, you can certainly exploit Automation 360's powerful data visualization capabilities. With this marketing automation solution, you can get a detailed visualization of all the statistical data of the automation flow to make sure you are getting the most out of every email, SMS or web push notification every time, with every client.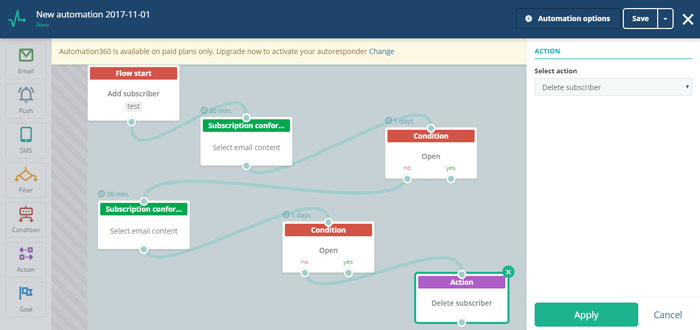 7. Recipient's path in the flow
Have you noticed that a certain client has become incredibly loyal, buying your product or service every month? Or, have you noticed that someone had a huge problem with your flagship product that could mess up your entire brand if managed inappropriately?
Well, the solution is right in front of your eyes. With SendPulse Automation 360 you can selectively see all the emails and communications your company has had with a specific user and how it has evolved over time, so you can make the right call when it comes to loyalty rewards or pertinent product replacements/money refunds.
8. The pricing is incredibly accessible and perfectly fitted for your project
The main downside of most automation solutions is that they are either free, but absurdly basic and aren't of any use unless you are using them for a personal project that is not expected to grow significantly over many years, or they are incredibly powerful tools that huge companies could use and properly exploit, but they are sold as pricy software packages that often include many tools your company is not ready to adequately use or understand yet.
One of the main advantages of SendPulse Automation 360 is that the price is completely adapted to your company's needs. For example, if you only have 10000 subscribers, you can pay a monthly subscription of just $53 dollars. Even if you don't want to commit for an entire month or if you feel like you want to pay only for the services you use, you can acquire a prepaid package for as little as $32 dollars for 10,000 emails. And, finally, if you are a huge company with over one million subscribers, you can always get in touch with their Custom Care Team to acquire a VIP plan suitable for you.