HOBOT 298 Window Cleaning Robot Review
HOBOT 298 is the latest window cleaning robot produced by Home Robot LLC, a Taiwanese manufacturer specialized in producing high quality robotic products. Read the rest of this review to learn more about the features of this great cleaning robot.
Home cleaning robots are the face of the future. Throughout pop culture, they represent the embodiment of a new era, where the new technology aids ordinary people even in their homes, giving us what we value most – our time. But, there is also a whole new standard of cleanliness, coming along with saving your time.
One of the first home cleaning robots was specialized for cleaning floors and they managed to replace the vacuum cleaner in many households. With the public acknowledging of the ease such robots can bring to a household, more researchers and engineers are working to constantly develop the technology, improving the existing types of home cleaning robots, as well as creating new ones for other types of surfaces. Robots for cleaning windows and other vertical surfaces require implementation of new technologies that allow them to stick to the vertical surface without falling down. This challenge was easily overcome by HOBOT robots.
HOBOT family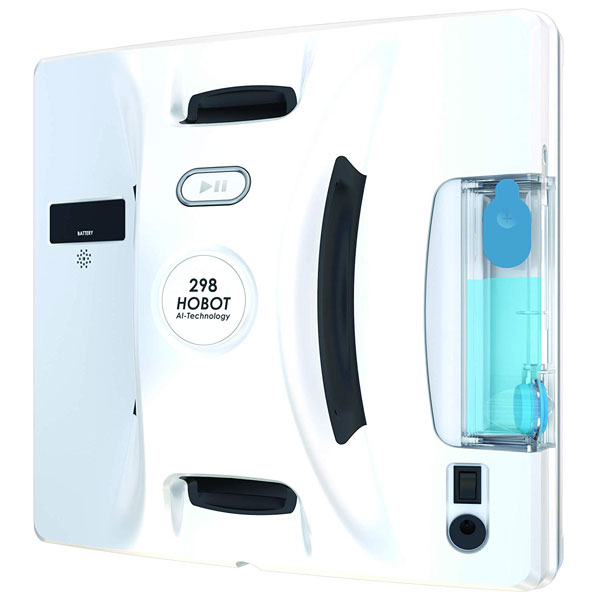 Home robots from HOBOT have rocked the markets worldwide, having an excellent response globally, especially in China. HOBOT robots excel in cleaning floors and windows. Their products come in several product lines and generations, and here we'll focus on HOBOT-298 from the HOBOT-2XX family. They call it "the fastest robot for cleaning glass surfaces in history". While it was not meant to be simply better than the other two models, it focused on a specific type of surface allowing the product to maximize its efficiency.
How does it work?
HOBOT-2xx product line brings the super-fast home cleaning robots that can move at speed of 4.7 inches per second. They use a vacuum engine like from the older 188 model, but these series incorporated it in a whole new, better concept. The centrifugal pump helps robots overcame any uneven surface or leaks, cleaning every sport behind them. HOBOT robots can clean one square meter for roughly two and a half minutes.
They use laser sensors for precise Z-shaped movements that can easily handle cleaning all edges. While it was primarily made for cleaning windows, HOBOT-2xx robots can be also used to clean frameless doors or mirrors with the same efficiency. They can easily detect any obstacles such as window frames and determine best movements for the best result.
Ease of use
Just like the HOBOT-288, the new model 298 can be controlled over a remote controller or with a mobile app that connects to the robot over Bluetooth and allows remote control from your tablet or smartphone. This feature was introduced with HOBOT-288, and the previous model, 268, didn't have it. So if you are a 268 owner looking for an upgrade, this little feature might help you make your mind.
What's new?
HOBOT 298 is the last generation model from the HOBOT 2XX product line (more details could be found at the official distributor of HOBOT in the US). It comes with a characteristic design but it's delivered in a more sophisticated way than any of its predecessors. Unlike the two older models it comes with:
1) New software
HOBOT-268 and HOBOT-288 used the same software – AI Technology V3 GIRO sensor, while HOBOT-298 comes with a new AI Technology S2.1 GIRO sensor which was made to overcome any previous imperfections and to manage new functions added to the new model, such as the auto water spray.
2) Auto water spray
Auto water spray is a totally new feature added to the HOBOT-298. It automatically sprays the surface for the better polishing of glass surfaces. This feature is what makes HOBOT-298 distinctively specialized for glass surfaces but it saves a lot of your time and does the better work polishing than do human hands.
3) One type of microfiber cloth
Unlike the other two models, HOBOT-298 does not include two types of microfiber cloths – one type for dry and the other for wet surfaces. Since it comes with the auto water spray feature, it only has the microfiber cloth for wet surfaces.
4) Less noise
Buzzing can be quite annoying, so HOBOT-298 is made to make slightly less noise than other models. However, given the fact it uses the same engine as do the two earlier predecessors, and that it weighs heavier than both of them, it makes it quite impressive. All HOBOT-2XX robots make a lot of less noise than earlier models, but model 298 is the definite winner.
More features could be watched on this video:
Where to get one?
HOBOT robots can be ordered on their official site or by going to one of their branded stores around the US. Shoppers could also order HOBOT on Amazon from the official distributor.
There are also other ways of getting one, especially if you are not from the US, so refer to their site for the list of partners around the world.
Should you damage any parts of your HOBOT robot, you can order all parts and accessories on their site, too, as they manufacture and supply repair parts and appliances for all of their products.
Why get a HOBOT robot?
As mentioned earlier, long have been the dreams of sci-fi enthusiasts to reach a point where this type of future becomes a reality. But, apart from such a romantic view on the home cleaning robots, they come in as a necessity of modern life. With less and less time we all have, maybe it's time to adapt and spend our time enjoying after we come home from work instead of doing chores. Well, maybe not everything can be handled by a HOBOT robot, but you leave your floors and windows to HOBOT and just take your time to relax.