DJI Phantom 1/2/3/4 Comparison & Reviews
Since 2013, DJI has released various numbers of Phantom drones to the market including Phantom 1, Phantom 2, Phantom 3 and Phantom 4, with models and versions such as 'Vision+', 'Professional' and 'Advanced'. Here we compare different features and options of these quadcopters.
DJI Phantom drones
Just a quick history of DJI Phantom products here:
In January 2013, the first drone by DJI, known as Phantom 1 (or simply Phantom) was released. The quadcopter had very basic features (which could be seen in the following section) and no built-in camera.
With upgrades such as increased controllable range, flight time and flight speed, and auto-return feature, Phantom 2 was available to the public in the late 2013. But users should wait until July 2014, before getting Vision+ version with extra upgrades and features such as more increased range and a 3-axix stabilizer.
As an intermediate version between Phantom 2 and 1, in January 2014, DJI introduced Phantom FC40, equipped with Android/iOS app for controlling the drone, like 'Vision' and 'Vision+' models.
Also, Phantom 3 and 4, with lots of improved options and extra features, were released in April 2015, and March 2016 respectively.
DJI Phantom 1 specs & features
Communication distance: 300m 
Working frequency: 2.4GHz ISM
Low-voltage alarm
Enhanced fail-safe
Intelligent orientation control
USB interface
LED indicator
Power system for flight
R/C receiver
Compass & GPS module
NAZA-M autopilot system
Diagonal distance: 350mm
Max flight velocity: 10m/s
Max descent/ascent speed: 6m/s
Max tilt angle: 45°
Take-off weight: <1000g
Currently, we couldn't find any online vendor selling new Phantom 1. Perhaps the only option would be websites listing used items for sale such as eBay.
DJI Phantom 2 specs & features
Phantom 2 quadcopter comes with multifunctional, ready-to-fly quad-rotor system. Other features include:
CAN-Bus expansion module 
Video downlink support
Self-tightening propeller
Easy battery replacement
IOC (intelligent orientation control)
Advanced power management
Auto landing & return-to-home
DJI intelligent battery
Stable hovering and precision flight
Customized H3-2D gimbal support
Communication distance: 1000m (open area)
Operating frequency: 2.4GHz ISM
Flight time: 25mins
Power consumption: 5.6W
Max flight speed (not recommended): 15m/s
Max descent/ascent speed: 6m/s
Max tilt angle: 35°
Weight: 1000g (with battery)
See how much it costs on Amazon: https://www.amazon.com/DJI-Phantom-Quadcopter-Bundle-Zenmuse/dp/B00SHUEPBK (supporting GoPro Hero 4 camera with 3-Axis Zenmuse H4-3D gimbal)
Please note that there is still no camera coming with the drone. The first edition with a camera on (or more precisely under) the quadcopter is Phantom 2 Vision with other specs such as:
Communication distance: 300m (open area) 
14 MP camera (both JPEG and RAW picture format supported, HD recording (1080/60i or 1080/p30), timed, continuous capture and multi-capture supported, sensor size: 1/2.3, FOV: 140°/120°/90°)
Operating frequency: 5.73 – 5.85GHz
Mobile device could display virtual radar aircraft locator
Low-voltage protection
Anti-vibration camera platform
Diagonal length: 350mm
Weight: 1160g
Battery: 5200mAh Li-Po
Please note that the production of '2 vision' version has been discontinued by the manufacturer. Although for those insisting on getting this drone, we recommend searching for used products on websites like eBay.
After the above drone, an even improved version came: Phantom 2 Vision Plus. Here are some of the main changes:
Communication distance: 500m – 700m (open area) 
Camera (HD recording: 720p60/1080p30, FOV: 110°/85°, Resolution: 4384×3288)
Album synchronization
Camera parameter settings
Adobe lens profile and DNG RAW supported
Camera tilt control
Real-time flight parameters (onscreen)
3-axis camera stabilization
Max descent speed: 3m/s; max ascent speed: 6m/s
Weight (with propellers & battery) : 1242g
Check out the buying options & price for this DJI drone: https://www.amazon.com/DJI-Phantom-Vision-V3-0-Quadcopter/dp/B00P309MZ6
DJI Phantom 3 specs & features
Max transmission distance: CE: 500m; FCC: 1000m 
Operating frequency: 922.7MHz – 927.7MHz (Japan); 5.73GHz – 5.825GHz
Camera (Image size (max.): 4000 x 3000, electronic shutter speed: 8s – 1/8000s, ISO range:100 – 1600 (photo); 100 – 3200 (video), lens: field of view (FOV) 94° 20mm f/2.8, effective pixels: 12M, 2.7K video, sensor: 1/2.3")
Flight time: 25 minutes (max.)
Max speed: 16m/s
Max descent speed: 3m/s
Max ascent speed: 5m/s
Weight: 1216g (including battery)
Flight simulator for practice (built-in)
Worry-free autopilot
Easy video editor
Live HD view
Convenient controls
Built-in Wi-Fi
3-axis stabilization gimbal
Automatic flight logs
GPS-assisted hover
To see the latest price for Phantom 3 Standard (the above) and how to purchase it, please have a look at: https://www.amazon.com/DJI-Phantom-P3-STANDARD-Quadcopter-Camera/dp/B013U0F6EQ (included accessories: 8GB micro SD card, radio controller, two full sets of propellers and a charger and battery)
Other version, Phantom 3 Advanced is available as well, with the following specs: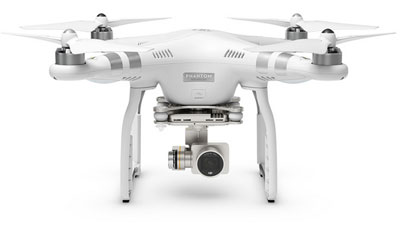 Max distance: 2000m (in some resources it is 5km)
Operating frequency: 2.400GHz – 2.483GHz
Camera (Video storage bitrate: 40Mbps (max.), ISO range:100 – 1600 (photo); 100 – 3200 (video), sensor: Sony EXMOR 1/2.3")
Diagonal length: 590mm
Battery: 6000mAh LiPo 2S
More reviews and price details for this DJI quadcopter could be found at https://www.amazon.com/DJI-Phantom-Advanced-Quadcopter-Camera/dp/B00VSIT5UE
There is also a Phantom 3 Professional drone with the same features as the 'Advanced' version except for the improved video quality (UHD 4K): https://www.amazon.com/DJI-Phantom-Professional-Quadcopter-Camera/dp/B00VSITBJO
DJI Phantom 4 specs & features
App (Recommended devices: Samsung Note 3, Samsung Note 4, Samsung S5, Samsung S6, Samsung S7, Samsung S7 edge, iPhone 6s Plus, iPhone 6s, iPhone 6 Plus, iPhone 6, iPhone 5s, iPad Air, iPad Pro, etc. – required OS: Android 4.1.2 or higher – iOS 8.0 or higher – DJI GO App) 
Live view (latency: 220ms – quality: 720P/30fps – working frequency: 2.4GHz ISM)
Camera (Up to 64GB Micro SD card (UHS-1 or Class 10) supported – video: MOV (MPEG-4 AVC/H.264), MP4 – video bitrate: 60Mbps (max.) – HD & UHD (4k, 4096×2160) supported – photo: DNG (RAW), JPEG – compatible file systems: exFAT (>32 GB), FAT32 (≤32 GB) – still photography modes: HDR, timelapse, EV Bias, AEB (auto exposure bracketing), burst shooting: 7/5/3 frames, single shot – image size: 4000×3000 – electronic shutter speed: 8 – 1/8000s – ISO range: 100 – 1600 (photo), 100 – 3200 (video) – lens: FOV 94° 20mm – effective pixels:12.4M, sensor: 1/2.3" CMOS)
3-axis (yaw, roll, pitch) gimbal
Battery capacity: 5350mAh LiPo 4S
Operating frequency: 2.400 – 2.483GHz
Satellite positioning systems: GLONASS / GPS
Maximum flight time: 28 minutes (approx.)
Wind Speed Resistance: 10m/s (max.)
Max Service Ceiling: 6000m (19685 feet) above sea level
Diagonal size: 350mm (not with propellers)
Weight: 1380g (with propellers & battery)
To purchase or check out more reviews for this drone please go to https://www.amazon.com/DJI-CP-PT-000312-Phantom-4-Quadcopter/dp/B01CFXQZD0
As other models, a version with some better and improved features (Phantom 4 Pro) has also been released, which some of its options could be seen below: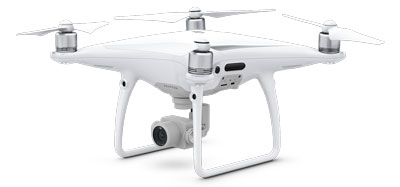 Battery capacity: 5870mAh
Operating frequency: 5.725 – 5.825GHz & 2.400 – 2.483GHz
App (Android 4.4.0 or higher – iOS 9.0 or higher – DJI GO 4)
Live view (working frequency: 5.8GHz ISM – 2.4GHz ISM)
Camera (Up to 128GB capacity of Micro SD card – video: MP4/MOV (HEVC/H.265; AVC/H.264) – photo: DNG (RAW), JPEG, JPEG + DNG – video bitrate: 100Mbps (max.) – image size: 16:9 aspect ratio 5472×3078 – 4:3 4864×3648 – 3:2 5472×3648 – ISO range: 100- 12800 (manual photo), 100 – 3200 (auto photo), 100 – 6400 (manual video), 100 – 3200 (auto video) – lens: FOV 84° 8.8mm/24mm – effective pixels: 20M – 1'' CMOS sensor)
Maximum flight time: 30 minutes (approx.)
Weight: 1388g (with propellers & battery)
More details and pricing info could be found at https://www.amazon.com/DJI-Professional-Quadcopter-Multirotor-CP-PT-000488/dp/B01MXLLDQ8
And the latest version in these series is Phantom 4 advanced with the following major changes over its predecessors:
Live view (working frequency: 2.4GHz ISM)
Camera (effective pixels: 20M)
In fact, there are more differences between the 'Advanced' and 'Pro' versions such as the flight modes and obstacle sensing.
This 'Advanced' version could be found at Amazon through https://www.amazon.com/DJI-Intellectual-Powerful-Advanced-CP-PT-000689/dp/B06Y67H9VG
Phantom 2 vs Phantom 1
In fact, DJI added lots of new features and options to Phantom 2 which couldn't be found in Phantom 1. Flight programming and video recording are two areas which included the most differences.
The first item we'd like to mention here, is communication distance which undertook a great improvement especially in the 'Vision Plus' version.
Also, working frequencies are different between the models, whereas the '3-axis camera stabilization' is a new concept only introduced in the latest version 2 model.
The 25 minute flight time in the newer version is also a huge improvement compared to the 10 minute in the older model of the quadcopter.
And also, as mentioned earlier, the first DJI drone with its own camera is 'Vision' model, although it isn't impossible to use a camera with older models. For instance, Phantom 1 could be used to mount a GoPro camera.
Video downlink feature could also be found in Phantom 2 quadcopter ('Vision' & 'Vision+' versions).
Phantom 3 vs Phantom 2
In terms of design and looking, Phantom 2 Vision+ and Phantom 3 are very similar. But the real differences like inside these drone models.
One of the main areas to see a big change is maximum transmission distance. In the version 3 models of DJI Phantom, we could see 1000m in 'Standard' and '4K' versions up until 5000m or 5km in 'Advanced' and 'Professional' models.
For many users, one of the great advantages of version 3 models might their camera features. Up until Phantom 2 Vision+, users could only recover videos with 1080p/30fps maximum quality, whereas in Phantom 3 series, video quality has improved a lot (2.7k/30fps for 'Standard' & 'Advanced' models and 4K/30fps for 'Professional' and '4K' DJI quads).
In terms of flight range and live-streaming, newer models have seen huge upgrades as well.
Phantom 4 vs Phantom 3
In Phantom 4, DJI adds many additional sensors to the drone in order to enable the quadcopter to track movement and avoid obstacles. These new features could improve the drones' usability a lot.
Due to larger battery, Phantom 4 is slightly heavier and bigger than the Phantom 3, but in exchange, it could reach a higher top speed and longer flight time (20m/s in 'sport mode').
Other features of DJI Phantom 4 such as camera and controller are very similar to its predecessor, although we could see some big improvements in camera in 'Pro' and 'Advanced' models.
Phantom 2 Vision+
Phantom 3 Standard
Phantom 3 Advanced
Phantom 4 Pro
Camera
Photo: 14MP
Video: 1080p
Photo: 12MP
Video: 2.7K
Photo: 12MP
Video: 2.7K
Photo: 12MP
Video: 4K
Remote control
5.8GHz; 700m
5.8GHz; 1,000m
2.4GHz; 2,000m
2.4GHz; 5,000m
Max. flight time
25min
25min
23min
28min
Battery
5,200mAh Li-Po
4,480mAh Li-Po
6,000mAh Li-Po 2S
5,870mAh Li-Po 4S
Weight
1,242g
1,216g
1,280g
1,388g
Useful parts & accessories
Here we only mention a few examples of a huge variety and number of Phantom drones' accessories which are available on websites such as Amazon.
Drone Fans Upgraded Phone Tablet Extended Holder with Metal Bracket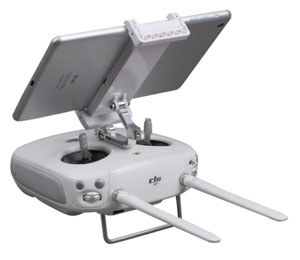 Tablets and phones larger than 5.5in are supported by this product, which features detachable and foldable design.
This holder is compatible with DJI Inspire Series, Phantom 4, Phantom 3 Advanced / Professional / Standard drones.
This holder is suitable for Phantom 3 (all models) and Phantom 4.
https://www.amazon.com/Drone-Fans-Upgraded-Phantom-Standard/dp/B01MYLZC8V
True Folding Sunshade for DJI Phantom and Inspire Controller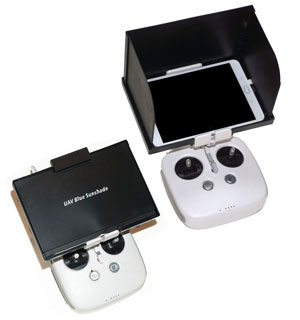 This sunshade is transportable and compact, and UV resistance ABS plastic has been used to make it. As a foldable accessory, top and sides shades could be folded over the screen.
Samsung Tab S2, iPad Mini, and similar devices could be easily fitted in this product.
https://www.amazon.com/Folding-Sunshade-Phantom-Inspire-Controller/dp/B01N0X75HX
Carrying Case for DJI Phantom 4 Travel Hard Case Black
With Sleek black finish and 23X14X9 inches approximately, this carrying case is ideal for this drone.
4 DJI batteries could be fitted in the case's slots.
https://www.amazon.com/Carrying-Case-Phantom-Travel-Black/dp/B01F2U46UW
There are also lots of other products such as chargers, gimbals, filter kits, FPV kits, Goggles, additional parts such as propellers, batteries, etc. which could be found and purchases easily.
Later, we'll compare Phantom to other major competitors such as DJI Inspire, Syma, Yuneec Typhoon and more.