Amino App: Communities and Chat Review
You can find a large number of social media networks out there in the world. Out of these social media networks, Amino has received a lot of positive attention. Hence, it is important to take a look at what exactly Amino is and what you can gain out of it. Then you can proceed to the next step and get your hands on Amino.

What exactly is Amino?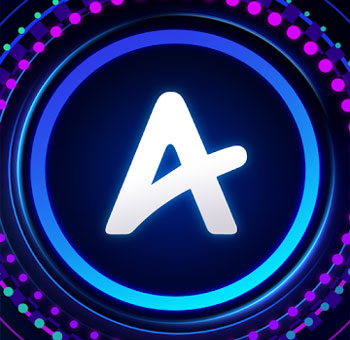 Amino can simply be defined as a network of communities. Primary objective of Amino app is to bring people together, depending on the interests that you have.
If you have a certain set of interests, you would be interested in getting to know about others who share the same interests. That's where Amino will be able to assist you with.
Once you take a look at Amino, you will figure out that you are provided with the chance to develop a customized profile, which reflects all your interests. Then you will be able to follow other people who have the same interests, while growing your follower base.
You will also be able to discover a community based on your interests.
If you cannot find such a community, you are provided with the freedom to come up with your own community. Then you can get like-minded people to follow the community.
After creating the communities, you will be able to do lots of work as well. On the other hand, you will be able to chat with other members who have signed up with Amino.
You will also be able to share information along with them.
Amino can provide you with the chance to post videos and blog posts. Likewise, you can read the blog posts and videos uploaded by others as well.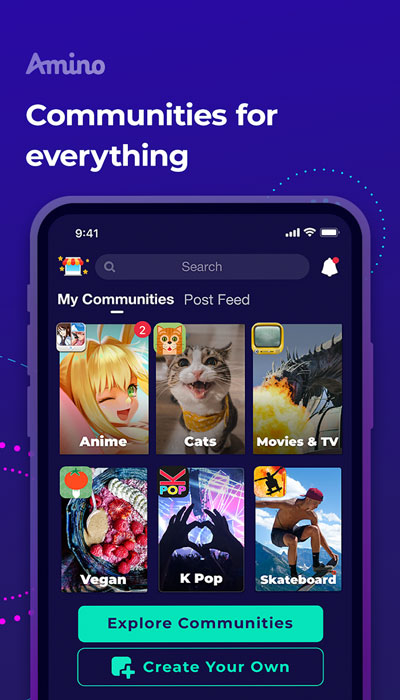 Communities and their content could be checked through the Amino website or, alternatively, users could get access to full options of the app by using the mobile apps.
Amino for iOS could be downloaded from App Store at https://apps.apple.com/app/amino-communities-and-groups/id1115565187
Also, Android users could download Amino for their devices from Google Play Store https://play.google.com/store/apps/details?id=com.narvii.amino.master
There are also websites which provide Amino apk download if you search the net.
Features of Amino
Now you have a basic understanding on what Amino is all about. With that in mind, you can take a look at the features offered by Amino app. Then you can make the decision whether you are going to go forward and use it or not.
Chat with others
Ability offered by Amino to chat with others is impressive. When it comes to a social media network designed for sharing interests, it is important to have comprehensive chatting capabilities.
Then it will be possible to chat with likeminded individuals with ease and have a great time. Developers of Amino have understood it. As a result, appropriate measures have been taken to provide a streamlined chatting experience via Amino.
Along with chatting, you will also be provided with the chance to make new friendships on Amino app. They will be long lasting friendships, which can benefit you for the rest of your life.
Explore communities
Inside Amino, you can find a large number of communities. You are provided with complete freedom to go ahead and explore those communities at your own pace.
When you join a specific community based on your interests, you will be able to come across analysis, long form posts, in-depth stories, reviews, poll quizzes and fan art. Along with that, you can also get recommendations, quizzes, commentary, journeys, photos, cosplay, fan fiction and anything else that you can imagine.
Content sharing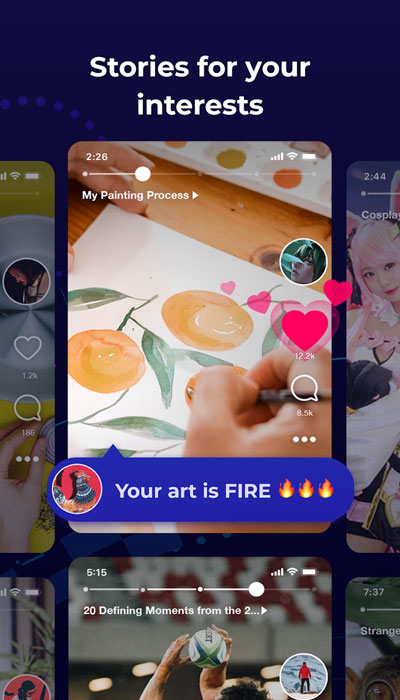 Content sharing capabilities offered by Amino are impressive. You will be able to upload blog posts as well as we videos to Amino. Then you will also be able to go through blog posts and videos that were uploaded by other members.
You can find a variety of content in Amino, which range from K-pop and video games to anime and fan arts. You can find a passionate group of people who keep on sharing content. You can also join hands with them and start sharing content on your own.
Customize the profile
All the users who sign up with Amino will be able to create their own profiles. When you create a profile on Amino, you are provided with complete freedom to go ahead and customize it according to your preferences.
You can take a look at the digital store and see what customization capabilities are available. For example, you can get saucy chat bubbles, handcrafted stickers and even beautiful profile frames, so that you can customize the profile according to your own needs.
This can eventually help you to make your profile stand out from the rest.
Other key features of the app include:
Making new friends
Customizing profile
Creating quizzes, polls, blogs, and stories
Chat with people globally
Exploring communities
Reading blogs, and watching videos and stories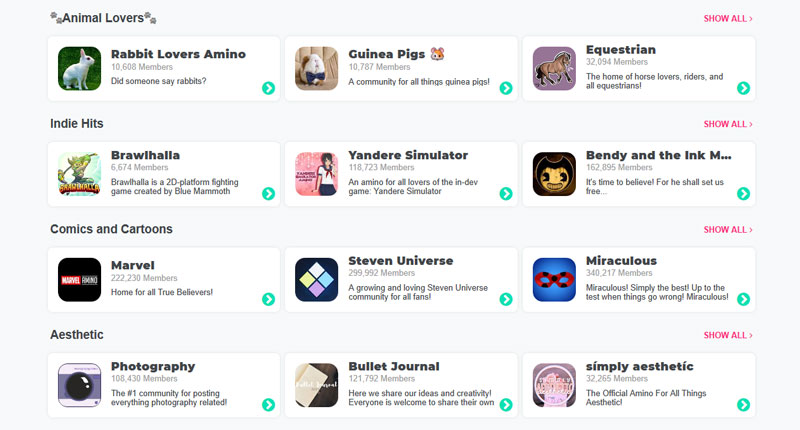 Conclusion
Now you have a solid overall understanding about what Amino app is and what you can get out of it. Hence, you can proceed to the next step and create your own profile. Amino is a completely safe platform.
Therefore, you can even allow your children to start using it and explore the benefits that come on their way. Amino is still evolving and you can expect to find many more great features in it during the next few months.