How to Send/Receive a Fax Online (PC, Mac, iPhone & Android)
Need to urgently send a document to someone's or some agencies' fax number but don't have a fax machine? No problem. The solution is to use online methods to send and receive faxes using computer or smartphones such as iPhone.

Fax from computer (Mac OS X & Windows)
eFax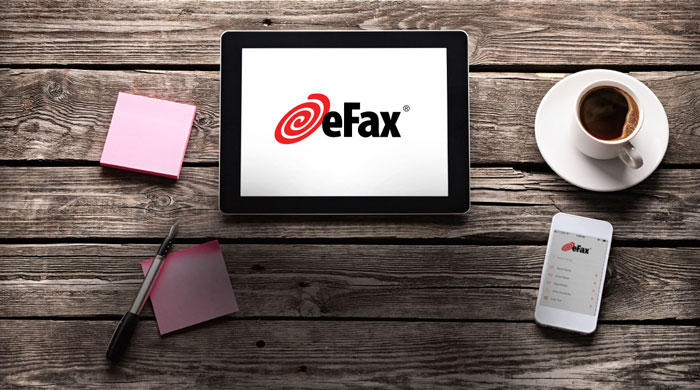 eFax has made it very easy to send faxes online without a fax machine. In fact, users could fax documents just as easily as sending an email with their PC or Mac computers.
Follow these simple steps to send a fax with email through eFax services:
On the computer (Windows or Mac OS X) open an Internet browser (Firefox, Opera, Safari, Chrome, etc.) and then go to an email service and then create a new email message (or compose). 
Add '@eFaxSend.com" to the fax number and type it into the 'To' field.
What is typed in the message box would be turned into cover sheet by eFax. And the fax document should be added as an attachment to the message.
Click the 'Send' button.
Receiving an incoming fax is just as easy through email. Also, eFax mobile app could also be used for faxing services which we're going to discuss later in this article.
Other options provided by eFax are: faxing from Epson or HP printer, faxing from Microsoft Word, or sending a fax from eFax account online.
FaxZero
FaxZero might be the most convenient choice for those being in a hurry to send a fax without a fax machine or just don't want to go through the hassles of installing an online fax software or fax app on their devices.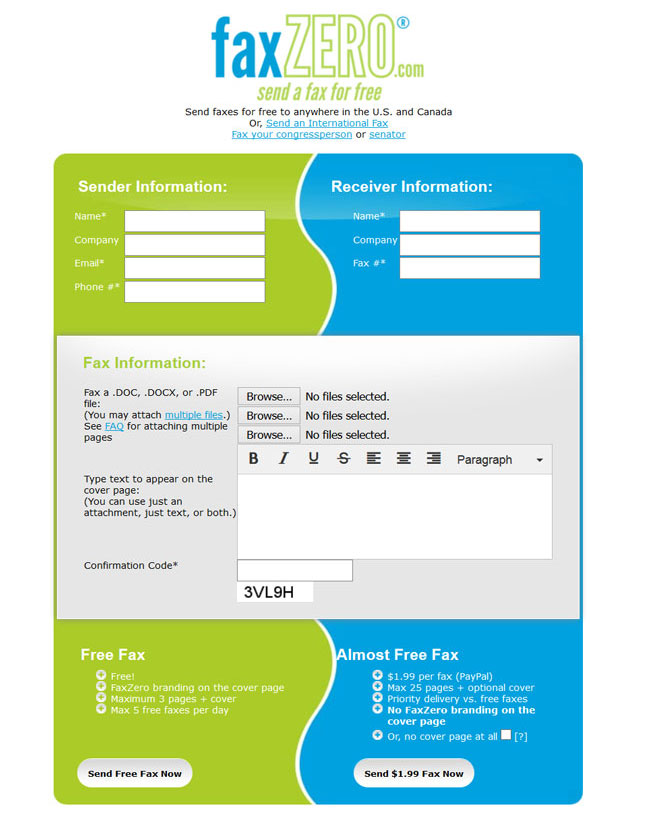 So, all is needed to send a fax with FaxZero is an Internet browser and checking out the FaxZero website. After filling the sender and receiver information (name, phone & fax numbers) there are options below which allow the fax file to be selected.
PDF, DOCX and DOC files are supported by this Internet fax service. And if the cover page needs to contain a text, users could also type the text in the appropriate text box on the online form.
Now that the fax is ready to be sent, users have two options: Free fax and paid one ($1.99).
The free service limits the total fax pages to three pages (maximum five faxes daily for free). And also, the cover page would be including a FaxZero branding.
The paid fax service includes no FaxZero branding and users could fax up to 25 pages plus optional cover.
Fax from mobile device (iOS & Android)
Even a simpler method to send faxes over the Internet is using the devices and gadgets which are always with us – our cell phones.
Please note that although most of these apps are free but to use them to send faxes users need to buy fax credits.
Here are 5 top apps for sending documents and images online:
eFax (iPhone & Android)
Having a portable fax machine at our side anywhere and anytime isn't a dream – at least for those always needing to send or receive documents – with great features offered by eFax app.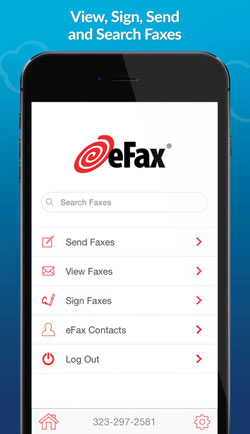 The faxing app lets users scan, sign, send and receive faxes using iPhone, iPad or Android phones and tablets.
Features include (some of them for the Plus version):
Sending/receiving 150 pages of fax per month
Users could select their own fax numbers
Export faxes – online cloud storage could be used for transferring PDF documents.
Using their phones, users could forward documents by email or fax.
Google Cloud Print could be used to print faxes.
Unlimited fax storage is provided to users so that they could archive and store any faxes online.
Without any printing, it is possible to edit and sign faxes after receiving them.
Supporting multiple file types such as JPG, JPEG, PPT, DOC, PDF, etc.
Please note that some of the features might differ slightly in iOS and Android versions.
Download eFax app for iPhone & iPad from iTunes App Store: https://itunes.apple.com/us/app/efax-receive-and-send-fax-for-iphone-or-ipad/id399922064?mt=8
Download eFax app for Android from Google Play Store: https://play.google.com/store/apps/details?id=com.j2.efax&hl=en
RingCentral (iPhone & Android)
Although more than just an app for online faxing, RingCentral is definetly on our list for so many great features it comes with especially for users already using RingCentral business phone system.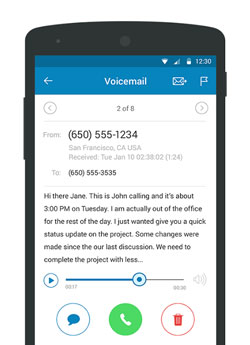 There are so many benefits for using the app such as:
Call queues
Call screening
Custom greetings
Internet fax
Visual voicemail
Advanced answering rules and call management
Multiple extensions
Auto-receptionist
VoIP calls over Wi-Fi
When making calls, RingCentral business number showing as user's caller ID
Download RingCentral for iOS: https://itunes.apple.com/us/app/ringcentral/id293305984?mt=8
Download RingCentral for Android: https://play.google.com/store/apps/details?id=com.ringcentral.android&hl=en
FaxFile (iPhone & Android)
Entering a fax number and selecting a file to be faxed is all needed for sending a fax with a smartphone using FaxFile application.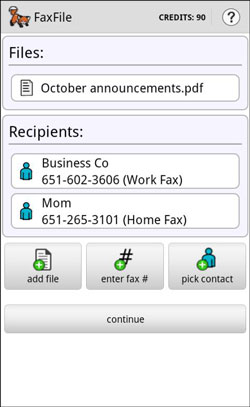 Please note that in order to use this app to send faxes, fax credits should be purchased through the app. Also, before buying credits, it is recommended to check the prices and supported countries for international faxes.
Features:
Document transfer (from various apps) and direct image capture (scan) is supported.
Google Drive, Apple's iCloud Drive storage, OneDrive, Dropbox and Box could be browsed directly for documents which are fax compatible.
It is possible to use the app to send multiple documents or files to multiple recipients at the same time.
Compatible with both direct dial non-toll free and toll-free numbers.
Download FaxFile for iOS: https://itunes.apple.com/us/app/faxfile-send-fax-or-faxes-without-a-fax-machine/id672100118?mt=8
Download FaxFile for Android: https://play.google.com/store/apps/details?id=com.actualsoftware.faxfile
iFax (iPhone & Android)
iFax is another great online faxing app for Android and iPhone which allows users to receive and send fax documents with no fax machine.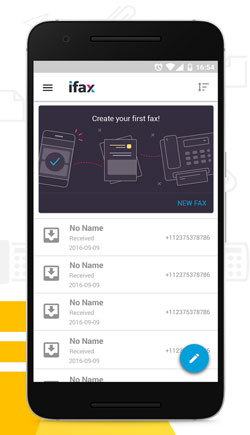 Some of the features include:
No personal details or account needed to receive/send faxes
Incoming fax number (users could get free fax number with a 7-day trial – toll-free or local fax numbers available in many countries including USA, UK, Canada, Australia, etc.)
Compatible with cloud storage platforms (Google Drive, Box, Dropbox)
No printing needed for filling forms, signing documents and faxing them
Document scanner – images could be attached using camera or from photo library
Fax costs depend on the destination and number of pages. Discounted prices are offered to buy fax credits (payable with PayPal or Google Wallet).
Download iFax for iOS: https://itunes.apple.com/us/app/ifax-send-receive-faxes/id331514859?mt=8
Download iFax for Android: https://play.google.com/store/apps/details?id=crowdedroad.iFax
CamScanner (iPhone & Android)
As one of the most downloaded and top reviewed document scanning and sharing apps, CamScanner offers lots of useful options and features including internet faxing services.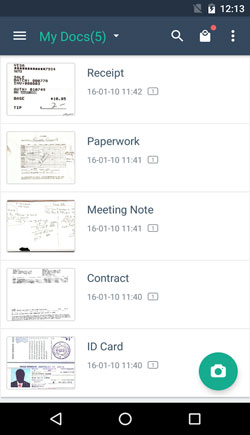 Across the world, CamScanner could help users to scan and manage books, articles, PPTs, letters, scripts, notes, business cards, tax rolls, contracts, invoices, bills and so on.
CamScanner features include:
Supporting password protected documents
Advanced document editing
Sharing JPG/PDF files
Text extraction from images
Scan quality optimization
Mobile scanning
Download CamScanner for iPhone and iPad: https://itunes.apple.com/us/app/camscanner-free-pdf-document-scanner-and-ocr/id388627783?mt=8
Download CamScanner for Android: https://play.google.com/store/apps/details?id=com.intsig.camscanner&hl=en
And keep in mind that some users might face problems while sending documents through these mobile apps.
One of the main reasons for failed faxes using these apps is non-answering fax machines. So, it is a good advice to verify a working fax machine by calling the number if a fax fails to be sent.