How to Extend Battery Life on Samsung Galaxy S10/S10 Plus
Although they're still among the top picks for many users seeking Samsung smartphones, but Galaxy S10 & S10 Plus are known for losing battery life really soon. But that doesn't mean you couldn't do something to save your battery life on your popular phone while enjoying the cool features.
Compared to many newer Android phone releases by Samsung, Galaxy S10/S10+ have weaker battery powers, but still you could use several methods to extend you're their battery life without the need to upgrade to a newer model which could cost you lots of money.
Trying the following tricks could help you experience improved battery life on Samsung Galaxy S10 Plus and S10:
1) Decrease screen timeout
It's one of the most important options which many people ignore but could have a great impact on their phone's battery life as well as security.
You see, when you put your phone aside but don't lock it, there is a certain amount of time which should pass before it automatically turns into the standby mode. In the meantime, the turned-on screen consumes power. In addition, there is a security risk which could happen if someone accesses your phone.
So, in order to reduce this screen-on time you could adjust the timeout option in the Display settings of your S10/S10+ phone.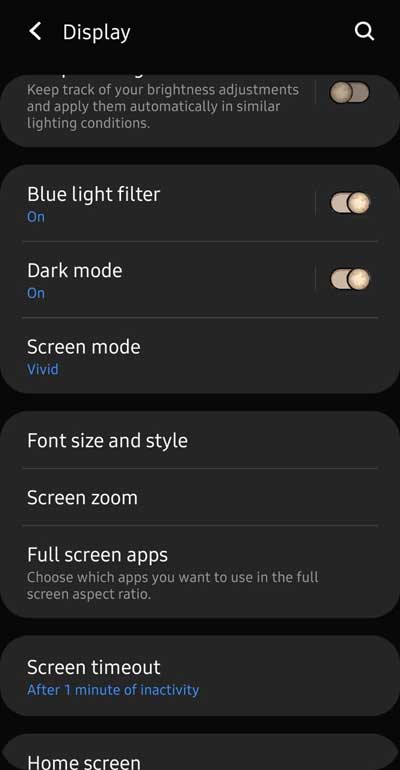 Usually, a proper time is 15-second or 30-second.
2) Power modes
One of the options provided by the manufacturer, which is Samsung, to save your battery while using your phone is through Power modes.
This feature could be accessed through the Battery settings on your phone.
There, you could choose among 4 modes: Maximum power saving, Medium power saving, Optimized and High performance. Naturally, the High performance mode consumes the most battery while providing maximum features and power on your phone.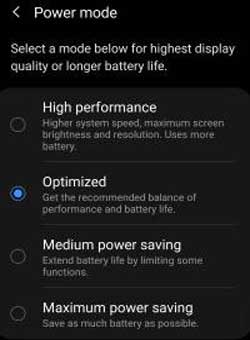 On the other hand, saving the most energy could be done by activating the Maximum power saving mode.
Please note that while improving battery life on your phone through this mode you can't access many of your Galaxy phone's functionalities.
3) Switch off AOD (Always on Display)
AOD acts as one of the cool things for many people owning S10/S10+, but you should know that in order to keep this feature running, your phone needs to consume lots of energy.
So, disabling Always On Display could be one of the first steps you could do in order to save your battery juice for more important functions on your Samsung S10 or S10 Plus.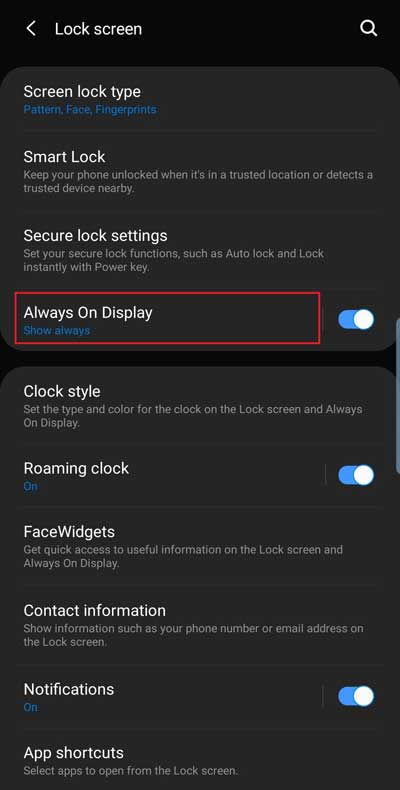 Quick Settings menu is one of the fastest ways to access this feature and turn it off/on.
Also, instead of turning it off altogether, you could give it timing as you like. This means that the AOD feature is active through certain times in the day which could be defined by you.
To take advantage of this option you could set a schedule for it through AOD settings and Display mode.
4) Use lower screen resolution
With Samsung S10/S10+ you have three options for your screen resolution: WQHD+ (3040 × 1440), FHD+ (2280 × 1080) and HD+ (1520 x 720).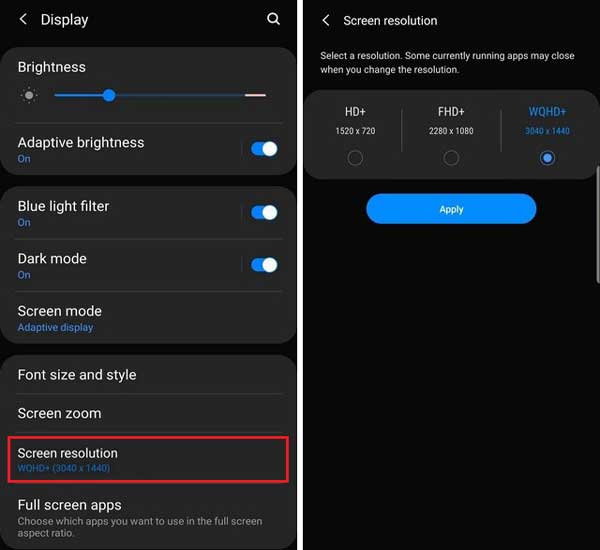 It's obvious that the more resolution you have on your screen the more battery energy is required. So, in case you want to save some battery juice through this method you could opt in for the lower option – i.e. FHD+.
As you might notice, with higher resolution settings, you'll get sharper images and more vibrant colors. So, in order to have a balance between amazing display quality on your phone and saving battery, you could switch to higher resolution whenever you really need it: For example, when watching a TV show or movie.
Applying different settings for display resolution could be done through Display menu and then accessing the Screen resolution settings.
5) Switch to Night mode
When it comes to extending Samsung S10/S10 Plus battery life, activating the Night mode is a no-brainer.
As you could imagine, when the majority of colors on your screen are black or other dark colors, your display consumes less energy, hence giving you more battery in the long run.
On the other hand, the Light mode, which is generally active by default, uses most pixels of the screen, meaning that more of your phone's battery is required to as its power source.
Switching between Night/Light modes is really easy and all you have to do is accessing your Display menu through your Samsung Galaxy S10 phone's Settings.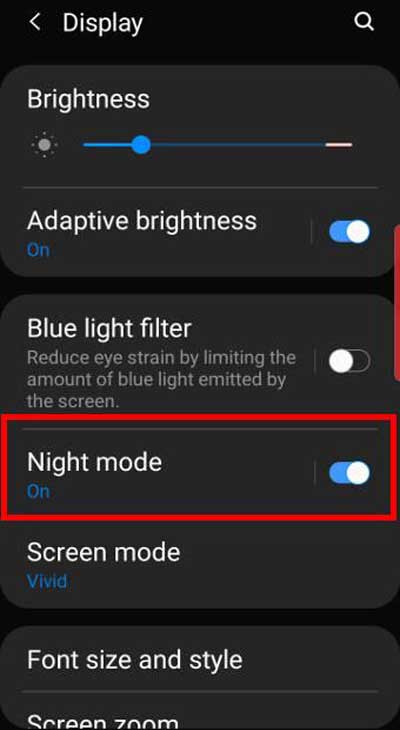 Even more, Reddit, Chrome, Twitter and other apps which support dark mode could help you improve your battery life as well, when you get advantage of the feature through the app.