WhatsApp Hack & Spy Tools, Apps, and Software
With more than 900 million users around the world, WhatsApp is the most popular instant messaging app available for iOS, Android, Windows Phone, Nokia, and other mobile devices. The messenger app allows users to send and receive text messages, as well as audio, video, and image messages through the internet, which could be hacked and spied using special software and tools.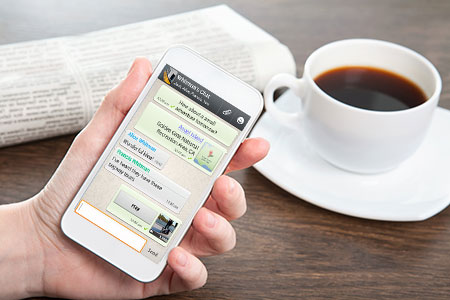 The most widely use of WhatsApp as a simple and user-friendly social chat application doesn't mean its security and privacy options are the best in market. In fact, so far many issues regarding security of this messenger app have been revealed by individuals and software security firms around the world.
Why use these tools?
Since many people with cell phones and tablets use social apps such as WhatsApp to do their text messaging instead of regular SMS, many people who want to hack into cell phones and tablets and find out about communications and mobile activities need to find a way to track WhatsApp messenger.
One of the main groups of people who want to download and use such kind of software is parents who want to protect their children while remotely controlling their mobile devices' activities. Some parents need to know numbers and names of contacts their kids have conversation with, periods of time they spend online using WhatsApp, videos and images they sent to other people, and even full content of chat messages.
Powerful tools could offer all these functionalities for those worrying parents.
Top Programs
These applications are chosen from among many products and apps in this category on the market. Most of them support both two popular mobile systems (i.e. iPhone and Android) and need paid subscriptions to use their services. But still it's important to note system requirements and install advices for each of them (such as necessary rooting, jailbreaking, OS versions, etc.) before making any purchase decision.
– FlexiSPY (Android & iPhone)
As probably the most powerful phone spy app, FlexiSPY is for those wanting more than just hacking into someone's WhatsApp account and monitoring their messages. Most other widespread chat applications and messengers could be tracked using this software. These include Facebook, WeChat, Viber, Yahoo Messenger, iMessage, Hangouts, and Line.
Other communications methods used on the targeted mobile device could also be monitored. Even phone calls could be recorded or listened to as they happen live. And that's also true for phone's surrounding sounds.
FlexiSPY could be run in stealth mode which makes it very difficult to find out if it's installed on the phone.
Two packages are available for interested users: Premium ($149/year) or Extreme ($349/year). Premium should be enough if you just want to use the WhatsApp spying functionality. But be sure to root your Android device or jailbreak your iPhone before downloading and installing the software (i.e. the mobile device you want to hack into).
[Check out FlexiSPY review]
– mSpy (Android & iOS)
Another great mobile tracker application is mSpy, which is very similar to FlexiSPY in terms of features and functions except for a few differences. The feature to hack into WhatsApp account works just fine, and also there is no need to jailbreak the iPhone as well.
mSpy is released for phone and desktop systems (Windows and Mac OS). The phone version which includes WhatsApp tracking tool is 'Premium' with a price tag of $199 per year.
[Check out mSpy review]
– TheTruthSpy (Android & iOS)
If you want an application which simply do the job for you without rooting your Android device (although jailbreaking is necessary for iPhone or iPad) then TheTruthSpy is the right choice. In addition to WhatsApp messages – containing status, stickers, emoticons, pictures, and profiles –, this hack tool also tracks Viber, Skype, Line, Kik, and Facebook messengers, along with other options and tools for monitoring calls, location, and SMS messages.
In order to get access to TheTruthSpy services, there are 3 price plans available to choose: Standard, Premium, and Gold. Please note that spying on social messenger apps (including WhatsApp) is only available on Premium and Gold subscriptions respectively costing about $132 and $150 per year.
The app could be downloaded and installed free of charge for a 2-day trial period.
– MobiStealth (iPhone)
Using this popular mobile tracking software, users could access to all WhatsApp chats and contacts related to the monitored iPhone. Additionally, MobiStealth comes with more tools to track text messages, internet browsing, location (with or without GPS), email details, call logs, and more.
Using the app, it's also possible to log screenshots, keystrokes, calendar and contacts on the target phone or tablet.
The 'Pro' version of MobiStealth, which is the full-feature package, costs $139 per year (for Android) or $149 per year (for iPhone).
[Check out MobiStealth review]
– WhatsSpy Public
And now it's the time for a free WhatsApp hacking tool called WhatsSpy Public. It's a web application developed by a Dutch programmer who started the project as a hobby and to prove the privacy flaws existing in the WhatsApp messenger.
But don't be so much happy yet, since it requires above average technical knowledge to setup and use the spy tool. (Linux or Raspberry Pi is necessary to launch the program)
Anyhow, WhatsSpy Public provides following features:
Privacy setting changes tracking
Viewing profile picture
Status updates/user status tracking (displaying online status in a timeline)
Sending notifications
Also it's important to know that the app couldn't track any messages sent or received in the popular chat application.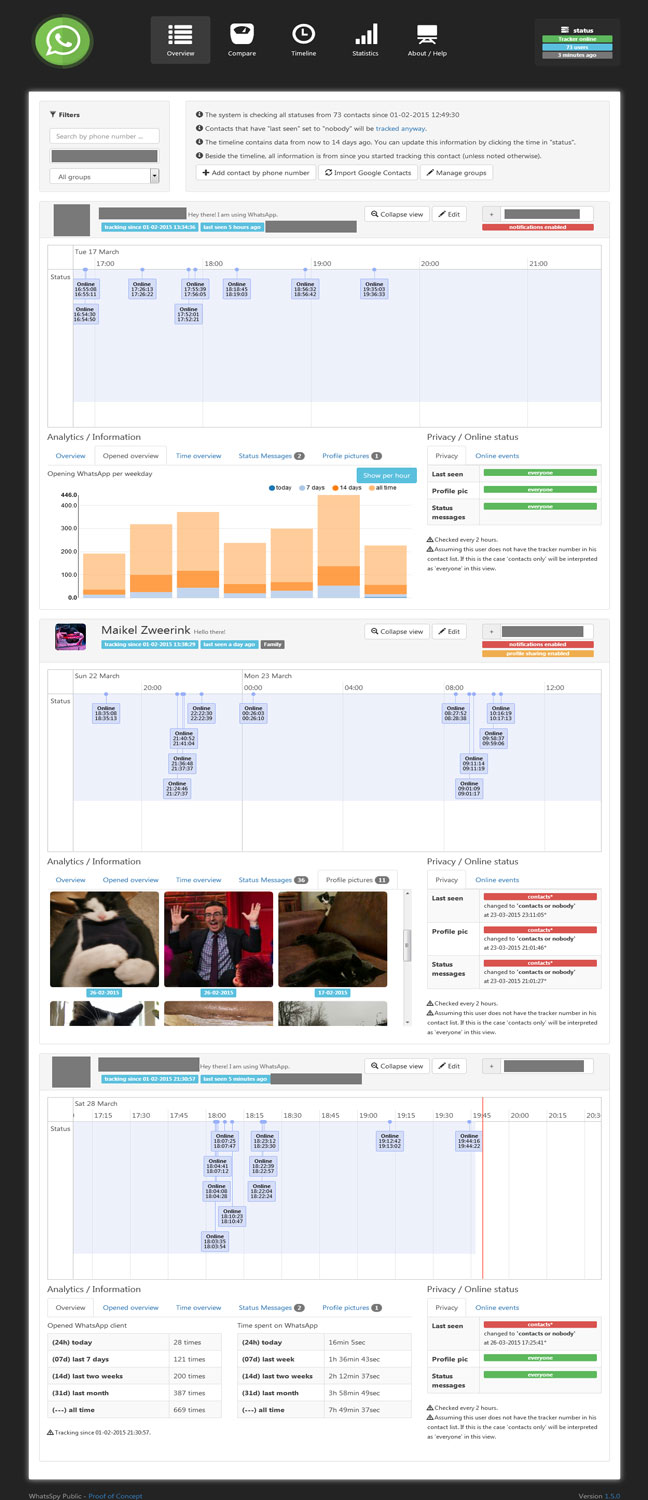 Any apps/tools mentioned above should be selected with much care since they have many details and technical info regarding their installation, running and usage. So be sure to read reviews, check out comparisons, and contact customer support for each product if necessary, before deciding which hacking tool or software is best suited for your needs.