MobiStealth Review
To continue our review series of mobile phone monitoring and tracking applications, here we take a look at MobiStealth. This spy software is one of the greatest ones available in the market offering a powerful set of tools and features to users.
As you may already know, MobiStealth like many similar apps lets you monitor and spy on target cell phones or tablets. The program works by keeping track of activities and applications running on the device, and transferring the information to the online account available to you in order to access the data.
Why use MobiStealth
Beside reasons for protecting kids and teenagers by parents, some users also use MobiStealth to learn about usages of the company phones in hands of employees. Of course, they're legally obliged to inform them before they install this monitoring app on their gadgets. But there are advantages in using this app such as knowing whether staff members really make business phone calls in work time or are just talking to friends and family when they shouldn't.
Main Features of MobiStealth
Spying on SMS: enables you to access all sent/received text messages using the mobile phone/tablet.
Monitoring call logs: offering you detailed info about numbers being received, called, and related data about each conversation including duration and time.
Spying on chat messengers: monitor messages and conversations on popular chat apps including WhatsApp, Skype, Yahoo, and MSN.
Contacts and appointments tracking: this option provides details about appointments and contacts stored on the device. In addition, you could also view calendar info of the phone.
Tracking location: remotely monitor the device's location on the map, even when the GPS is not available.
Tracking web browsing: view the monitored phone or tablet's browsing history. No matter what browser is used, internet activities are traceable by MobiStealth.
Other extra features include: remote wipe, sim change notification, internet bookmarks, photos and videos monitoring, etc.
Please note that some features are only available on certain devices. For example, email monitoring could only be active when MobiStealth is running on iPhone, BlackBerry or Symbian devices.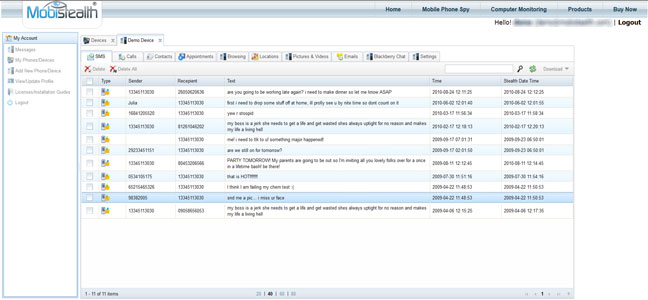 How to install MobiStealth
Before buying and installing the app, you should make sure that it's compatible with your device. Currently, MobiStealth supports iPhone, Android, BlackBerry, Symbian(Nokia) phones and tablets. Plus, it has versions suited for Windows PCs and Mac computers as well. And don't worry about the phone carriers. The MobiStealth app has no problem with all major ones such as AT&T, Verizon, Sprint, T-Mobile, and so on.
Another important point when installing the app is that you need to access the device physically in order to install MobiStealth. However, this rule has one exception; in case the mobile phone you want to monitor is iPhone or iPad (non-jailbroken), you don't need the actual gadget, but only its ID and Password which is used for Apple account. Of course, this only works when the iPad or iPhone uses iCloud backup.
Once you buy the software, they send a complete installation guide to your email. The process could be done in a couple of minutes and is very easy to do.
Pricing and packages
MobiStealth are available to customers in three different plans: Basic, Lite, and Pro.
The basic package is mostly for trying out the software in a 2-week time period, and with minimum functionality. If you want to use all the features of the app you should go for the Pro version which offers a complete support in tickets, live chat and phone.
The company behind the app also provides you with software updates and upgrades once they're available.
You should also bear in mind that you should avoid many websites that claim they have MobiStealth coupon codes and would offer them to you for a fee. Most of them are fake. At least that's what the official app developer company says in their website.