Best 4 Green Screen Software (Windows & Mac)
There are lots of basic and advanced video editing programs in the market but only a few of them could be considered green screen software. In our list, there are different video tools which offer chroma key effects or green screen options.
The list contains free and paid program:
Wondershare Filmora (Mac & Windows)
Wondershare Filmora is a powerful video editor which includes lots of great tools for editing video and audio and advanced visual effects. Additionally, the software offers easy options for sharing and uploading final video projects to video sharing and social media websites.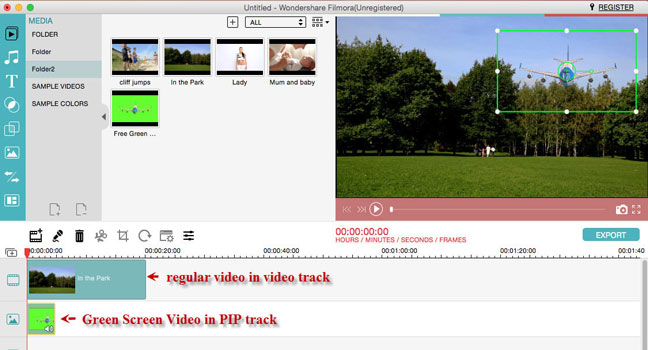 In order to apply green screen effect with Wondershare video editor just follow these simple steps:
Step 1: To import videos in the software, click the option with the '+' icon.
Step 2: Using the drag-and-drop method, place the videos on video timeline.
Step 3: A drop-down menu will appear when right-clicking on the video. The 'Green Screen' item could be selected from there.
Step 4: Just make sure that the 'Green Screen' is selected on the pop-up window which is now displayed by the Filmora software. Also, click on the checkmark next to the 'Make parts of the clip transparent'. Here, the options help users to alter the videos background. First, the color which should be made transparent must be selected in the 'Current Color'. Next, the 'Intensity Level' could be adjusted. There are also options for Flip, Border and Shadow. Click on the 'Ok' button when all is set.
Filmora video editing program is compatible with both Windows and Mac OS X.
iMovie (Mac)
Every new Mac computer comes with a preinstalled video editing tool called iMovie. Although professional editors should look somewhere else, but most video production needs of an average user could be satisfied using Apple iMovie. In fact, Apple has made the software so simple to use that even beginner users with no experience in editing videos in their life could easily access different options offered by iMovie.
A great home movie could be made using options and features such as split, trim, rotate, crop, built-in animations and sound, and a simplistic timeline. Besides, green screen effect, along with numerous other effects, are provided by iMovie software which could be used in projects with no problem.
VirtualDub (Windows)
As a video tool designed for providing multiple options and fast processing, VirtualDub is a free and open-source video editing software. Of course most of its video editing features are basic such as adjust audio, trim clips, add filters and swap audio tracks. Although the software is very easy to use, but obviously users couldn't expect it to be as professional as some advanced video editors like Adobe Premiere.
A large number of files could be processed easily with VirtualDub. Using third-party video refines, users could expand this batch-processing option.
Some of the VirtualDub features include: video capture, video assembly, subtitles embedding, transparent image/logo adding, snapshot capture, making animated GIF from AVI, etc. Also the software provides green screen options at basic level.
To download VirtualDub for Windows (there is no Mac OS X version currently): http://virtualdub.sourceforge.net
Wax (Windows)
Both personal and commercial video projects could benefit from Wax editor. Although the software functions as a simple video editing tool, but dynamic pieces of video could be produced using its special effects. 3D effects and chroma key compositing are among the effects offered by Wax program.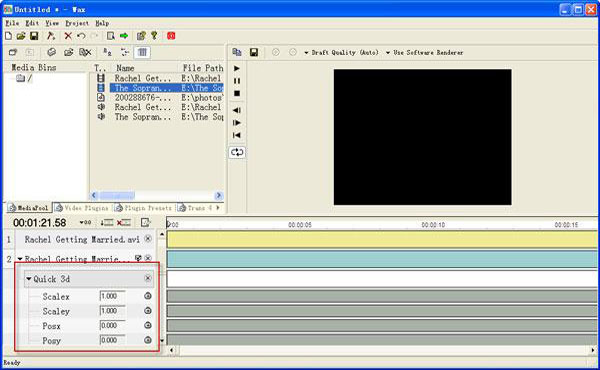 To apply video effects, users are able to use Wax as a plugin in other video editing programs or as a standalone application.
To download Wax video software for free: http://www.debugmode.com/wax/download.htm