Movavi Video Editor Plus 2023 Review
For those looking for a reliable and user-friendly solution, Movavi offers an unparalleled collection of video editing tools.
With an intuitive interface, the software makes it easy to craft professional-looking videos. Moreover, it allows users to easily elevate their video content to the next level.
The software is not only robust, but also incredibly stable and efficient, providing users the capability to create engaging, comprehensive, and professional videos with ease. In terms of features, performance, support, and stability, Movavi video editing tool is a clear leader in the video editing market.
New features
If you're an avid Movavi user, you'll be happy to know that the software gets new features and regular updates. The Video Editor Plus version 2023 of the application has a lot of exciting new offerings that make editing videos a breeze:
Interface – Get the job done faster with the improved user experience and functions, like the second clip highlight after a split, enabling gaps between clips, and not linking the tracks by default.
AI Background Removal – This effect, traditionally used in photo editing, produces remarkable results for video applications and eliminates the need for a green screen.
AI Noise Removal – Enhancing the video quality of smartphone recordings using this feature.
AI Upscaling – Included with the Converter utility, this update allows for better resolution in smartphone footages.
Direct Upload to TikTok – Keep up-to-date with the latest trends with the option to upload your videos to the popular platform directly.
New YouTube Frames – Give videos a unique flair for YouTube viewers.
Like before, both Mac and Windows users could download and install the software on their systems.
Functionality & user interface
Movavi Video Editor is known for its simplicity and its helpful tooltips and clear labels. All the features are easy to use and accessible through the left rail, which includes:
Importing
Filters
Transitions
Titles
Stickers
Pan and Zoom
Color Adjustments
Crop and Rotate
Slow Motion
Stabilization
Chroma Keying
Importing allows users to access a media bin with project content, as well as music, sounds, backgrounds, effect packages and sample videos.
The main layout of the program resembles other video editing software, and includes a source box, timeline tracks, and a preview player. What's more, you can undock the video preview panel.
Additional features like Crop, Rotate, Split, Clip Properties, Color Adjustments, Markers, Record Audio and Record Video are included above the timeline, which allows for an unlimited number of tracks. Also, the program supports some keyboard shortcuts.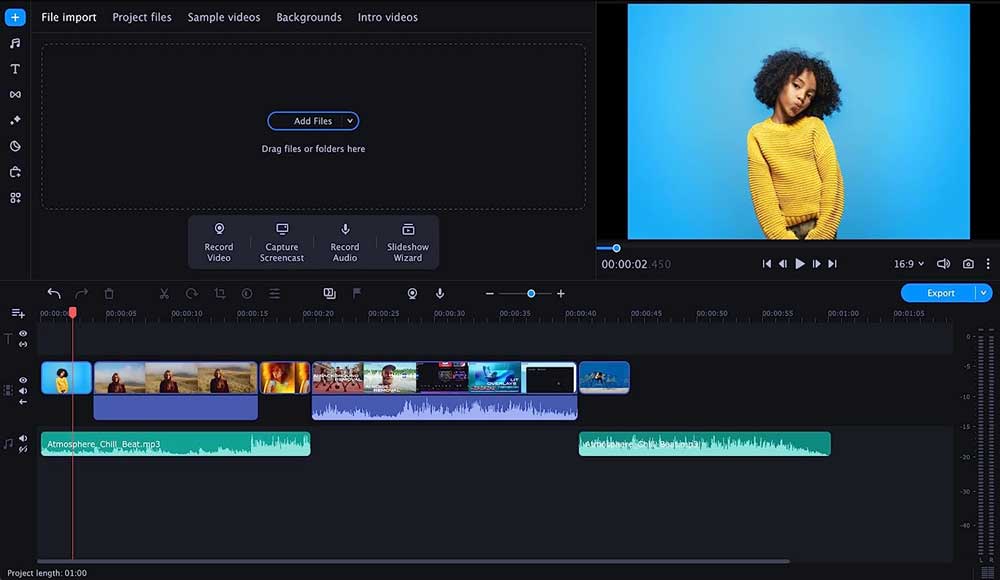 The Undo feature is impressive, as it works between sessions, meaning that all your previous changes will still be available the next time you open your project.
Additionally, when you apply an audio or video effect, in the timeline, a star appears in the clip, meaning that you can easily access its settings whenever you need.
Ease of use
One of the great advantages of using the Movavi Video Editor is that you'll get an intuitive and user-friendly experience.
It's effortless to apply filters, adjust properties, or edit clips – just a few clicks will do the job. Just right-click your clip and choose the "Add to Selected Clip" option – or you can opt for all clips, depending on your needs.

You can also click the star icon at the top left to remove clips or modify properties such as speed and volume.
What's more, the Movavi team is constantly improving the software. It takes difficult tasks and automates them for your convenience.
However, new users may encounter a few minor nuisances, for example, absent cursor change when resizing text titles, or lack of precise font size setting.
Fortunately, once you become more familiar with the program, these incidents become much less bewildering.
Help & support
Movavi makes it easy to stay informed with its comprehensive product support center. Not only do they offer an in-depth knowledge base, but they have also created a huge number of user manuals, how-tos, and video tutorials to familiarize the user with the process of editing videos.
The videos are essential for those looking to make quick progress and reduce the time it takes to learn the software.
Whether it is learning how to insert text overlays, adjust colors, or add transitions, the videos provide simple, step-by-step instructions.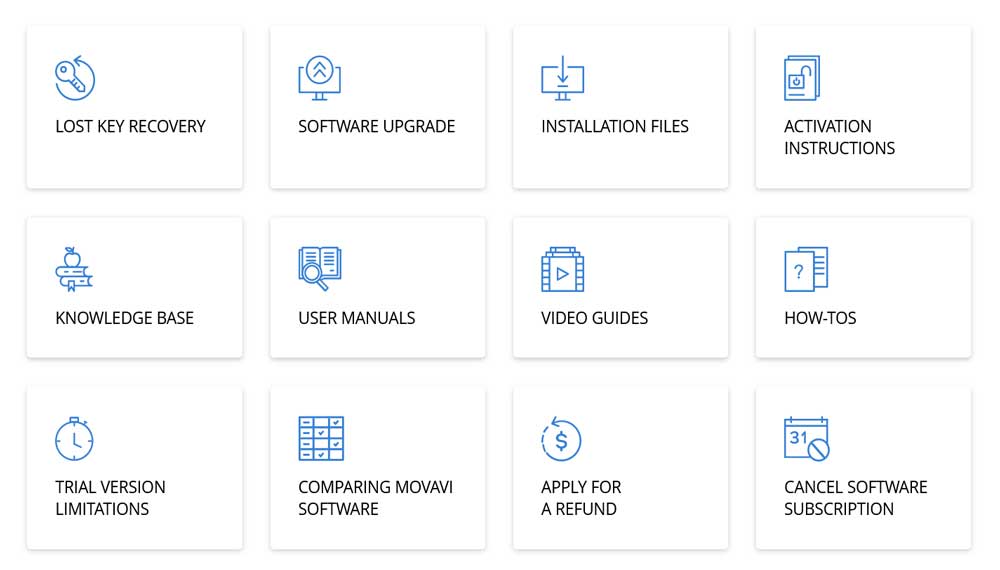 Movavi also updates their tutorials and materials on a weekly basis to ensure the user is kept up to date with the most recent features.
In addition to the videos, users can also use the teach support options to get in contact with Movavi. There is the option to contact them via email, and inquiries can also be sent via live chat on the website.
This ensures users are able to get the support they warrant without having to wait around to get back the answer they need.
Pricing
When you decide to buy the Movavi Video Editor 2023, there are several options which you could choose from, including:
Movavi Video Editor 2023 – $54.95 (1-Year License):
A comprehensive license for all features of the video editor for one year
Renewable after the expiration of the initial year
Movavi Video Editor 2023 – $79.95 (Lifetime License):
A lifetime license for all of Movavi's features
Includes trimming, cutting, and joining (advanced trim modes)
Ability to add transitions and special effects in storyboard style layout
Timeline markers
Automatic video creation capability
Keyframe animation
Access to a fully stocked built-in media pack
4K videos fast processing
Video Suite – $99.95 (Lifetime License):
Includes all of the features of Movavi Video Editor Plus
Additionally includes conversion of media files and screen recording
Ability to make videos for social media quickly
Video editing tools including a video converter
To help you decide which version is right for you, Movavi provides a free trial of their software, so you can experience all the features firsthand.
Watch this video as an example of Movavi editing videos on YouTube:
Pros & cons
Pros
Easy-to-use user interface
Quick movie creation tool
Chroma-key ability
Picture-in-picture tools and motion tracking
Transitions with sound
Cons
Incompatible video formats (e.g. 265)
Slow rendering (especially for larger video files)
Conclusion
Movavi is a great tool for anyone who wants to utilize video as a medium to reach its audience. No matter what your level of experience, Movavi has something to offer. This video editing application features a clean and intuitive interface that is a breeze for any user, no matter if you're a beginner or a professional.
The ability to create professional-looking videos is one of Movavi's strongest suits. It offers a multitude of options that can help you create engaging, informative, and effective videos. On top of that, the program is extremely stable, provides great performance, and comes with helpful technical support. All of these features make Movavi a formidable video editing tool for any user.