Ebates Review
These days most of online shoppers want to get the best deals, discounts and cashbacks on the products and services they buy online. One of the most famous websites offering cashbacks is Ebates. Continue to read this review to learn more on how Ebates works and how to receive cash back offers through it.

What is Ebates?
Ebates is a website listing thousands of online stores for shoppers to choose from. In case, they buy stuff from these stores through Ebates they'll be given cashback. So, Ebates itself isn't an online store to sell products to customers but more of a shopping directory and guide for consumers so that they could save money while shopping.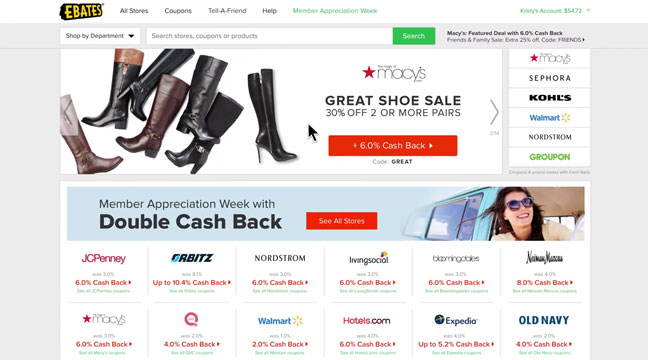 These online stores are among the most popular ones shoppers could access and get cashback through Ebates:
Amazon
Wal-Mart
Best Buy
eBay
Target
Kohl's
Macy's
JCPenney
Nordstrom
How it works
The idea is very simple. Ebates acts as an affiliate marketing website for those stores. It means that every time a customer shops through Ebates links it will be paid commissions. From those commissions Ebates give users cashback. The idea is that simple.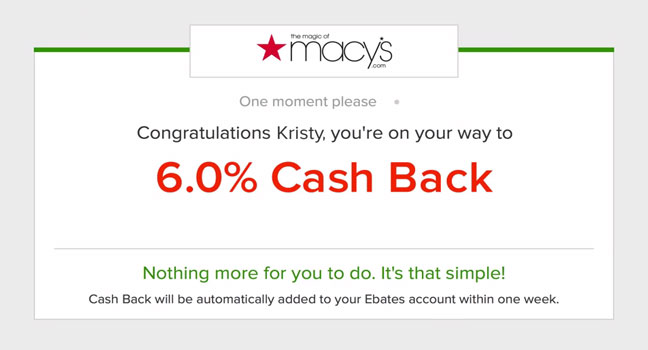 For instance, let's say a customer purchases an LED TV from Amazon for $700 through Ebates. The Ebates will be paid 4% of the price for as the referral commission. So a part of that commission will be paid back to the user as cash back.
This way everyone involved is a winner: the customer buys something as if it's discounted. Ebates got its commission and the online store sells more products as a result.
So, is Ebates scam or legit?
Because of so many scam websites on the Internet many people might think of Ebates as scam and not legit. The reason for that is they might think how a company could give cash back offers to users for the products or services it doesn't own.
But the fact is that what Ebates does is completely legal. The situation could be considered this way: Users access Ebates website to get discounted prices on the products they want to buy through specific stores.
They could buy them directly without visiting Ebates, but this way they have to pay the full price. However, as an affiliate of those retailers and stores, Ebates earns commissions for referring customers to those websites.
In fact, the cash back or discount is nothing more than the Ebates' commission from sales split with the shoppers.
How to get paid on Ebates?
Follow these simple steps to be eligible to get cash back offers on Ebates:
Sign up for a free account on Ebates
Shop for a product or service through Ebates links 
When the purchase is done on the online store, wait up to 5 days until the item will be displayed in the Ebates account (Ebates app sends notifications as well)
A holding period should pass (about two months) after the purchase, so that the Ebates payment will be sent. (payment dates are 15th of February, May, August and November)
Please note that payment methods are through PayPal account or sending check. For faster payments, we recommend the PayPal payment option.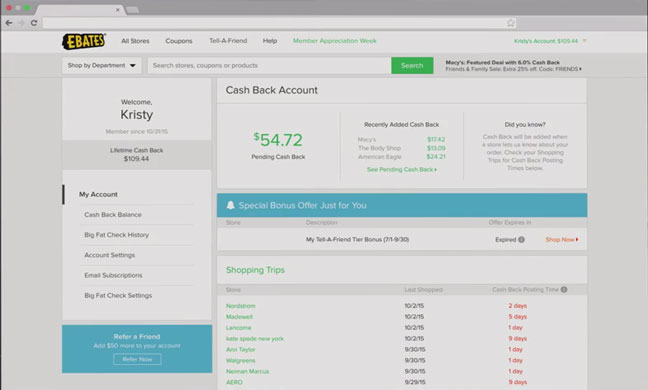 No more worries about late arrival of the check or the possibility of it being lost are other advantages for this method.
Many users might forget to visit Ebates when shopping for an item from a company which is partnered with Ebates. To solve this issue, Ebates has created a 'Button' which could be integrated into web browsers and alarm users whenever they visit an eligible Ebates partner website.