ScheduleAnywhere Review & Pricing
ScheduleAnywhere is a perfect employee scheduling tool. It provides an excellent assistance for the HR teams with getting their work done. That's because ScheduleAnywhere software can be used to manage both employee scheduling routines as well as activities.
People who use ScheduleAnywhere can think about hosting it on the cloud or using it as an on premise application.
Features of ScheduleAnywhere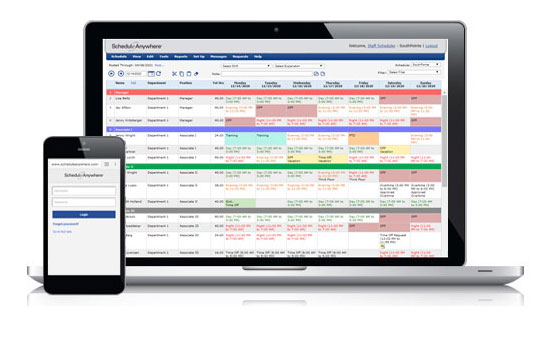 The features that come along with ScheduleAnywhere have been able to provide a great support and an assistance to the HR teams.
Here's a list of the most prominent features that you can get out of it.
You can go through the list and see if you can find any impressive features, which would tempt you to start using ScheduleAnywhere.
To learn more about the features and options provided by ScheduleAnywhere users could check out https://www.scheduleanywhere.com
Create custom schedules
One of the key roles of ScheduleAnywhere is to help HR teams with creating custom schedules. You will be able to develop an unlimited number of custom schedules with the help of ScheduleAnywhere.
It will take only few minutes for you to develop such schedules. You can create schedules for different departments or teams without any hassle.
You can also develop custom views, which can help you manage the custom schedules you have created.
Publish schedules
After creating the schedules, you can use ScheduleAnywhere to publish them online. Then the respective employees will be notified instantly.
You can use ScheduleAnywhere to notify your employees with a SMS or through an email. Therefore, you can make sure that employees don't miss out their scheduled times.
Any employee will be able to access ScheduleAnywhere throughout 24 hours of the day and take a look at the schedule. However, an employee will only be able to view his personal schedule.
Fill out open shifts
ScheduleAnywhere comes along with an in-built messaging system. You can use this messaging system to get a variety of tasks done.
For example, you can communicate with your employees through this messaging system and messages will be delivered to them instantly. You can also use ScheduleAnywhere to select a group of available employees and start a new shift.
Urgent meeting reminders can also be sent via this feature.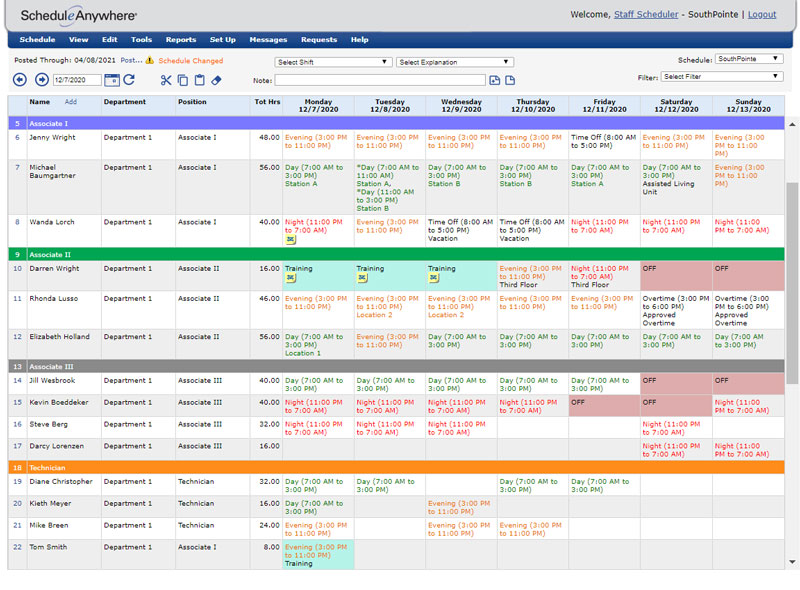 Control overtime working
If your employees are working overtime, you will come across the need to manage them in an efficient manner. That's where ScheduleAnywhere can help you with.
You can take a look at the schedule of a person and see how many hours he is supposed to work. In addition to that, you can also see how many extra hours that the employee has worked.
All information that you need to get will be available at your fingertips.
Track employee skills and certifications
ScheduleAnywhere is not all about employee scheduling. It can also help HR teams to track employee skills and certifications in an efficient manner.
You will be able to track whether employees who work for your teams are licensed or not with the help of ScheduleAnywhere.
Therefore, you can overcome all sorts of legal issues that you might face. When the certificates of employees expire, you will be notified in advance. This can help you to stay away from the hassle associated with manual reminders.
Custom scheduling and reporting
One of the key strengths that you can see in ScheduleAnywhere is its ability to help you with custom scheduling.
If you want to custom schedule a team, you are provided with the opportunity to get the job done via ScheduleAnywhere.
Therefore, you will be able to receive outstanding results at the end of the day. You don't need to use any other tool for custom scheduling of employees as well. In addition to that, ScheduleAnywhere can help you generate rich reports.
You can get to know about all useful and effective information through those reports. You can also generate reports in a variety of formats.
Mobile app
The employee scheduling app could be used by employees to access their schedule. Other features of this app – which is available for both iOS and Android devices – include submit swap and cover requests, submit schedule requests, submit time off requests, view group or staff schedules and view personal schedules.
Please note that the usage of the app is with no charges and completely free.
Pros of ScheduleAnywhere
ScheduleAnywhere can help you to get all tasks related to employee scheduling done in a convenient manner.
It can help you to go ahead with custom schedules.
Time off requests as well as overtime schedules can be managed via ScheduleAnywhere.
You can create and publish schedules with ScheduleAnywhere. Then employees can take a look at them at any given time.
Schedule notifications will be sent via emails and SMS instantly.
Cons of ScheduleAnywhere
It doesn't provide you with the ability to view schedules by employee per day and department.
Final words
Any HR team that is struggling with scheduling can think about getting ScheduleAnywhere. You will be able to streamline the process and get rid of all manual work that you have been doing in the past. You will fall in love with the overall level of performance that this tool can deliver to you at the end of the day as well.