Employee Navigator Pricing & Review
Employee Navigator software is a great tool for insurance brokers, HR departments and careers that want to make their business work better. There are many things to like about Employee Navigator, the primary one being the fact that it's extremely comprehensive and convenient.
What can you do with Employee Navigator?
Employee Navigator allows you to handle ACA and COBRA activities, and it's good for asset tracking and benefit administration as well.
And it can also be used for HR management, it has payroll features and you can also harness its new hire onboarding and PTO features too.
This tool also has a benefits administration module and you can use that in order to enroll yourself in insurance coverage via the employee self-service portal.
You can add visual plans, dental plans and even medical plans. The employee can easily add a dependent or beneficiary, depending on the situation.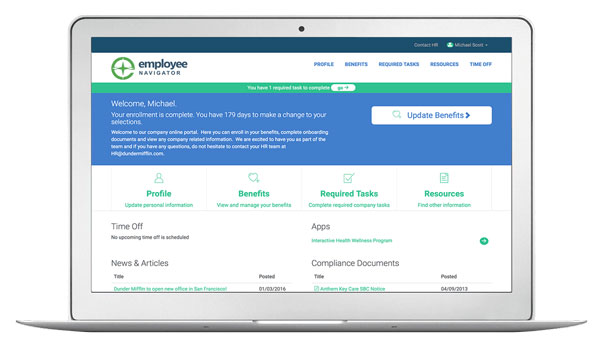 And on top of that, you can also use the COBRA system that allows you to cover employees using the former employer plan.
The fact that you can use this even with new hires offers a lot of flexibility. You always get to enjoy the process and the entire experience without worries, and the attention to detail is among some of the best here.
They also allow you to monitor deadlines, which is always a very good pick to say the least.
Employee Navigator even has document storage and management.
This type of service is required especially if you have to handle lots of documents at the same time. It's definitely handy and it becomes even more useful the more you start adapting this to your own requirements no matter the situation.
They are also listening to user feedback and improving as well as adapting the Employee Navigator tool adequately, which is great.
That's because they are always focused on customizing the portable and implementing new features. We found that the HR features are a bit limited, you are unable to do weekend PTO tracking or offer letter notices.
Pricing
The pricing of the software has a somewhat simple model. There are four main plans including Enhance, Enhanced Plus, Elite and Platinum.
The cheapest plan starts from $4,450 per year. The support is calculated separately – $500 for a year.
The Enhanced plan include features such as access to marketplace partners, decision support, defined contribution, basic enrollment, benefits communication, and ACA dashboard.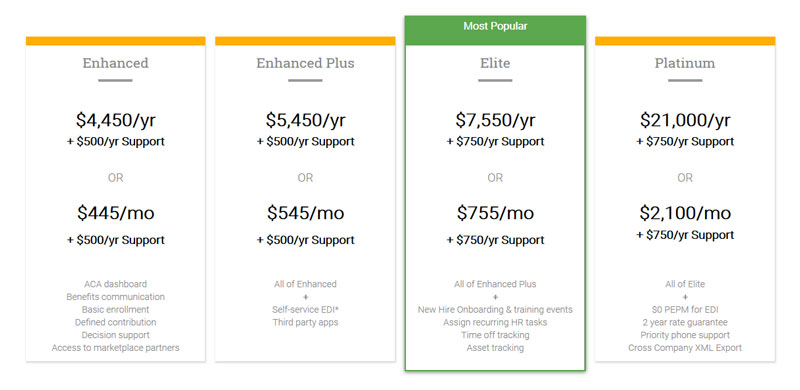 For more info on the costs and features of each plan, you could check out the official website at https://www.employeenavigator.com.
Should you use Employee Navigator?
Employee Navigator tracks every employee, and the fact that you can see their benefits and you can also compare plans and costs is very simple and reliable at the same time. Moreover, the payroll integration is stellar, it works a lot better than you might imagine.
They even bring in a customizable rule based system and professional support whenever you need it.
While Employee Navigator still has some room to grow and in some areas the functionality is limited, this is still an amazing tool.
It's very impressive, versatile and super reliable no matter the situation. Of course there are some challenges along the way, but if you like using a solution like this one Employee Navigator is definitely one of the best on the market.
We encourage you to test it out and give it a try, as you will not be disappointed with how much it can help track and handle employee benefits and features. This is the type of tool every business should use, especially carriers, brokers or HR departments!