Toggl Track Review & Pricing
Toggl Track is one of the most easy-to-use and intuitive services available which could be useful for users looking for time-tracking tools. Here we explore more features of this service in this review along with pricing plans and costs.
Interface & features
Because of its simple and intuitive interface, Toggl could be used with no difficulty since learning the details is rather easy.
You could imagine the service as simply a timer at its core, but with many other helpful settings and options. Minutes and seconds are counted once you launch the application. The toggl account would save the total time amount when a timing session has been finished.
Whether it's moving forward on Project A or working for Client B, everything you're doing could be logged in each session.
And you don't need to worry about details and reports when the work hours need to be justified or clients should be charged, as everything including how long, when and what you've been working on are included in reports in a clear and orderly fashion.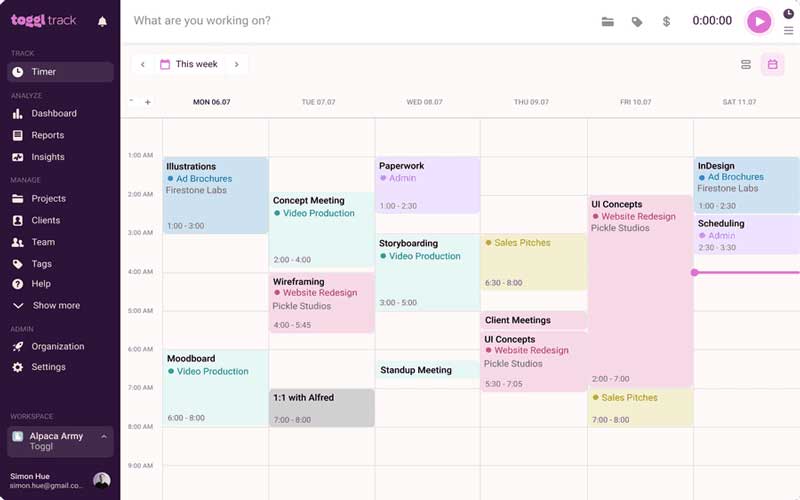 And one of the other ways Toggl service could be helpful for your time tracking is through its classification tools.
In other words, you could create tags, workspaces, and teams in your Toggl account as well as clients and projects.
Also, users with diverse preferences could benefit from Toggl Track services through different ways for interaction. These include web app, browser extension, phone apps, and desktop apps.
Although many features could be done across different Toggl apps, you could do some tasks better on the desktop app or the web app.
For instance, options for recording idle time or noticing it could be done easily using the desktop app compared to the web app. Also, when in offline mode, data collection could be done through the desktop app. But once you're reconnected to the Internet, your account could be synced with the gathered information.
On the other hand, running reports is a great advantage which you are given while you use Toggl Track web app.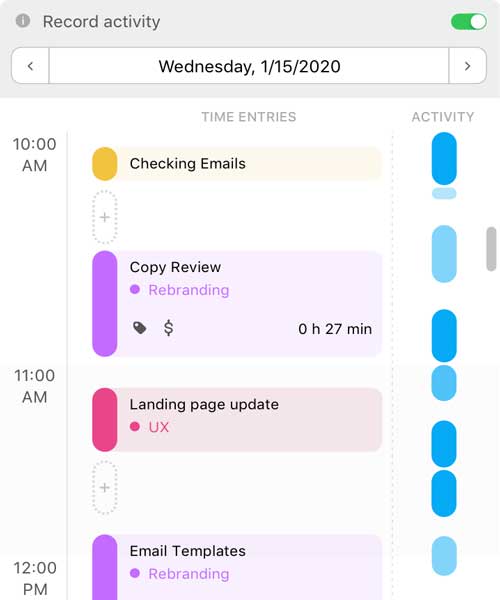 Pros
Lots of integrations
Nimble and quick
Free plan available
Cons
Not so cheap paid plans
The lack of other features such as scheduling, invoicing, etc. (which aren't directly related to tracking time)
Pricing
Toggl offers 4 main plans for pricing: Free, Starter, Premium and Enterprise.
The Free plan, costs no money, as the name suggests. It doesn't provide all features and options obviously, but the ones coming with Free plan might be sufficient for freelancers and those not requiring all the more advanced options.
The features coming with Free subscription include imports & exports, idle detection, auto-tracker, time-line, and so on.
Please note that only five users at most could use this plan.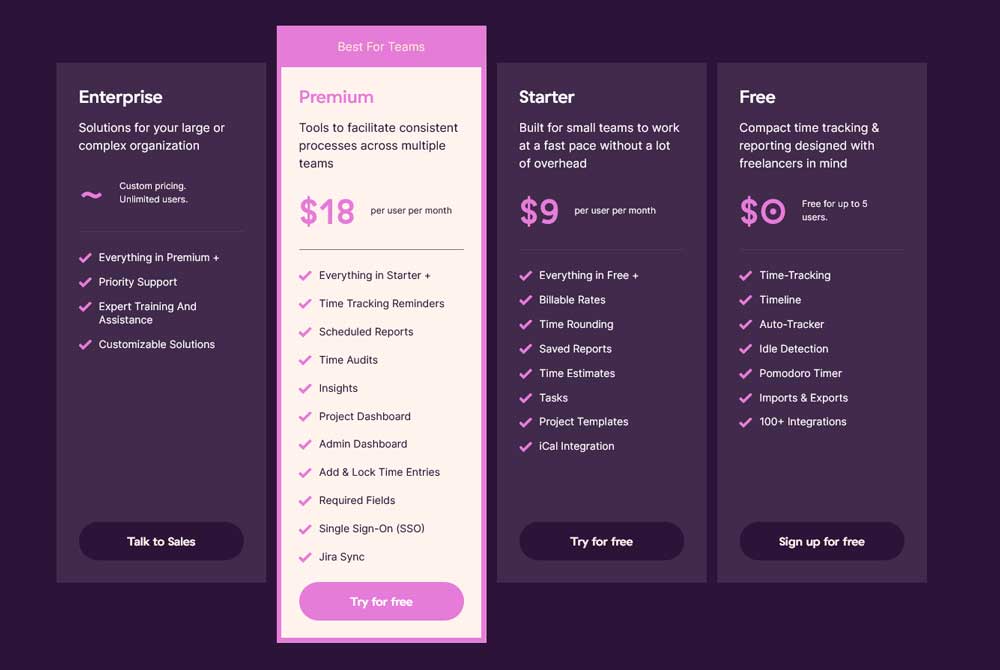 Small teams might benefit the most from the Starter plan which costs $9/month/user. This plan includes all the options in the Free plan as well as other features like iCal integration, project templates, time estimates, saved reports, time rounding, billable rates, etc.
For situations which multiple teams are working together, the Premium plan has lot to offer. The price is double the previous plan, but on the other hand, many more features are included in addition to the Starter package.
These options include admin dashboard, project dashboard, time audits, scheduled reports, time tracking reminders, and more.
The last plan offered by Toggl is Enterprise which is more suitable for complex or large businesses and organizations.
Final words
No matter you need some time tracking service for a small startup, big organization or across multiple teams, Toggl Track has some helpful feature or tools to offer. Freelancers could benefit from these tools and features as well, since the service offer free plans too. And it becomes even more effective when you know that there are a variety of business tools and apps which could be integrated with Toggl Track.