Movavi Video Editor Review & Download
Looking for an inexpensive and easy-to-use video editing software to make and edit your videos? If so, then Movavi Video Editor is the right choice for you. Additionally, it's compatible with both Windows and Mac.
Movavi specializes in producing multimedia applications specially tools and software to create, edit and convert videos, audios, photos, and slideshows. It targets many devices and platforms. The company was launched in 2004 as a small startup with only two products. Now, it has grown internationally with more than 50 employees.
Movavi Video Editor could easily be used for efficiently editing home movies and creating photo slideshows. Movavi editing application has an interface which is really intuitive. Besides, controls are just simple. That's why learning how to work with the software could be really fast.
Features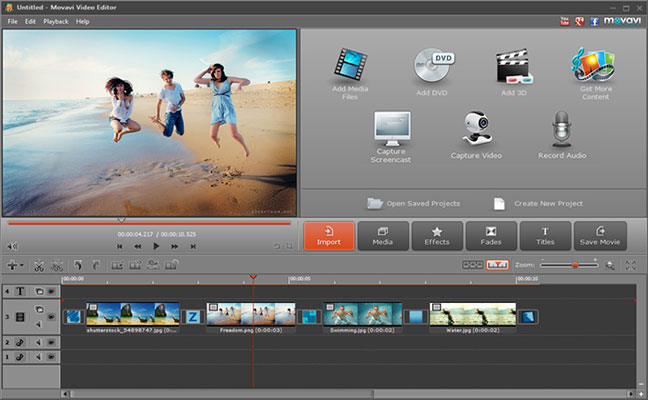 Videos could be imported (supports most video, audio, and image file formats) or captured through TV-tuner, or webcam.
All basic and necessary tools are at presence: cutting unwanted footage, slicing into many segments, joining different parts, adding background music, and so on.
The software offers lots of various special effects, transitions, and filters. These include Chroma Key, Split Screen, Slow Motion, Falling Objects, and Sepia.
It's very easy to add titles and captions using the interface. You'll be offered word art and over 100 font styles to select from. Rotating and adding shadow effects could also be applied to texts.
There's no need to worry when initial footage files are low-quality. The editing application allows you to improve quality using a tool called 'Magic Enhance'. It contains options to fix brightness, sharpness, contrast, and solve visual issues in videos and photos. Also, it enables pixelated video clips smoothing out, and shaky footage stabilizing.
In order to share clips on Facebook, YouTube, and other social networks or video sites the software helps user to do that as fast and easy and possible.
Final projects could be exported as videos (supporting HD formats) suitable for mobile devices such as Android, Apple (e.g. iPhone, iPad, etc.), and BlackBerry.
Movavi's interface supports many languages other than English including Russian, French, German, Spanish, Italian, and Japanese.
System requirements
Movavi Video Editor is available for both Mac and Windows systems. Check out the specifications needed to install and run the software for each OS:
– Windows (XP, Vista, 7, 8, or 10)
5GHZ dual-core CPU (AMD/Intel)
1GB RAM (Win 7,8,10), 512MB (Vista), or 256MB (XP)
Minimum 32-bit color, 1024×768 display
Installation needs 250MB hard disk, and while running the application needs 2GB
– Mac OS X (10.6 or later versions)
Minimum 256MB of RAM
Minimum 1GB hard drive
Display graphics: minimum 1024×768 resolution with 32-bit color
Installation needs administrative permissions
Pricing & Download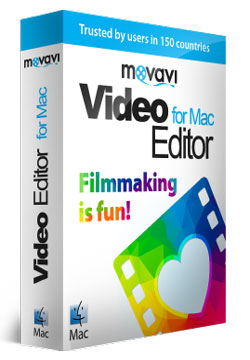 Movavi Video Editor for Mac is priced at $29.95, and could be downloaded for free through the official website.
The Windows version costs $39.95. You could freely download it from Movavi website as well.
Please note that removing watermarks present in trial versions could be done through buying the software.
Movavi has an active YouTube channel which contains numerous tutorial and how-to videos. They cover different subjects from how to cut or crop videos to more advanced subjects such as applying certain visual effects, and recording live stream videos.
Movavi provide other video related products as well. These include video converter, photo editor, screen capture application, and video suite (all-in-one package with different tools and functionalities).