MiniTool Partition Wizard Review & Download
MiniTool Partition Wizard is a comprehensive tool giving users many hard disk management functionalities such as disk/partition converting, partition/disk management and volume/partition resizing. The program runs very smoothly and even beginner users with little technical knowledge could use it for managing their hard drive partitions.
Three simple steps of the program are: 1- recovery mode selection, 2- scanning, and 3- recovery after preview. The program supports 64/32 bit operating systems and it is compatible with both GUID and MBR partition tables.
More of this software features could be found below:
Features
Basic & advanced partition management – these include options like partition hiding, formatting, resizing & moving, creating & deleting, exploring, wiping, aligning, splitting, extending, converting FAT32/FAT to NTFS (and vice versa), setting partition label, drive letter changing, setting partition as logical or primary, and so on.
MBR to GPT (and vice versa) conversion – many users might want to convert MBR disks to GPT disks for obvious reasons. There are many differences between these two disk types. GPT disks could support maximum of 128 partitions while this number for MBR disks is only four. Another difference is the maximum size of each partition in these two kinds of disks. Partition sizes could be up to 18EB in GPT whereas this number is only 2TB in MBR. This MiniTool partition management application makes it possible to convert between these two types very easily.
Partition recovery – virus attack, accidental deletion, wrong partitioning, etc. could all be causes of partition loss which could have very disastrous effects especially when containing data about important business or family information and files. But using this application these lost partitions could be recovered unless a user has created a new partition.
OS to HD/SSD migration – there are many cases in which users may require to migrate the OS to a new hard drive or SSD. For instance, the main hard disk of the computer may contain lots of video files, music, images, etc. making the available storage space on the disk very low. Or perhaps a user wants to have a better performance on their hard disk speed without needing to reinstall the Windows and all the necessary applications. In all these situations this useful software could come to help users accomplish this important task.
DVD/CD recovery – the program also enables users to retrieve lost or deleted files from scratched or formatted DVDs or CDs.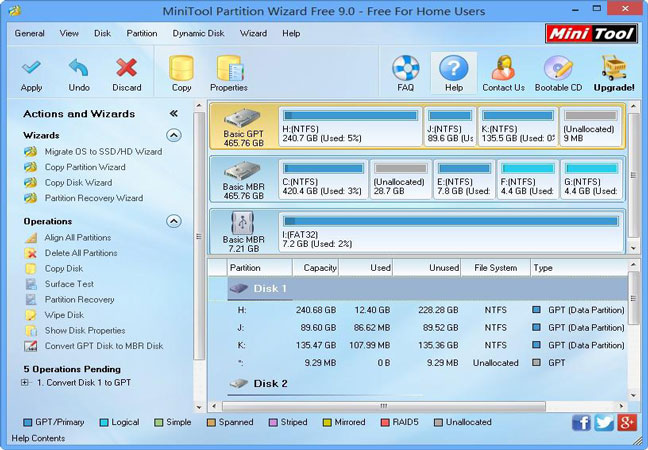 In addition the software is equipped with extra functionalities (which could be found in Professional or other non-free editions of the program). These include copying/wiping volume, converting dynamic disk to basic, changing dynamic volume label or letter, formatting, deleting, moving, resizing dynamic volume, changing cluster size, and merging partitions.
Download & price
MiniTool Partition Wizard is released in many different editions: Free, Professional, Server, Enterprise and Technician.
The free edition contains all main partition management tools such as changing file system, partition creation & resizing, partition recovery, etc. Up to 8TB of hard disk capacity is supported by this edition. It could be downloaded from the CNET website.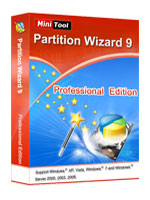 The Professional edition include all previous options and features along with tools such as dynamic volume management, cluster size changing, etc. Maximum manageable disk capacity is 16TB here. This edition costs $39.00.
Users who want to use the software on Windows Server versions could buy the Sever edition ($129), while business users who want to use the software unlimitedly within their company could buy the Enterprise edition for $399.
The Technician edition with the price tag of $699 comes with full features and could be installed and run on any number of devices within different businesses or companies.
Please note that all above editions are compatible with Windows (from Windows XP to Windows 10). At this time, no Mac OS X or Linux compatible edition has been released by the product developer.
Tech support
All editions of this MiniTool program offer tech support. But keep in mind that phone support is only available for Server, Enterprise and Technician licenses. Mail support is provided with all subscriptions.