Explaining the Core Functions of a POS System
Smooth transactions and operations are key to any organization's success. That is where the Point of Sale (POS) systems come in.
The POS systems are like a heaven-sent helper in business administration. Whether it's a small retail outlet or a large fast-food chain, a POS system can efficiently manage sales-related information, track inventory, and process payments. But what exactly are the core functions of a POS system, and how do they benefit businesses?
In this detailed core functions of the POS systems article, we shall look at these functions and how they contribute to the success of modern businesses.
Transaction Processing
The primary function of a POS system is to process transactions. When a customer buys a product or service, the POS system records the sale and calculates the total cost, including taxes and any discounts.
It then prompts the customer to pay using their preferred payment methods, such as cash, credit card, mobile payment, or gift card. The POS system verifies the payment and issues a receipt to the customer.
With a POS system, businesses can accept payment for goods and services, ensuring that each transaction is recorded and reflected in real time.
Inventory Management
Another vital function of a POS system is inventory management. A POS system allows businesses to track the quantity and location of their products in real time.
When a product is sold, the system automatically updates the inventory count and alerts the business when the stock runs low. This helps businesses prevent stockouts, optimize their supply chain, and reduce the costs of overstocking.
With a POS system, businesses can avoid the costly and time-consuming process of manual inventory tracking.
They can also use the data generated by the system to forecast demand and plan their purchasing accordingly. As stock levels approach predefined thresholds, these systems trigger reorder notifications or directly engage suppliers to restock, minimizing manual intervention and optimizing inventory turnover.
The Role of Integration Capabilities in Selecting the Right POS System
Understanding Integration Capabilities
Selecting the best Point of Sale (POS) system may be a crucial choice with wide-ranging effects. Among the array of functions that a POS system offers, the feature that plays a decisive role in this selection process is its integration capabilities.
Seamless Connection with Existing Systems
The integration capabilities of a POS system refer to its ability to seamlessly connect with other software and systems within a business's operational framework.
Exploring insights and solutions from heartland.us may assist you in determining how well the POS system integrates with online selling tools, customer relationship management (CRM) systems, and accounting software, among other things.
The role of integration capabilities in selecting the appropriate POS system cannot be overstated. A POS system that can easily work together with other systems creates a smooth workflow in the company. This reduces manual data entry, hence avoiding errors.
A Tech-Friendly Fit
In simple terms, how well a POS system can work with other tools really matters when you're choosing the right one.
It makes sure the system fits how you already use tech. This isn't just for now but also prepares the company for changes and growth as the world gets more digital. Also, a POS system that works well with other systems helps companies see the whole picture of how things are going.
It helps in information sharing; hence, organizations make smart and quick decisions. This becomes crucial when the market is digitizing.
Employee Management and Accountability
Work Process Simplified
POS systems help staff management go beyond simple duties like working the cash register. They simplify personnel management, easing the supervisors' and managers' jobs in the organization.
With integrated clock-in features, employees can easily log their work hours into the POS system. As a result, there is no longer a need for manual attendance records, which lowers mistakes and frees up administrators' and workers' important time.
Seamless Payroll Calculations
POS Systems take the hassle out of payroll calculations and pay employees on time. The POS system automatically tracks the employee's work hours and links with payroll software, reducing the chances of making payroll mistakes. It automatically protects sensitive information and ensures workers can only access approved services and databases.
Improved Business and Employees Efficiency
Incorporating employee management tools into POS Systems results in more efficient operations.
With these systems, businesses can invest in other strategies and ease administrative responsibilities. In return, the efficiency of workers and the company generally can experience a positive upward curve.
Loyalty Programs
Loyalty programs in a POS system are designed to reward and encourage customer loyalty. The main reason is to retain clients and attract new ones through rewards and benefits. The system allocates these programs based on the client's preferences and purchase history.
Customized Loyalty Programs: POS systems let businesses create personalized loyalty programs using customer spending and preferences.
Effortless Loyalty Points: POS systems automatically track and accumulate loyalty points for each purchase, simplifying participation and ensuring accuracy.
Engaged Customers: Loyalty programs create emotional customer relationships, bringing about engagement and advocacy.
Repeat Purchases: Rewards drive repeat sales, maintaining steady revenue and customer visits.
Customer Insights: Integrated loyalty programs offer insights into customer behavior for better strategies.
Mobility
POS systems now come equipped with wireless connectivity and mobile payment technology, allowing businesses to accept payments on the go.
With mobile POS, merchants can process transactions, check inventory, access reports, and run promotions from anywhere, anytime. This mobility enhances the customer experience, as the customer can pay from their preferred point of sale location and eliminates the need for long lines in front of the cash register.
Offline Functionality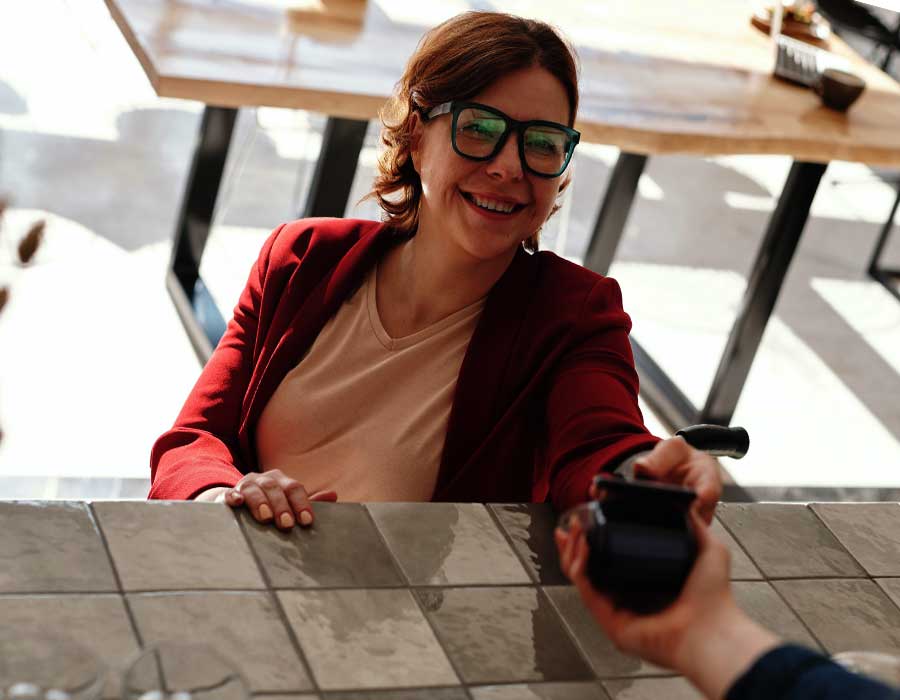 Offline functionality in a POS system allows transactions and data management to proceed when the internet is unstable or unavailable, offering several benefits:
Uninterrupted Sales: Transactions continue even during internet outages, preventing revenue loss.
Customer Convenience: Customers can make payments and receive receipts without delays.
Data Synchronization: When the internet is back, the system syncs transactions and updates with the central database.
Remote and Mobile Transactions: Works in remote or mobile settings with limited internet access.
Business Flexibility: Ideal for events, trade shows, and markets where the internet might be unreliable.
Reduced Downtime: Operations continue, minimizing downtime and ensuring efficiency.
As seen, a well-deployed POS system may significantly increase operational efficiency and spur development by speeding transactions, managing inventory, cultivating customer connections, and producing analytical data.
The features mentioned above are just some of the various functionalities a POS system offers. Others may be added to make it bespoke for a business's needs. Always adequately evaluate the features that you need from a POS system, their compatibility with your current operations, and vendor support before making a choice.