Bandicam Screen Recording Software Review
Bandicam is a great software for everyone who needs to capture their gameplay or any screen on their PCs with high quality and much control over different settings. Here we review different features and options provided by this screen capture program.
What is Bandicam?
When it comes to PC screen recording, Bandicam software which is a lightweight application proves to be a great application with high-quality output and many other great features.
In order to be more user-friendly, this application provides different recording modes for different occasions:
Device recording mode: useful for recording capture card, IPTV, smartphone or tablets, PlayStation/Xbox, Webcam or any other external video device.
Game recording mode: using this mode gamers could record their gameplay in 4K resolution and high FPS numbers.
Screen recording mode: everything on the computer screen could be recorded with this mode while users are allowed to draw highlights, boxes or lines when necessary.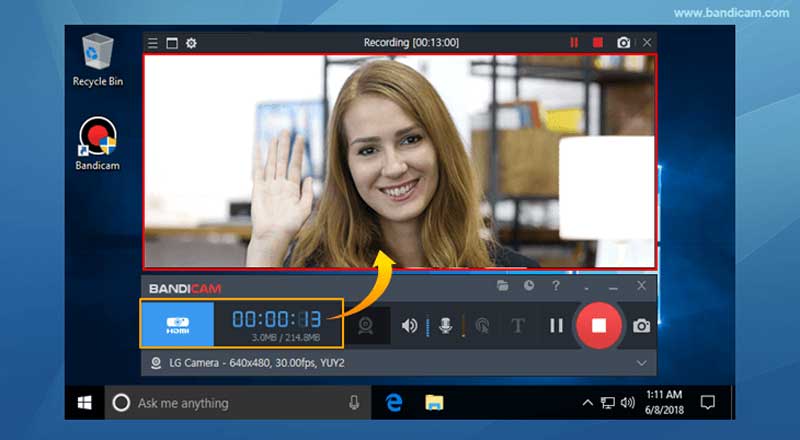 Bandicam features
Bandicam screen recorder comes with many useful options and features which make video recording on your PC a great experience.
Everyday more and more users install and use Bandicam for its gameplay recording features.
Recording microphone and game sound is one the key requirements which many games want to have while capturing their gameplay. This option is available with Bandicam using its 'Two Sound Mixing' feature.
Also, in this software, hardware-accelerated technology is used so that the recoding performance is optimized. AMD VCE, Intel Quick Sync video and Nvidia CUDA/NVENC h.264 encoders are compatible with Bandicam screen recording application.
Compared to other game recording programs, much less lag is experienced by gamers when using Bandicam to record their games. That's because the software optimizes system resources (i.e. RAM, GPU and CPU) while gameplay recording is being done by the system.
In addition, when recording a video on their system, users could put a webcam video of themselves on the screen as well.
More features include chroma key options, mouse effects and scheduled recording.
Unfortunately, Bandicam application is just for Windows systems only. No Mac/Linux software is available right now.
Pros
Scheduled recording
Various video format options
Real-time drawing function
Hardware acceleration
Webcam overlay
Lag-less gameplay recording
Cons
Not compatible with macOS or any other OS rather than Windows.
Watermarks in outputs in free versions of the program.
Limited editing options (provided in Bandicut).
Pricing
When it comes to purchasing the Bandicam application, the price depends on the number of PCs you want to install and run the program on.
For one PC, the license costs about $40, but for higher number of devices, they offer you discounts. For example, the 5-PC license costs less than $140, which is 30% off the normal price of around $200.
One great advantage of Bandicam price plans is that they're just one-time fees. That means no yearly or monthly payments are required in order to take full benefits of this screen recording software.
There is also a great deal available for those wanting to purchase the editing software developed by Bandicam. Users could buy both Bandicut and Bandicam recording software with some discounts (e.g. about $60 instead of $70 for one PC).
More information regarding costs and prices could be found on the Bandicam.com website.
Conclusion
With so many options and features to provide, Bandicam recording software is a must-have application for anyone who wants to record their gameplay with great quality or record any kind of screen capture video and upload it to YouTube or other websites.
And for those not yet sure about the features of the program, the free version of Bandicam could be helpful which makes it possible to try all the great features of the software.