Truecaller Review (PC, Mac, iPhone & Android)
Each day we see more and more unwanted phone calls on our cell phone due to the ever expanding number of spam callers and telemarketers trying to reach millions of users in any country. With cross-platform apps and services, Truecaller is one of the top tools available for spam identification and phone number search.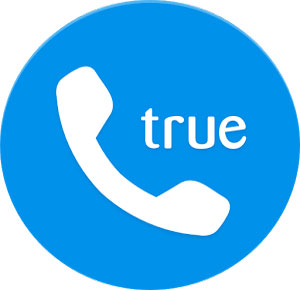 In a way, Truecaller, which is made by True Software Scandinavia AB, could be used as a reverse phone lookup service as well. In other words, it could be used to identify hidden or unknown phone numbers so that in the future users won't be annoyed to answer phone calls made by strange people, telemarketers or spammers.
But that's not all that is offered by this great phone service. Please continue to read to learn more.
What is Truecaller?
Truecaller is a useful service for phone number search, unwanted phone calls (such as spammers or telemarketers) block and finding contact details.
Smartphones' phonebooks will be kept up-to-date with useful information like birthdays and images due to the social media integration of the app. And to make call-blocking option available, the app comes with a caller ID tool integrated in it.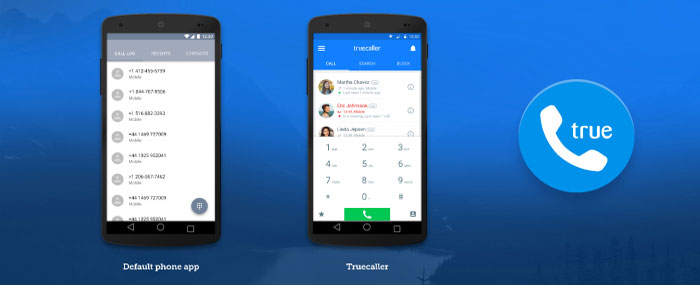 Users in all countries, even in those with no public phone data available such as India and UK, could use the app. That's because Truecaller takes advantage of crowdsourced data.
Spam calls could easily be evaded using this great app, since it has access to an enormous database of phone numbers across the world, with a focus on spam callers in each country. This important feature makes this app one of the best spam calls identification tools in the market.
Truecaller services could be used in many devices and platforms. These include: iOS, Android, Windows Phone 7 & 8, Windows Mobile, Symbian and BlackBerry.
How to use
In order to use Truecaller phone search, caller ID, calls block and other services users could download and install one of the compatible apps with their devices.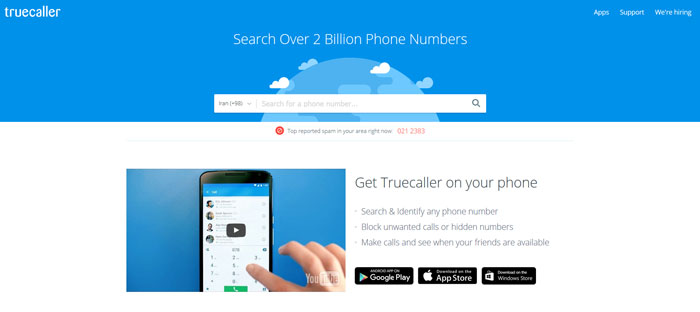 Another simple method is to just go the official website online and enter the phone number in the search box in order to find details related to that number. But keep in mind that only signed in members could access the details. So it's required that users sign up for an account the first time they want to use the provided functionalities on the website.
Truecaller apps
Truecaller is one of the most downloaded apps in the communication category – hundreds of millions of installs so far. The app makes it possible to see the photo and name of the person who calls, even if the device's phonebook doesn't include that contact.
They claim that more than 200 million users have shared their spam lists with them so far.
According to the app developer company, users' phonebooks on their cellphones or tablets won't be uploaded to their servers so that they'll be made public or searchable.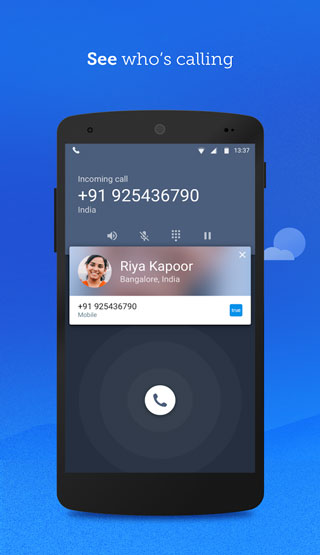 Features common in both iOS (e.g. iPhone or iPad) and Android apps:
The app will tell information about a number copied from anywhere (such as apps, websites, etc.)
Users could learn when their contacts are free to talk
The app could be used to make calls directly
Telemarketers and spam callers block
Both unknown numbers and saved contacts could be used to see who's calling
Please note that in order to use Truecaller Caller ID Wi-Fi or 3G Internet is needed.
Truecaller for Android (apk version) could be downloaded for free from: https://play.google.com/store/apps/details?id=com.truecaller&hl=en
And the iOS (iPad & iPhone) version is available for free here: https://itunes.apple.com/us/app/truecaller-number-search-spam/id448142450?mt=8
The app is available in the English and other languages. These include Ukrainian, Turkish, Traditional Chinese, Simplified Chinese, Russian, Portuguese, Norwegian, Korean, Japanese, Italian, Hindi, Greek, German, French, Finnish, Dutch, Arabic and more.