EditMyPaper.ca Review
When you're looking for a professional to help edit your English language writing, EditMyPaper.ca is a well-known service. You can rely on this service 24 hours a day, 7 days a week, with the expertise of human editors who'll correct all typos or grammatical errors in your writing.
Check out this review to find out why EditMyPaper's expert editors are trusted by professionals and academics alike – because they make your language exciting! The company's editors are skilled at finding and fixing all English language issues, benefiting individuals who tend to make small or large issues while writing.
Service Options
EditMyPaper allows writers to access four levels of service. The base level, Bronze, is geared toward writers who are confident their writing contains few issues and they just want a quick look at their writing to correct any remaining issues.
The next step up is the Silver editing level, which is intended for writers who don't want the depth a Gold or Pro level editor would provide, but also prefer more than the minimum.
The Gold level consists of the best editors who are experienced in academic and professional writing styles, so they can easily correct your paper quickly and effectively. The Pro, short for Professional, is EditMyPaper's premier level and according to their website, consists of their top Gold editors in each of a variety of subjects, all of whom are highly rated.
Let's review some of EditMyPaper's best features:
Human-based English Editing and Proofreading
EditMyPaper's editors can help with any editing task. The Gold level editors will correct everything ranging from basic spelling and grammar, to more advanced issues like flow, consistency and style.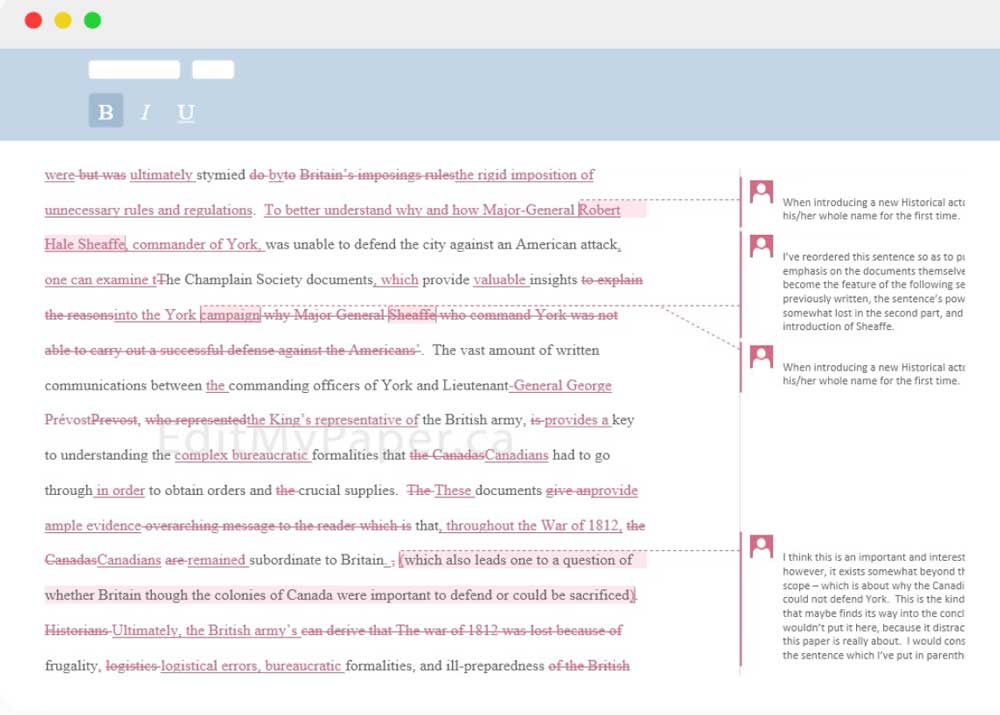 Tracked changes allow you to see all of the corrections the editor has made. This is especially important for clients who wish to learn from their mistakes.
Often there are a lot more issues than a computer-based/non-human editor can find. Human editors will go the extra mile to fix your writing, often editing more than a computer is currently capable of doing.
EditMyPaper's professional paper editing service uses only editors who are tested according to high standards and continuously rated by writers like yourself. There are a variety of other small issues that writers, especially ESL writers, find challenging. Luckily there are English experts who can quickly and effectively fix your writing.
The more advanced tiers that you can choose from, specifically Gold and Pro, do cost more, but if you give your editor ample time (maximum of 72 hours), then you can pay the least out of each of their editing levels.
Citation Correction Service and Formatting
The most integral part of your paper is not only its content and how it reads, but the way it's formatted. Often there are specific requirements for the document you're writing that will need to be followed. Doing this the right way can get you a better grade or improve the perception your writing tries to convey.
Correcting your citations isn't an easy task. The citation formatting requirements have recently changed for APA, and the other formats are updated periodically too. Properly referencing the information in your text can ensure you create a professional document and satisfy your reader or any requirements.
Formatting your entire document isn't easy either, especially when headers are required that are often different for the first than for the remaining pages. Table of contents formatting can also be accomplished by enlisting the help of an editor.
Extra Comments and Critiques
It's not uncommon for writers at all levels to need or benefit from professional feedback. In fact, feedback is one of the services EditMyPaper specializes in – professional, helpful feedback. The service allows you to add Extra Comments, in which they state your editor will provide helpful suggestions, or pose questions, to help you further boost your writing.
Critiques is another option, which are similar to comments, but they will focus on picking apart your text and asking prodding questions to help you with fixing your content. Critiques may not be what you want to hear, they say, but it's not uncommon for writers to improve their writing by taking into account professional critiques.
Critiques and comments will also point out any citation issues you may have, including where they may be missing. This can help you sound more authoritative with your information and adhere to the current academic standards for citations and references.
Pros
Corrects all spelling, grammar, punctuation, style, flow, consistency and run-on sentence issues
Available 24/7, 365 days a year
Turnaround times from 90 minutes for text up to 1300 words
Fast and prompt live-chat support to answer all your questions
Cons
It's not free (human-based editing is never free)
Starts at $7 for 325 words of editing
May do more editing than wanted
You need to give your editor time to edit your paper, often more than 90 minutes if you have a long paper
Pricing
It's always free to talk with a paper editing expert and it's quick to receive a quote via EditMyPaper's online paper editing submission portal. Their Bronze level service starts at $7, Gold at $9.75, and it goes by each segment of 325 words.
Academic writers who submit their thesis, dissertation or manuscript can get an even greater discount via a custom order.
Their most expensive option is the Professional level – this starts at $14 per 325 words for a 72-hour return. This option appears to be for academics and writers who want the best editor possible for their paper to give their paper an extra boost.
Conclusion
It's clear that there are many options when it comes to having your writing edited. You can try trusting your friends or family, but you often get what you pay for when it comes to professional services. Choosing a professional editor could make the difference between you achieving your writing goals, or not. An EditMyPaper.ca editor will improve your overall document to ensure you get the most out of your writing.