Grammarly Review: AI Writing Assistant
These days many writers use Grammarly because of various tools it offers to improve their work. This online service provides helpful tools in correcting grammar, spelling, tone, etc. problems as well as a powerful tool to detect copyrighted text. Read on this review to learn more about Grammarly.
As one of the best tools used to show English skills to clients and write English fluently, Grammarly could especially benefit those with lots of grammatical errors in their writings.
Features
Grammarly allows users to access various tools in order to improve their skills and correct mistakes when writing letters, emails, web content, etc.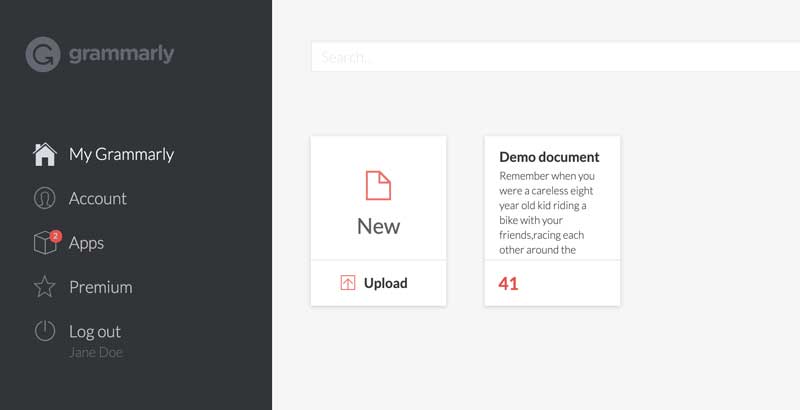 Let's take a look at key features of Grammarly:
Grammar checker
The free grammar check tool could detect errors related to punctuation, spelling and grammar in every English text.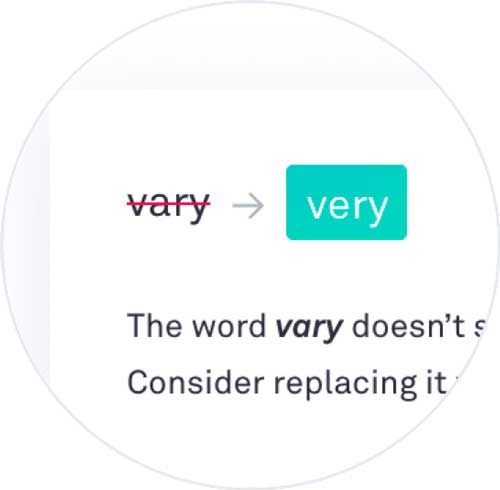 For many situations, just a simple spell-checking tool, like the one provided by many basic and advanced word processor software, isn't enough. For instance, when using a word in wrong context, a basic spell checker may detect no error.
But the one used by Grammarly could catch more errors than just misspelled words.
In addition, many people always have problem with punctuation. That's why when they're writing even a short paragraph, they have to constantly consider correct usage of semicolons, periods, apostrophes, and commas.
But that shouldn't be a cause for worry anymore. Because the sentence checker feature of Grammarly could be helpful to these punctuation errors as well.
And even if that's not enough for you, with the paid version of Grammarly you could check your text for more advanced detections and suggestions. These include run on sentences, vocabulary, word choice, and more.
Tone detector
When it comes to effective message delivery, the tone of the writing is a key factor. That's why tone detector tool of Grammarly could play a big role in improving the sound and tone which your message tries to convey.
Sometimes, before you hit the send button and deliver your message to your audience, you'd like to be confident about the way your content is seen by your readers.
Grammarly could detect your text's tone by analyzing subtle details in your content such as capitalization, punctuation, phrasing and word choice.
Here's a list of tone choices you could encounter when using Grammarly tone checker:
Excited
Optimistic
Neutral
Encouraging
Informal
Sad
Angry
Formal
Worried
Disapproving
Surprised
And so on
Plagiarism checker
Many types of contents such as web articles, student essays, etc. need to be unique and free of plagiarism. That's why having access to a good plagiarism checking tool such as the one offered by Grammarly could come to help.
For instance, when you've written a text that you know isn't 100% original, because you borrowed some content from other sources, you could use this tool to make sure you do any necessary citing in your essay or article.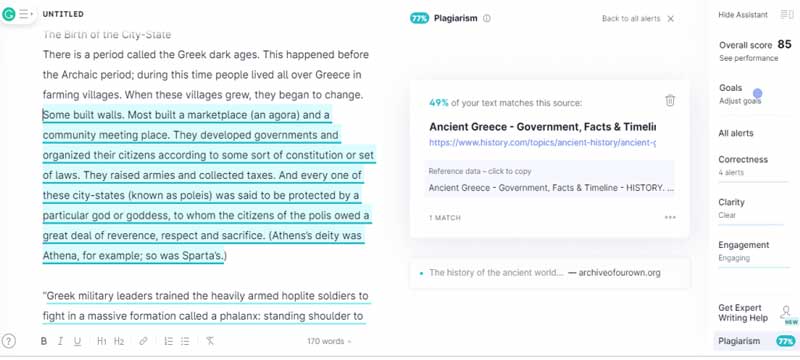 With access to academic database and billions of web pages, Grammarly plagiarism checker could benefit most writers wanting to create plagiarism-free, original and fresh content.
Pros
Several useful tools for grammar, spelling, plagiarism, etc.
Outstanding interface
Browser extension
Android and iOS apps for phone writing
Cons
No offline service
Non-refundable service
Just one user access (except for business plan)
Pricing
Although Grammarly offers many of its features to users for free, but in case you need it for more than just casual writing then we recommend using Grammarly Premium.
Users at school and work could take advantage of the Premium version to improve their writings in terms of clarity, tone and style.
Moreover, in addition to the features of the Free version – such as punctuation, grammar and spelling – the Premium users have access to lots of other great options including advanced suggestions, fluency, formality level, word choice, plagiarism detection, tone adjustments, and so on.

Grammarly Premium is offered in various plans including annual, quarterly and monthly. And the costs are $11.66 per month, $19.98 per month and $29.95 per month respectively.
As you could see, higher plans in terms of the time period offer more discounts, so if you don't want to be limited to use just the options provided to you in the free version, you could definitely upgrade your plan.
Conclusion
No matter what type of content you want to write, there is probably an area in which Grammarly could be helpful for you. These include sentence errors, grammar problems, punctuation difficulties, and so on. Moreover, the excellent plagiarism checker could improve the originality of your text and so adding to your credibility as a professional writer.