Swagtron Swagger 5 Review
Swagger 5 from Swagtron is one of the most interesting smart scooters that you can find on the market right now. What makes this product very interesting is the fact that you can fold it in just 3 steps and then carry it with you if you want.
Size and design
The Swagger 5 Elite has a normal sizing approach, which is really good. The adaptability it has is great and the best thing about it is the seamless design.
Having it fold quickly without a problem is amazing and it just makes this unit a lot better and more interesting than you would imagine. It works super well and the fact that you can go at high speeds while also staying safe is very helpful.
Features
Right from the start you will like that this is a smart scooter. Yes, it has its own mobile app and there you can see the charge levels, how much time you spent on the road and so on.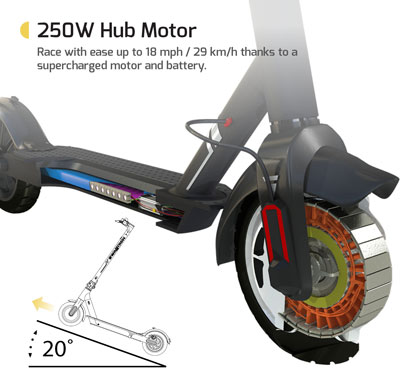 Every detail you want can be tracked and customized, which is a blast to enjoy and explore at your own pace. It's definitely worth it to take your time and monitor your performance.
Because this will help you improve again and again, and that alone is what really makes a product like this worth your time.
You can go up to 18 MPH with this Swagtron scooter, sometimes even faster especially if you go downhill. But this should be the fastest speed you can expect on a normal road. Which is more than ok, you don't really need more than this speed anyways, so consider that if you can and you should be more than fine.
As for the battery life, based on our tests this is around 11 miles per charge. Again, this will vary based on how much you have to go uphill or downhill. The 11 miles are measured on a normal road, if you add variations like that then the battery life will increase/decrease accordingly and that's the thing you need to think about all the time.
We like the fact that they actively brought in a maintenance-free tire. The unique honeycomb technology is extraordinary and they did an extraordinary job at making this hassle-free and without any downsides.
Yes, you can bring in fast breaking or anything like that, and the product will still work great and provide the speeds you want. Which is amazing but also quite unexpected at times, and that's what you really need in the end.
Please note that 28psi is recommended for tire pressure. It is important because in order to maintain the optimal range and speed low tire pressure must be avoided. That's why it should be checked regularly.
Swagger 5 Elite specifications:
Accessories: kickstand, phone mount, headlight, bell
Charge time: about 3.5 hours
Battery: lithium-ion 36V 6Ah
Climbing capacity: 20°
Mile range: 11 mi / 17.7 km
throttle speed: 29 km/h (18 mph)
Connectivity: Android and iOS app through Bluetooth
Riding modes: cruise control, 3 speed modes
Motor: 250W front hub motor
Brakes: disc brakes
Materials – rear tires: airless honeycomb, front tires: air-filled rubber motorized tires, frame: aluminum alloy
Dimensions: 105.4×43.1×48.2 cm / 41.5x17x19 in (folded), 105.4×43.1×115 cm / 5x17x45.3 in (unfolded)
Should you get Swagger 5 Elite?
Swagtron did a great job with Swagger 5. The 250W motor is powerful and you do have plenty of battery life for commuting.
It doesn't reach very high speeds which increases your safety. And you can get it in black or silver, which is always a plus because you can change the color.
Riders could visit Amazon page at https://www.amazon.com/Swagtron-Commuter-Electric-Cushioned-Controlled/dp/B07F46HW36 to buy this amazing electric scooter made by Swagtron.
One thing is certain, it might take a little bit to get used to how it works and how you can customize its app. But once you get past the first few hours of use and customization you will find this really good and just amazing to enjoy every time.