Niner RIP 9 Mountain Bike Review
From the Niner company which almost only produces 29" wheeled bikes, bikers could expect a smart looking mountain bike with aluminum frame (RIP 9) or carbon frame (RIP 9 RDO) with similar features and options. Here we take a closer look at these professionally made trail bikes.

Niner RIP bikes
In 2006, the first RIP 9 was released by Niner, and this bike has seen different changes in it geometry and construction since then.
This astonishingly capable mountain bike has received another layer of resourcefulness by the 27.5" plus wheel which has a similar diameter to a 29" wheel. And that's very important since the wheel dimensions evolution in the last several years has had a very big effect on technology advances which lead to improvement in bikes performance.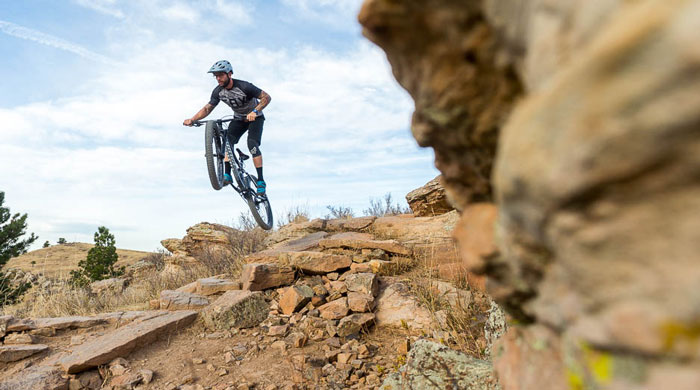 Niner RIP 9 is a bike which bikers would be excited to call it their very own, as well as show off to all their friends and to ride on the trails.
Features
High quality frame – high quality aluminum has been used to build the Niner RIP 9 frame (in RIP 9 RDO model's frame, carbon fiber has been used instead) which has a geometry crafted masterfully. 
Ultimate control – to give full control where it's required, a short, light, and wide Race Face Aeffect cockpit has been used.
Precision shifting – bikers could expect a very sharp and dependable performance from the Shimano's 11 speed SLX system.
Industry leading wheels – the bike comes with one of the most desired wheelset available, which is Stan's NoTubes.
Plush suspension – a lightweight performance is delivered by Monarch and Lyric Air.
But these are only the key features of Niner RIP 9 bikes. For those looking for full specifications of these mountain bikes please read what comes next:
Specifications (Niner RIP 9 2 Star SLX 27.5+)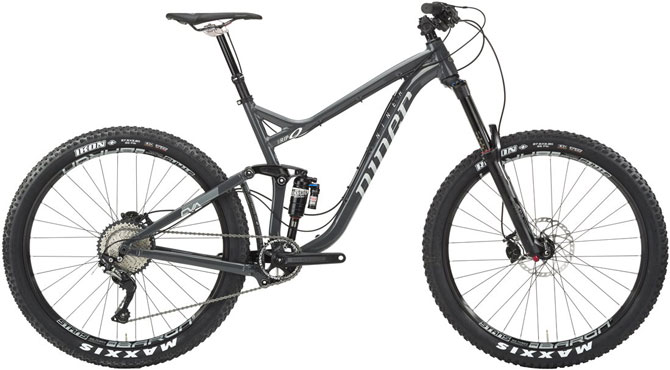 Intended use: park, all-mountain, trail, endure
Saddle: Niner graphic, Niner custom with CR-MO Rails
Seat clamp: Niner
Seat post: KS Dropzone R
Grips: Niner Grips L/O Nylon
Stem: Race Face Aeffect (50mm length)
Handlebar: Race Face Aeffect 20mm Rise (760mm width)
Tires: Maxxis IKON+ 3C/EXO/TR 2.8 rear, Rekon+ DC/EXO/TR 2.8 front
Wheelset: Stan's NoTubes NEO/ZTR Baron S1 (rear: 148x12mm – front: 110x15mm)
Brakes: Shimano SLX M7000 Metal Pads
Cassette: Shimano SLX M7000 11-46T
Chain: Shimano SLX HG-600 11speed
Bottom bracket: Race Face BSA
Crankset: Race Face Aeffect 32T
Derailleur: Shimano SLX M7000 Shadow Plus (rear)
Shifters: Shimano SLX M7000 I-Spec II
Headset: Niner
Rear shock & fork: Rockshox Monarch Plus RC3 DebonAir & Lyrik RC Solo Air 170mm
Frame: full suspension aluminum
Weight: 30.9 lbs
Niner RIP 9 RDO 2 Star SLX 27.5+ mountain bike has also the same specs as above except for the bike's frame which has been made from carbon fiber as mentioned before.
But a few more changes would be seen in the next Niner bike which its details could be found here:
Specifications (Niner RIP 9 RDO 3 Star XT 27.5+)
Please note that the above specs are also the same here except for the below items:
Brakes: Shimano XT M8000
Cassette: Shimano XT M8000 11-46T
Chain: Shimano XT HG-701 11speed
Derailleur: Shimano XT M8000 Shadow Plus (rear)
Shifters: Shimano XT M8000 I-Spec II
Frame: full suspension carbon fiber
Geometry
Prices
Here are the listed prices which could be found for these models of Nine mountain bikes we mentioned in this review:
Niner RIP 9 2 Star SLX 27.5+ ($3,800) – color: slate gray
Niner RIP 9 RDO 2 Star SLX 27.5+ ($5,000) – color: carbon/green
Niner RIP 9 RDO 3 Star XT 27.5+ ($5,700) – colors: orange & carbon
Please note that the above price info are from Jenson USA website.
As always, bikers could also check out eBay for different models of Niner RIP 9 and RIP 9 RDO (including 2014, 2015, 2016 & 2017) mountain bikes, and of course, different prices.
NinerBikes website, which is the official manufacturer webpage, has also listed these bikes – along with many other makes and models – for sale.