Neato Botvac D75/D80/D85 Review
Here we review the Botvac D Series vacuum cleaners by Neato: D85, D80 and D75. These are high performance robot vacuum which come with lots of great options and features and as major upgrades over previous models.
Neato Botvac D Series Features
SpinFlow Power Clean makes it possible to provide a high quality cleaning operation. It uses accurate brushes (spiral blade brush, combo brush and side brush) along with powerful suction to collect crumbs, dirt, debris, dust bunnies and hair from all types of floors.
CornerClever technology and the design of the device – which is D-shaped – cause the robot vacuum to be more efficient in sucking up dirt along walls and in corners.
The device is equipped with bagless dirt bin which is very easy to empty. On the other hand, it is larger compared to the ones for other similar robot vacuums.
Many robot vacuums available in the market seem to have no moving plan when it comes to cleaning a room or a home space. But a Botvac D Series vacuum doesn't just bump around. It uses real-time object detection and laser floor mapping (LaserSmart technology) to map the room and hence clean on plan.
It could recharge itself automatically by returning to charge base, after moving from room to room. And no matter where it left off, it resumes there after being full charged.
For more control over movements of the robot cleaner, there are boundary markers coming in the smart device's box. It is simply a magnetic strip which could be cut properly to define the keep out zones for the device – such as around cords, doorways, etc. – or point out where it could go.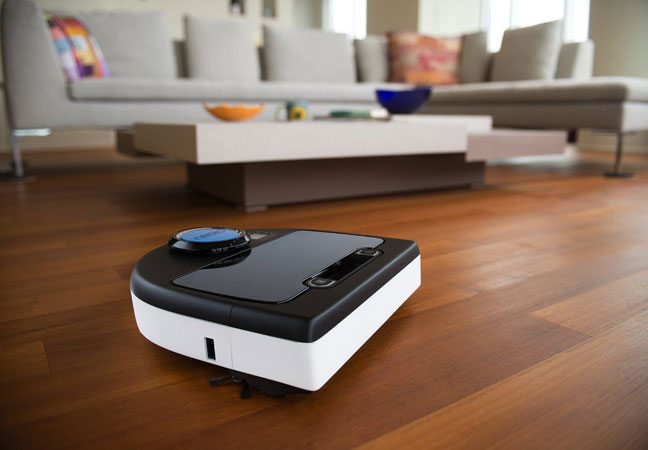 Please note that some minor features might differ between these models which could be check out below.
D85 vs D80 vs D75
All three models of Botvac D Series are very similar. There are only some small differences – such as some accessories and design color – which may not be important for many people.
The first difference is that the D80/D85 models come equipped with combo brush offering high quality pet hair gathering. These brushes also cause the devices to make less noise during the operation. And no matter what floor type is being cleaned, these two devices are very suitable for users getting tired of pet hairs not being picked up by other means.
And in terms of high performance filters, D85 offers 3 of them, while D80 model provide only one. A standard filter (and not a high performance one) is the only filter which could be expected in the D75 model.
The D75 model has a white color top, while both Neato D85 and D80 have black tops.
Of course, each of these three models has their own price tags which will be discussed about in the following.
Price
Depending on the location to buy these models, like many other items across the web, it costs variously to own any of these Neato Botvac robot vacuums.
The D75 vacuum cleaner is currently priced $449.99 at Best Buy. The price for D80 is $474 at Amazon, while the D85 robot vacuum could be purchased for $499 from Bed Bath & Beyond.
| | Neato Robotics Botvac D Series D75 |
| --- | --- |
| | Neato Botvac D80 |
| | Neato Botvac D85 |