GoCube Review: App-Connected Rubik's Cube
Rubik's cube is one of the classic puzzles which most people love and enjoy. But many still struggle to solve it completely. But that shouldn't be a problem anymore since creative gadgets such as GoCube which could connect to your smartphone or tablet could take your playing experience to another level.
What is GoCube?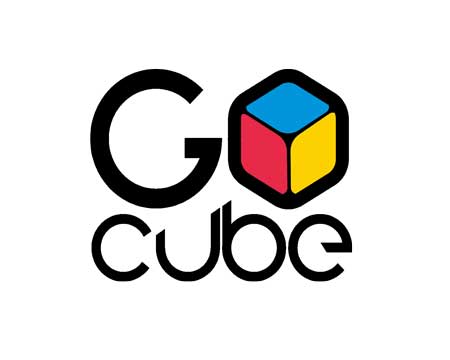 Imagine traditional Rubik's cube but with 21st century technology in mind. The result will be a redesigned gadget which is more than just a puzzle. It could connect to your smartphone with its own special app.
GoCube is for everyone who enjoys an interactive and fun way to solve a classic toy puzzle. In addition, it could help players to track their progress and connect to other players across the world.
GoCube features
No matter whether you're among the people who can't solve the puzzle – or even haven't tried it yet – or you're a master cuber, you could be the right audience for GoCube.
That's because the app-connected cube could help beginners learn the essential lessons and tricks to solve the puzzle, while making the experience more fun and challenging for more professional users.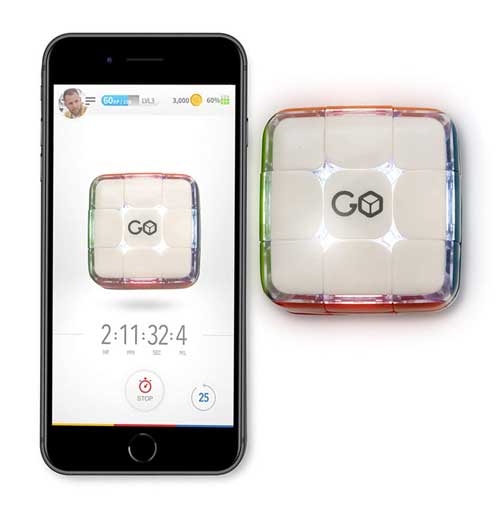 The apps for GoCube are free and available for both iOS and Android devices. These apps could be downloaded from Apple App Store and Google Play Store, and then installed on tablets and smartphones.
GoCube comes with a USB charger that acts as a smartphone stand as well.
That's really handy since both of your hands will be used for cubing while your phone could be held on the stand. And while charging, there is an internal light inside the cube which would be lit.
Another great aspect about this electronic Rubik's cube is that pairing it with your phone is really easy.
In fact, when the app is launched on your phone, it automatically searches for any GoCube nearby, and when finds one, request for your permission for pairing with it through your device's Bluetooth.
It's good to know that you family members or friends could also download and install the app on their device too. This way, with no difficulty and complication, all could have a fun time enjoying the puzzle.
When the cube is paired with the app, your every move with the cube is tracked and shown on the screen in real time.
The power usage of the gadget is really low. As a result, each charging could last about 60 hours of playing.
Also, GoCube is equipped with orientation and other advanced sensors which make it possible for 3D position and cube state to be tracked continuously in real time.
This way, could learn about your wrong and right moves toward solving the cube. As a result, you could learn more effectively while decreasing your overall solving time with more practice.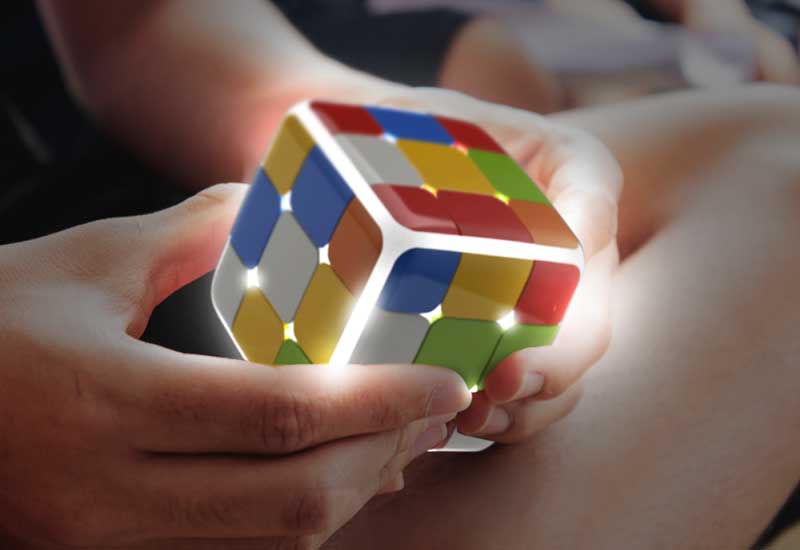 Pricing and where to buy
When you search the Internet for GoCube, there are tens – if not hundreds – of stores and retailers which list the gadget for sale.
The price ranges from around $70 to over $100 in some websites. But as most of the time, one of the best prices is featured on Amazon at https://www.amazon.com/dp/B07W7TGWDR/.
There you could find more information regarding this app-enabled Rubik's cube along with customers feedback and ratings.