Engrave It Pro Review
Looking for a gadget/tool to put your initials or name on your personal items? Engrave It Pro could be the answer, but read this review to the end to learn more how it works and it features.
What is Engrave It Pro?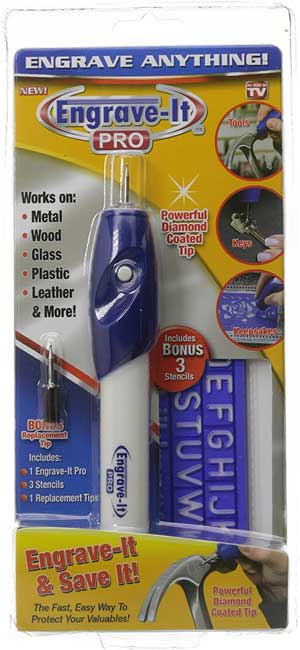 To put it simply, 'Engrave It Pro' is a pen-like tool which could be used to make creative designs by engraving on any surface including glass, leather, plastic, metal, and wood – that's at least what the seller company behind it claims.
It could be used for many purposes such as customizing different stuff and tools in your home, such as your power tools, keys, personal items, glasses, mugs, and so on.
How it works?
Just take the tool in your hand like a standard pen and start writing – or in this case – engraving on different surfaces, for example a glass.
When you toggle the tiny budget on the tool the tiny tip – which is diamond infused, according to the company – starts to vibrate quickly making it ready for engraving on a surface.
Please note that this pen operates using two batteries (AA), which you have to buy separately as they don't come with Engrave It Pro tool.
Engrave It Pro Features
Design
The fact that this engraver gadget is shaped like a pen has a great impact on making it very easy to use and intuitive. You could almost just take it in your hand like a normal pen and start engraving on your items. It's that easy.
Broad application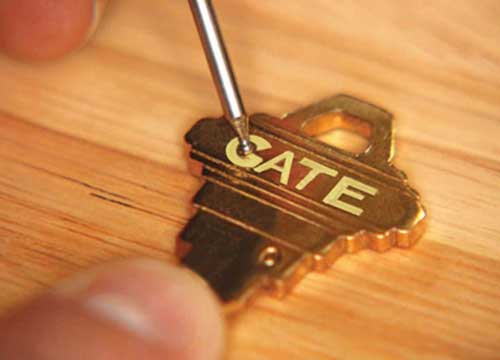 Many tools and products around your house and office could be used to engrave on and personalize using this craft tool. These include office supplies, lunch boxes, jewelry, keys, power tools, etc.
Cordless design
One of the great advantages which has made this product easy to use it that it requires no cord attached to operate and is completely cordless.
This way, you could take full advantage of this portable engraving tool which enables you to move your hands as you like while crafting art.
Stencil set
Many times, a graving pen with no template to use with is just useless. But that's not the case with Engrave It Pro, since it includes three different stencils for designs and symbols, letters and numbers.
Pros
Coming with a replacement tip
Easy solution for personalizing many gifts and personal items
Affordable engraver to label items
Cheap tool for arts and crafts lovers
Cons
Some users have reported issues with using this gadget while trying to engrave on some surfaces such as wood.
Relatively low quality
Doesn't include batteries
Pricing
Users could order Engrave It Pro on its official website for $10, plus shipping costs. There are numerous other websites and online retailers which have this product – or many other competitors – listed. Among these are As Seen On TV website which currently says this engraving tool is 'Out of Stock', and Amazon which sells this product for about $12 – along with shipping fee.
Actually, this price tag is located at the lower range for the average engraving tool available in the market. In other words, it could be considered one of the cheapest engraving pens available.
Although, when shopping for these craft cutting tools, you should consider factors beyond just the price – especially quality and effectiveness on your intended surface – before buying any item.
Top alternatives
According to various reviews and customer feedbacks available at different retailers and websites from real users, we found other – and in many cases, also better – alternatives to Engrave It Pro which could be more suitable for your needs:
---
1) Dremel Engraver Rotary Tool with Stencils
This best-selling Dremel engraving tool could be used for decorative designs, as well as personalizing your valuable stuff.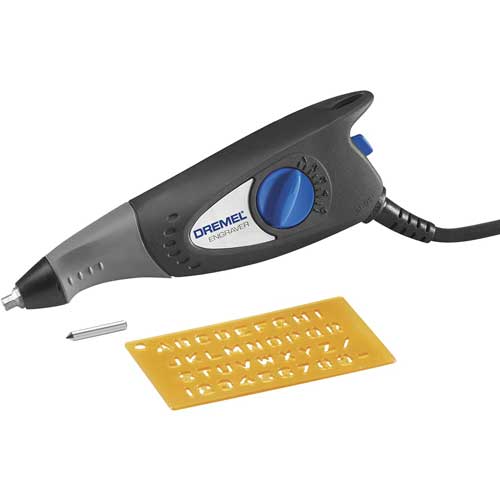 Both deep grooves and fine lines could be etched using this 120-volt Dremel crafting machine.
Key features:
USA-based customer service
2-year warranty
4 carbide points + a number/letter stencil
Lightweight pen & soft grip body
Motor with 7,200 strokes per minute
5-position adjustable dial
Could be used to engrave plastic, porcelain, ceramics, glass, stone, hard steel, machinery, leather, wood, etc.
---
2) Utool Engraver Tool with Rubber Grip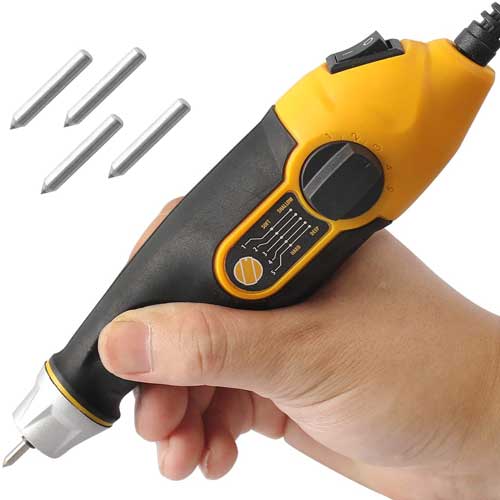 Beside the fact that the tool itself could be regarded as a nice gift for craft makers, it could be useful for creating family gift or your next art masterpiece.
Key features:
Could be used for metal, jewelry, ceramics, plastic, leather, glass, wood
Ergonomically designed handle
4 Tungsten carbide steel tips + 5 speeds
7200 strokes per minute
24W powerful engraver
---
3) TACKLIFE Engraver with Soft Handle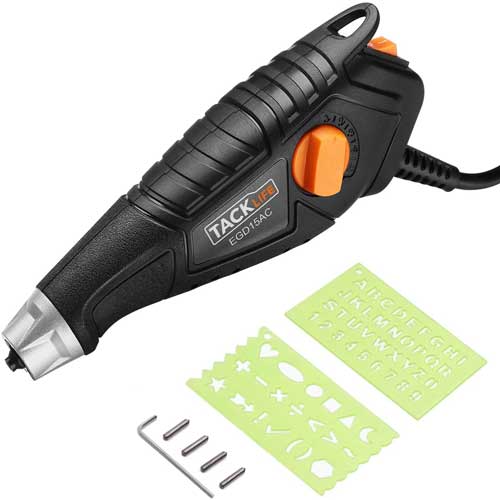 Make carvings more effective with this professionally designed engraver tool from TACKLIFE which comes with shape and number/letter templates, among many other options.
Key features:
Adjustable dial
Quick cooling system
2 templates + 4 tungsten carbide steel tips
7200 stroke per minute
15W
---
Conclusion
Whether Engrave It Pro is a right choice for your crafting needs or not depends heavily on the kind of usage and the quality level you expect from your intended engraving pen/tool. Add to that the pricing factor, and you could better make a decision between it and top alternatives mentioned earlier.