Crenova XPE460/XPE470/XPE680/XPE700 Reviews & Comparison
Crenova LED projectors are among the best-selling video projectors at online stores such as Amazon. Different models of this brand naturally come with different features and specifications which might confuse some users deciding to choose and purchase one. Read this article to get more info on Crenova projectors comparisons and reviews.

XPE460/XPE470
For most users who want to have a big-screen experience without leaving their homes, Crenova XPE460 or XPE470 LED projectors could be a great affordable choice to watch a football game or action movie using their home entertainment system.
In addition, convenient connectivity (HDMI & USB) options and rather compact sizes of theses projectors make them right for different situations.
Here are some of the features of these video projectors by Crenova:
Professional customer service support
12-month warranty
HDMI cable included with the video projector
Projection distance: 1.2m – 3.8m
Projection size: 37" – 130"
Native resolution: 800 x 480 pixels
Image contrast ratio: 1000:1
Image brightness: 1,200 Lumens
Image aspect ratio: 16:10
More options for home cinema by supporting smartphone and iPad through wireless HDMI dongle (should be bought separately)
The device is not recommended for displaying text files, Excel, PDF and other data presentation purposes
Perfect for projecting video in dark (compared to basic LED projector it provides 20% more brightness)
Please note that due to high temperature of the device, a noise would be made by the fan. In return, better heat dissipation is achieved.
Here are the items which are included in the box: a user manual, an HDMI cable, one 3in1 AV cable, a remote controller, a power adapter and the XPE460 LED projector.
Also, it's important to note that although both devices boast supporting 1080p video resolution but the actual image quality is not Full HD or even HD. In fact, the display quality is more likely 800×480 pixels which is the native resolution of the projector.
For less than $80, customers could buy Crenova XPE460 from Amazon (https://www.amazon.com/Crenova-Projector-Support-Theater-Smartphone-White/dp/B016XR7WA4).
In fact, XPE470 is also very similar to XPE460 in terms of almost all features. The only exception is the design and measurement of these devices.
XPE460 has a modern look with these dimensions: 12.4×4.2×7.5 inches
On the other hand, users who want to go for a more classic design could opt in for XPE470 which measures 15.9×5.6×12.1 inches.
Actually, XPE470 is currently cheaper than XPE460 and could be obtained from https://www.amazon.com/Crenova-XPE470-Projector-Smartphone-Theater-Black/dp/B01FJFTNB2.
According to the manufacturer, in order to avoid overheating, it is recommended to have a break every 2-3 hours of using the projector.
XPE680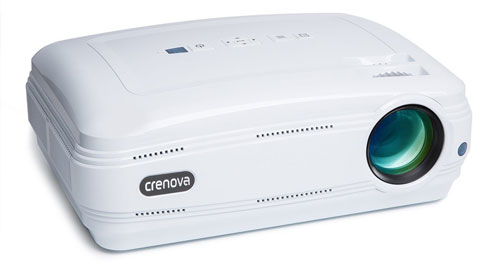 Now if less than HD video resolution is not intended, then selecting a projector such as Crenova XPE680 could be the answer.
Some of the key specifications of XPE680 are as following:
Brightness: 2800 Lumens
Resolution: 1280×720 pixels (1080P compatible)
Projection distance: 1.2 – 6 meters
Projection screen size: 32 – 200 inches
This projector also comes with two built-in speakers, audio in/out, VGA, YPBPR, AV, DTV or TV, two HDMIs and 2 USB ports.
It costs around $190 to purchase XPE680 from Amazon. Read customer reviews and obtain more information by visiting https://www.amazon.com/Projector-Crenova-Theater-Multimedia-Support/dp/B00WFRVIES.
As a side note for those looking for information on XPE600, it should be mentioned that the product is very similar in terms of main features to XPE460/470. This projector isn't available now on Amazon although it could be found with a higher price tag (compared to those of XPE470/460) on other online retailers such as Aliexpress.
XPE700

Now is time for a more different product!
Being a portable projector and with a really compact size, XPE700 satifies the needs of those always travelling or on the go from one place to other looking for a portable projector with acceptable quality.
Some of the features of this projector include:
Weight: 0.220kg
Contrast ratio: 1000:1
Brightness: 1500 Lumens
Projection distance: 1.0 – 2.0 meters
Projected dimension: 7 – 100 inches
Resolution: 854×480 (1080p supported)
Connectivity: Wi-Fi, USB, HDMI
The projector is not available for sale at Amazon. But to purchase it, customers could check out this Aliexpress webpage: https://www.aliexpress.com/store/product/mini-Projector/2206038_32747649547.html