Vintage Vespa Scooter Reviews
Looking to buy a vintage Vespa scooter? Love classic models to ride? Read on to discover more details on how to obtain one in great condition.

About Vespa

Vespa (founded in 1946) is an Italian scooter brand produced by Piaggio.
Even after so many years after its launch, still these days, restored or new Vespa scooters are purchased by lots of urban commuters. Two main reasons for popularity of scooters are low running costs and shortage of parking spots – especially in large cities.
As a result, Vespa, among other famous brands, has gained more popularity in recent years as one of the top manufacturer of scooters in the world.
So if you're a fan of vintage products and also want to buy a scooter which boasts quality in terms of both design and technical aspects, Vespa is the right choice.
What to consider when buying
When looking to buy a Vespa scooter, a few items should be considered:
Engine – engine and other parts are very important when deciding to buy a used scooter. So look out for possible red flags such as oil or gas leak, excessive smoke, unsmooth idle, etc. Also try other parts such as horn, brake light and so on.
Body – check out the body entirely for accident damages, strange ripples or bends, quality of paint, etc.
Driving – when riding the scooter check different items such as the suspension, clutch, gears, brakes, and so on.
Some of the above items might not be possible when choosing a specific buying method such as online purchase. So, in these cases be as much as possible careful about other items in order to get a vintage scooter in great condition.
Many websites such as eBay, Amazon, or Wal-Mart offer scooter from Vespa or other brands with similar designs.
We chose 'All Vespa' website for selecting our review models.
This company restores vintage or classic Vespa scooters before shipping them to buyers from USA, UK, Australia, Canada and other countries around the globe.
Vintage scooters restoration process
Many parts of a scooter are stripped down and replaced completely in the process. These include rubber trim, floor strips, leg fender shield trim, electronic parts and electrical wiring, locks, odometer, cables, tubes, tires, seats, springs, rear and front shocks, brake shoes and rubber hoses.
Even optional accessories could be selected for upgrade.
These scooter accessories include:
Chrome front rack
Chrome 3-in-1 back rack
Polished stainless steel sport exhaust
White wall tires
Models & prices
Currently, these are a few of the classic or vintage scooters from Vespa at sale on 'All Vespa':
Black VBB Vintage Vespa 150CC – 1963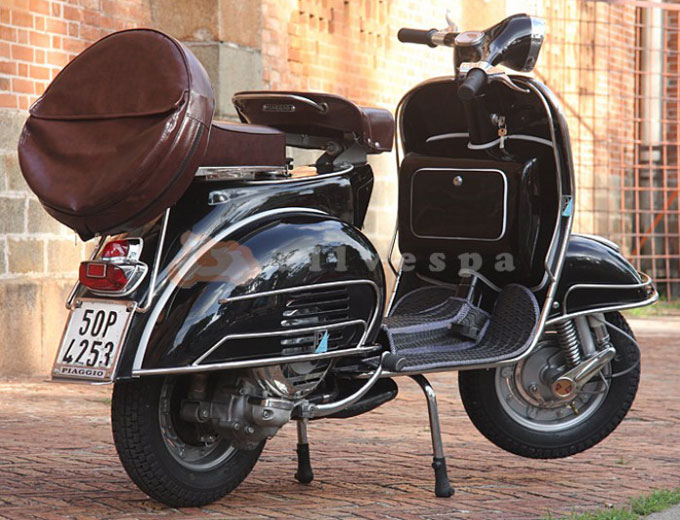 Silver VBB 150CC – 1962
Red VBC 150CC – 1965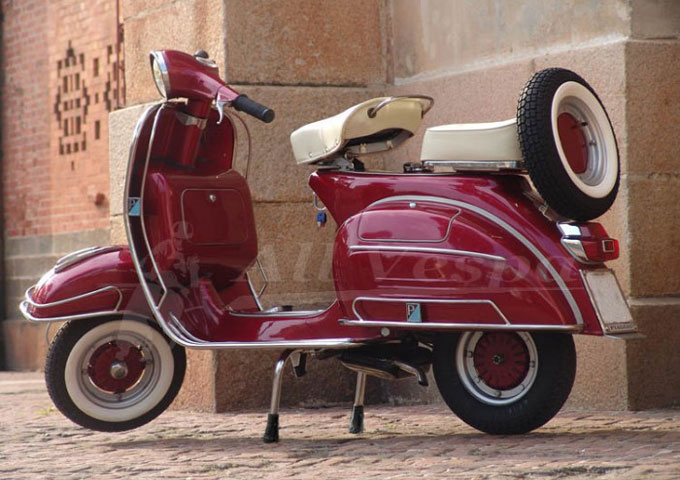 All these models are manufactured by Piaggio Vespa. Each could be bought for $2,980.
There are also 50CC models available as well. These are sold at $2,850.
Order & shipping
After choosing desired Vespa scooter model from the website or customizing one, and adding extra accessories if necessary, it is time to order.
'All Vespa' website takes orders from around the world – accepting wire transfer (for EU countries) and PayPal (international) – and offers worldwide shipping for free. It means that the buyer will be charged no additional money after the payment for their order is complete.
Please note that when you order a vintage scooter from 'All Vespa', you'll be asked to select a location so that they'll send the scooter to their authorized warehouse near you. In fact, all picking up steps would be provided by the company after order. These include: necessary paperwork, expected delivery time and local shipping agent contact details.
Two to three weeks is the usual timeframe for the restoration process of the selected vintage scooter.