Top 3 Dremel 3D Printers Reviews
Dremel 3D printers are among the most reliable devices in the market. Here we review best models for engineering, educational and corporation purposes.
Dremel DigiLab 3D20 3D Printer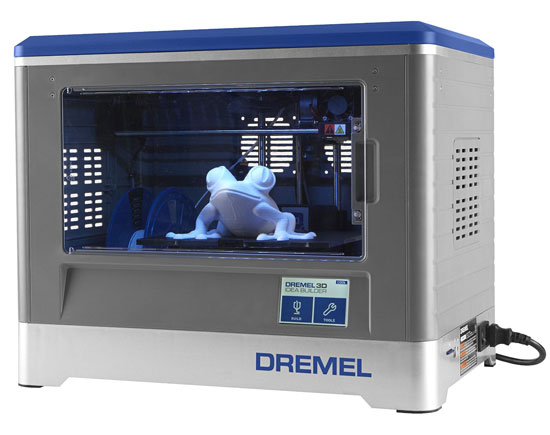 Dremel 3D printers are among the most reliable devices available on the market in this category. Reliable printing is ensured through rigorous testing. Besides, users could expect optimized printing because of specifically engineered Dremel filaments.
Features of this 3D printer include:
One-year warranty
PLA filament – stable and strong objects could be produced using PLA filament made by Dremel which is plant-based, recyclable and non-toxic. That's why around children and at home it is safe to use.
Fully enclosed – in addition to protecting children's hands during prints, the enclosed design help to create a stable temperature inside thus increasing the success rate of printing.
Full-color LCD touch screen – printing in a smooth fashion, SD card files lookup and settings modifications could all be done through the touch screen interface.
Easy & quick use – seamless out-of-box experience and quick first print are enabled due to pre-installed extruder.
It is important to note that the software of this printer supports both .STL and .OBJ file formats.
According to actual buyers' reviews on Amazon, the printer noise depends on what it prints: the device is very quiet when working on small sections or pieces. It is while travelling long distances that the printer head causes loud noises.
Hobbyists, tinkerers and other interested users could buy this Dremel DigiLab 3D20 3D printer from Amazon for about $800. More info and reviews could be found at https://www.amazon.com/Dremel-DigiLab-Printer-Tinkerers-Hobbyists/dp/B00NA00MWS.
Dremel DigiLab 3D40 3D Printer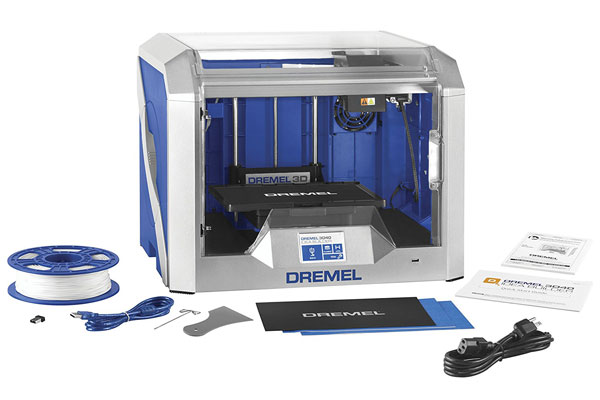 From engineers to middle school teachers, all types of users find Dremel DigiLab 3D40 printer a perfect solution. That's why this 3D printer has won an ISTE award.
Here are some of the features:
Wandering hands are prevented and noise is minimized because of the full enclosure design of this 3D printer which is very suitable for classrooms and educational environments.
Minimized repair requirement because of an extruder that won't clog, according to the manufacturer.
Semi-automated levelling and web-based printing are among the easy-to-use features which have made this printer an award-winning device.
Cloud-printing compatibility – the printer is part of the Dremel Print Cloud and wifi-enabled. And for those needing a desktop solution, they also provide Dremel DigiLab 3D slicer.
As advertised by Dremel, it takes only 15 minutes from the installation until the first print.
For less than $900, users could buy this Dremel 3D printer from Amazon https://www.amazon.com/Dremel-3D40-01-Builder-Printer-Leveling/dp/B01N1GE5C4.
Dremel DigiLab 3D45 3D Printer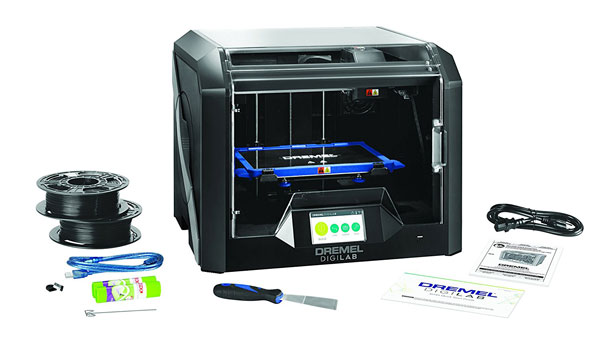 More advanced users in corporations and higher education could take advantage of Dremel DigiLab 3D45 which features robust extruder and heated build plate.
Special features:
HD camera: time lapse videos could be captured with the 720p quality camera this 3D printer is equipped with. The camera could also be used for fleet management. That could be especially great for makerspace supervisors in case of the Dremel Print Cloud connection.
RFID filament recognition – RFID-equipped filament rolls is recognized by the device thus making it possible for automatic update of print feeds & speed, in addition to the g-code for optimal build plate and extruder temperatures.
Advanced filaments: nylon & eco-ABS – advanced materials – such as eco-ABS and nylon – printing is allowed due to the robust extruder of this Dremel printer along with the 3D45 heated plate.
Some of the specs of the device includes:
Operating temperature: 16-29°C
Build platform maximum temperature: 100°C
Extruder maximum temperature: 280°C
One-year warranty
Supported: learning community
Flexible: removable glass build plate
Safe and quiet: fully enclosed workspace
Full color touch screen
Onboard & easy-to-use software
For more information and detailed price info for this Dremel 3D printer please check out https://www.amazon.com/Dremel-DigiLab-Printer-Advanced-Material/dp/B073MRVXN5.