PUR vs. Brita vs. Culligan vs. DuPont Water Filters Comparison and Reviews
These days many people prefer to use water filter systems to reduce impurities and contaminants from tap water. Here we review and compare some faucet mount water filter systems from different brands including Brita, PUR, DuPont and Culligan.

Water filters comparison
When it comes to water filtration, PUR and Brita are the two most famous brands. Other brands such as ZeroWater, DuPont and Culligan could also be found in the market providing different types of water filter systems including water pitchers, faucet mounts and replacement filters.
The best way to compare these brands might be reading each product's specifications and features and seeing if they satisfy specific needs and requirements.
For this purpose, we have gathered some of the best water filters by each brand in this article to help users make better decisions.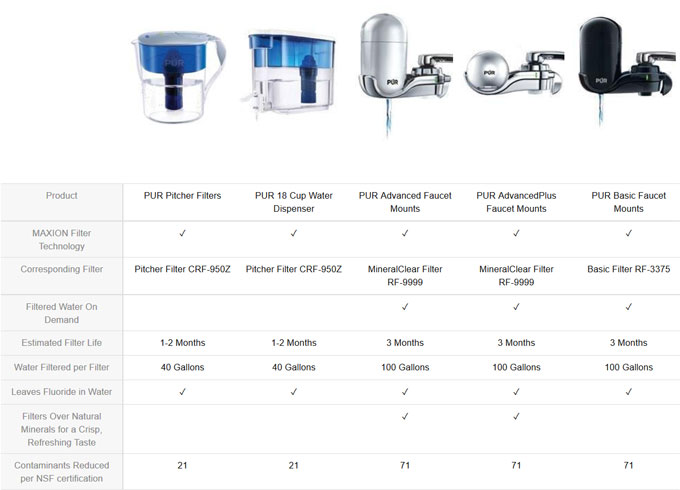 PUR water filters
Coconut shells are the main material to make PUR activated carbon filters. Within each grain of carbon there are pores produced as a result of the fact that steam is used to 'heat treat' these coconut shells.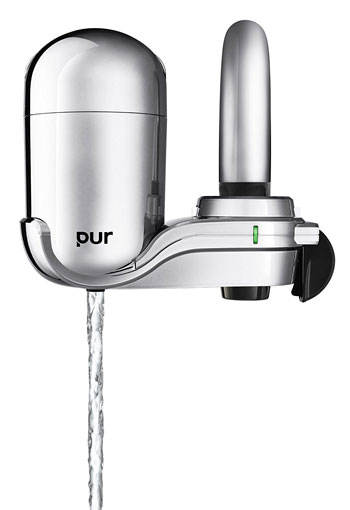 So, in each gram of carbon, there is a surface area of 1,000 sq. meters containing very small tunnels and spaces.
And that's how each PUR faucet filter could trap and absorb the contaminants found in tap water.
For maximum contaminant reduction, ion and carbon exchange materials are blended through PUR's unique formulation which builds the MAXION technology of this brand.
This unique technology provides fresh tasting and clean drinking water from ordinary tap water.
Here are other features of this faucet water filter:
Up to three months usage or 100 gallons of filtered water could be provided by each filter.
new materials and finishes enduring tough kitchen use.
360-degree swivel – so most sinks are compatible with this faucet filter.
easy one-click installation
A filter life indicator which is built-in and could warn owners whenever a filter change is necessary
More than 70 contaminants are said to be removed by the filter. These include 96% or mercury, 92% of pesticides and 99% of lead.
Please note that this filter is not compatible with hand-held or pull-out faucets. But it works with standard faucets.
To buy this filter, users could check out Amazon through: https://www.amazon.com/PUR-3-Stage-Advanced-7-7-Inch-3-2-Inch/dp/B0009CEKY6 (white, gray, and chrome colors are available)
PUR pitcher water filters could also be found on Amazon as well. But for users looking for top water pitchers, we also recommend looking for other brands such as Brita and ZeroWater as well since top sellers in this category at Amazon are mostly from these brands.
Brita water filters
Although Brita is more active in water pitchers types of filters, high quality faucet filters by Brita could also be found.
The Brita filter system we chose for this review includes the below features:
Filter replacement is warned by the filter through the special indicator.
Clean water amounting of up to 100 gallons could be offered by the filter.
In order to trap sediment, an extra layer is included as well.
99% of giardia and cryptosporidium cysts are absorbed by the filter.
Asbestos, lead, along with chlorine odor and taste found in tap water would be reduced by the filter.
Also, using a sliding lever, three water flow choices are offered to users through this Brita system: regular, spray and filtered water.
Please remember that, as with PUR filters, Brita filters could also be installed easily on faucets with no tools required.
More information and price details could be found: https://www.amazon.com/Brita-Faucet-Filter-System-Indicator/dp/B004INTGKK (white and chrome colors available)
Culligan water filters
In seconds, and with no tools, users could mount a Culligan faucet mount filter onto their faucets.
Pulling the diverter valve stem would simply trigger a switch from unfiltered tap water to filtered water.
Other features of this Culligan filter include:
Working with all standard sink nozzles through adapters (some models, such as Culligan FM-15A, aren't compatible with drop down faucets).
Filter life is 2 months or 200 gallons of clean water.
In addition to removing bad odor and taste, the filtration removes 99% turbidity, 98% particulates class I, 98% lindane, 97% chlorine, and 94% atrazine.
Amazon lists two finishes (white and chrome) of this product for sale with a slight price difference: https://www.amazon.com/Culligan-FM-15A-Faucet-Advanced-Filtration/dp/B00006WNMI
DuPont water filters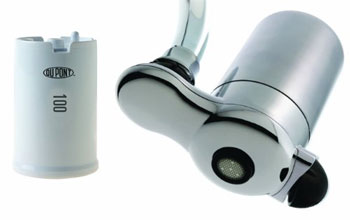 DuPont offers many faucet mount filters so that people could easily get access to better tasting and clean drinking water.
The features of the model we chose here are:
Standard kitchen faucets are compatible with this water filtration system.
Improves clarity, odor and taste of the tap water.
Lead, mercury, asbestos, benzene, lindane, cysts, chlorine and sediments are reduced by the filter.
Plumbing tape, washers, faucet adapters, faucet mount filter and faucet mount are included in the system.
Amazon has listed the product which could be accessed here: https://www.amazon.com/DuPont-WFFM100XCH-Premier-Faucet-Drinking/dp/B007VZ2KOQ