4 Best SSDs for Gaming
If you're a hardcore gamer, then you already know how beneficial an SSD storage can be in terms of making a difference in load times. Here we present the top SSD selection for gamers.
When you're into a new game and are slaying each of its levels, the last thing you want is slow load times, which can really miss up your gaming. SSDs decrease load times since their data transfers speeds are higher than those of HDDs.
In comparison, an SSD can have more than 400 MB/s, while HDDs only deliver 170 MB/s and under, so an SSD can make a significant different in your gaming load times.
And SSDs also reduce any lags when you're playing open-world games, which are basically brief pauses in games that occur when the game can't pull data from the console's hard drive fast enough to keep up with players. But that's not all since SSDs can generally improve other things like a quicker boot on desktop computers.
In fact, other than gaming purposes, many people use SSD storages for a wide variety of uses such as keeping their important documents, music tracks, travel photos, and family videos.
There are a lot of options out there for SSDs, but when it comes to gaming here are a few of the best!
Crucial MX500 (1TB)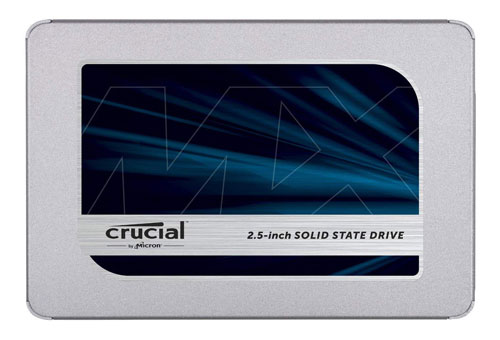 The Crucial MX500 1TB can outperform more expensive SSDs, which is a good thing given that's it's just around $250, making it a great price per gigabyte. This is the perfect SSD for PC gaming, combing the perfect price, performance and reliability, making it one of the best on the market.
Crucial MX500 is one of the best-selling products in internal solid state storages category on Amazon.
You could expect helpful support and service along with security, speed and quality when getting this storage drive.
Upon purchase, users could have access to a free cloning software through a download link sent by the company. Also, for those not knowing how to transfer old drive data to their new storage device, online instructions would be sent as well.
To buy this Crucial SSD and check out other capacities such as 500GB and 2TB, please visit https://www.amazon.com/Crucial-MX500-NAND-SATA-Internal/dp/B077SF8KMG
Samsung 960 EVO (500GB)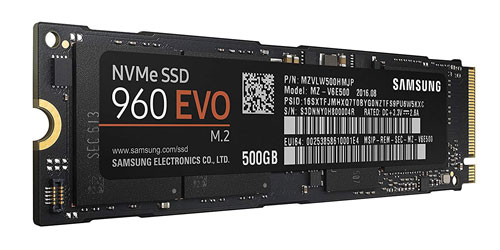 You can't really beat Samsung's 960 EVO 500GB SSD when it comes to capacity, speed and value! The 500GB SSD has enough space for loads of things and is currently considered the fastest consumer drive on the market. Thanks to its TurboWrite technology, the SSD performs on the same levels as more expensive options.
Other capacities for this model could be found as well. Just check out the Amazon page for this SSD: https://www.amazon.com/Samsung-960-EVO-Internal-MZ-V6E500BW/dp/B01M20VBU7
Adapta XPG SX8000 (512GB)
If you're looking for an SSD on a budget, you really can't go wrong with the Adapta XPG SX7000 512GB. While there might be quite a few NVMe SSDs that are faster than this one, no one in the industry as made an NVMe that costs less than this one.
With 1,800MB/s read and 850MB/s write speeds, the drive can surely deliver for any gamer.
Check out the price for this SSD on Amazon through https://www.amazon.com/XPG-SX8000-Gen3x4-Heatsink-ASX8000NPC-512GM-C/dp/B06Y33KQG9, also other capacities from this brand could be purchased as well.
Silicon Power SSD 3D NAND A55 SLC (256GB)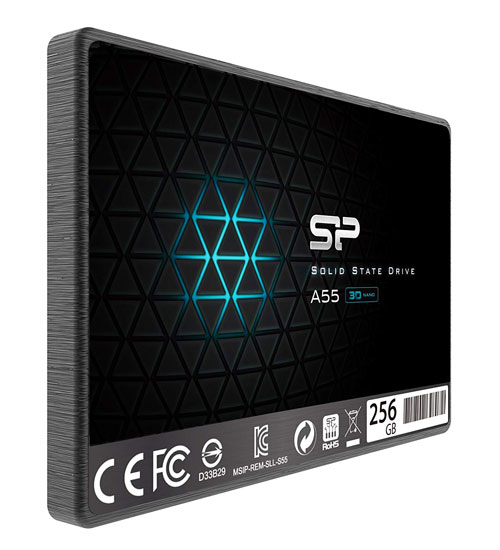 For those requiring rather lower capacities – such as 256GB – and more affordable prices, we recommend this Silicon Power SSD.
Higher transfer speeds are delivered due to 3D NAND flash. As a result, overall system performance is improved and faster bootup could be achieved. In addition, in order to provide longer lifespan and performance boost, the SLC Cache Technology has been used.
This product comes with a 3-year limited warranty.
Games could buy this SSD for less than $40 from https://www.amazon.com/Silicon-Power-Performance-Internal-SP256GBSS3A55S25/dp/B075RJS55D