6 Best Magnifying Glasses with Lights Reviews
Having a difficult time reading fine details on your medication or newspaper? Or maybe you have a (grand)parent with and eye disease, who is in need of a magnifying glass to help them better view and read.
No matter what kind of magnifier you need, handheld or headband, desktop or compact, we have selected something for you to help you make a better choice.
Here is our selection of top 6 lighted magnifiers available in the market:
1) MagniPros 3X Magnifying Glass with Evenly Lit Viewing Area
Viewing through a large and rectangular-shaped viewing area and reading from left to light is easily done using the MagniPros Magnifying Glass.
Different type of uses including viewing fine details and enhance reading in crafts, models, hobbies, medications, pill bottles, jewelry, miniatures, electronics, maps, photographs, magazines, newspapers, books, etc. could be done using this magnifying glass.
Using this magnifier, users could enjoy bright light while saving money. In addition, there is no need to worry about overheating or burning out.
According to the manufacturer, the LED lighting could work for over 20 years.
Some of the features include:
Equipped with SMD LEDs with over 100,000 hours lifetime. (3 AAA batteries required which aren't included)
Ergonomic handle & lightweight: long time readings are easier with this product because of its ergonomically designed handle.
Dimmable lighting: various tasks could get proper lighting achievable by finger tap. Brightness level could be adjusted with ease using the roller dimmer.
Acrylic lens: with no optical distortion and with the same clarity level of glass, the shatterproof and scratch-resistant lens of this magnifier provides crystal clear view to its users.
up to 300% magnifying
In order to read more details about this magnifier from MagniPros or purchase it online please visit its Amazon listing page at https://www.amazon.com/dp/B012ID4XAE/
2) BUSATIA Magnifier with Light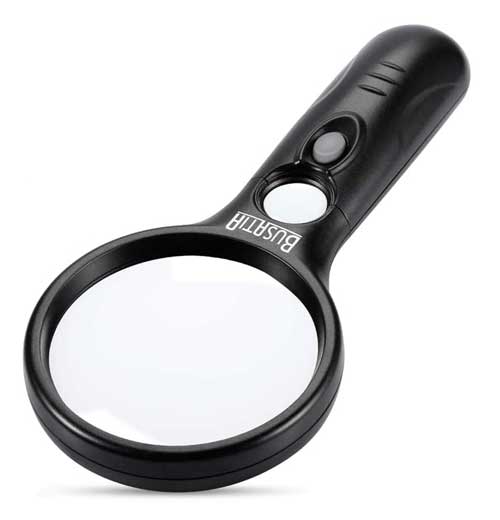 Another compact magnifying glass which is very suitable looking for a handheld magnifier which could help them better view things even then there is no enough lighting in the environment.
Reading magazines, maps, books and doing hobbies and crafts with the 3X lens of this magnifier are much easier for those suffering from macular degeneration and low vision.
Using the on/off button switch, users could easily read at night or dark places since this handheld product is coming with built-in LED lights which are energy-efficient (AAA batteries required to power them, which are not included with the item).
When receiving this product, users also get a storage bag and cleaning cloth included in their box as well.
Moreover, professional inspection, jewelry and miniatures tasks could also take benefit from the smaller lens of it with a 45X magnification power.
Purchase this tool from https://www.amazon.com/dp/B07QDXL6HK/ where you could get more price and customer reviews details.
3) Brightech LightView Pro Flex Magnifying Lamp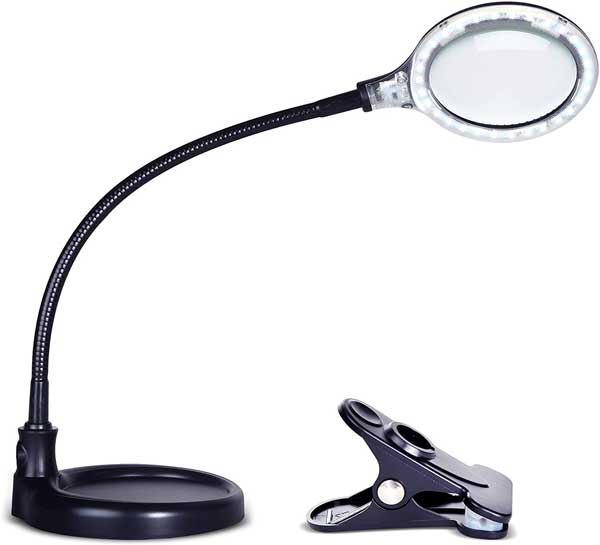 Hobbyists and crafters would definitely love this lamp with magnification power which allows them to better see fine details of the craft they work on.
Hands free working is really possible while viewing from the magnifying lens of this Brightech item.
Many people have used this type of tool for different type of works such as repairing electronics, cross stitch, jigsaw puzzles, jewelry making, sewing and painting.
Some of the features include:
3-year product warranty by Brithtech
Strong clamp and heavy base: just place the lamp in the right position and then focus on your work.
Diopter glass lens magnifying 175%
6-watt LED light
3-inch lens
The item has a high rating on online retailer websites with lots of positive reviews from satisfied customers.
Visit https://www.amazon.com/dp/B01K10XA1O to order this magnifying lamp from Amazon retailer.
4) YOCTOSUN LED Head Magnifier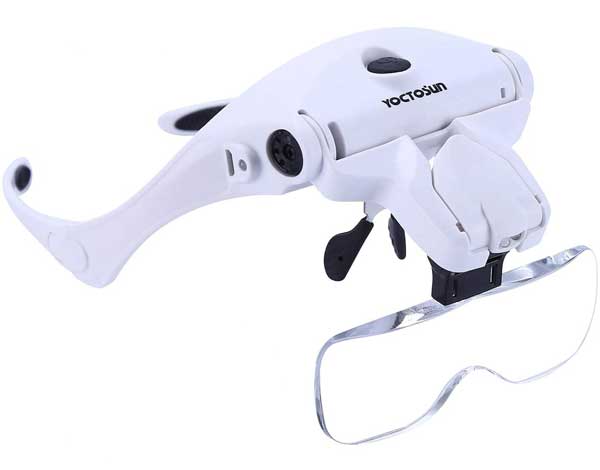 If you are a fan of tools and gadgets providing hands-free applications while allowing you to easily focus on your task then you should try this head magnifier by YOCTOSUN.
In addition, the tool comes with two bright LED lights. And users could vertically adjust the light angle.
And it's good to know that the tool could be worn as headband or glasses.
Here are some of the main features:
Up to 350% magnification: ideal for close works such as coins, painting, embroidery, knitting, needle work, and other crafts.
Rechargeable: a USB power source (such as a power bank, phone charger or a USB wall charger) could be used to recharge the built-in lithium battery of this magnifying tool.
Adjustable brightness levels
Scratch-resistant acrylic lenses: 5 different optical lenses of 3.5X, 2.5X, 2x, 1.5 and 1X which could be easily switched by the user.
Check out https://www.amazon.com/dp/B07T4KPYN2/ at Amazon to purchase this head magnifying glass.
5) RockDaMic Magnifying Glass with Light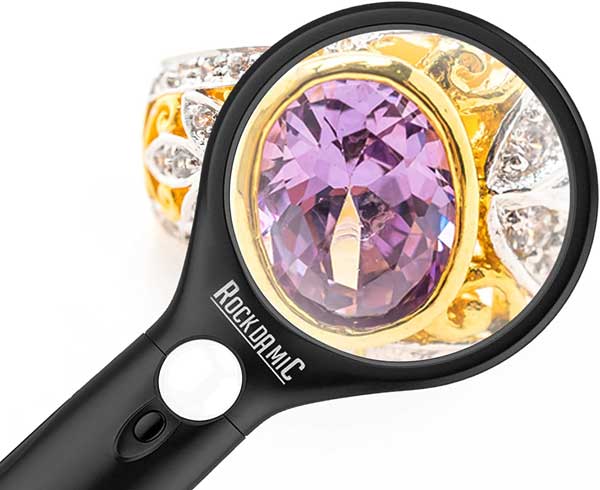 When considering a hobby gift for kids, this magnifying glass might be suitable since it's very similar to old-fashioned magnifying glasses but with a touch of innovation.
The upgrade includes 3 LED lights – which could be turned on and off through a switch with no difficulty – a 15X small and a 3X large magnifying lenses.
The tool boasts an ergonomic & stylish design which makes it more comfortable to take. And also, it could easily be fit into your pocket since it's very lightweight.
See Amazon website through https://www.amazon.com/dp/B0753GPFG3/ in order to buy this useful handheld magnifying tool.
6) LED Lighted Hands-Free 3X Full Page Magnifier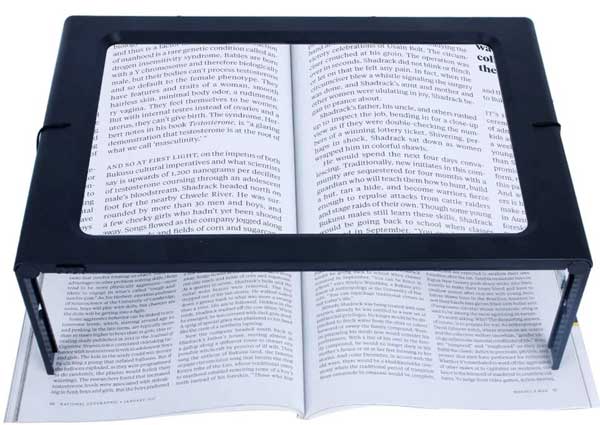 Some people might prefer larger type of magnifiers which could be used to magnify a bigger area of their reading or viewing material.
For this kind of users some type of desktop magnifying glasses might be more appropriate.
This item provides a viewing area with the size of an A4 paper.
One of the great advantages of this magnifier is that its lighting could be powered by both USB and battery. So, you could just use 3 AAA batteries to power the tool or make use of any device with USB port to turn on the LED lights.
Please note that they've used PVC to make the magnifying lens.
To buy this magnifier or get more details about it just check out https://www.amazon.com/dp/B0833LTHXQ
How to buy a lighted magnifying glass
Market is filled with different type of magnifier and hobby tools which might make it harder for you to decide when you want to buy the best option.
Here are some of the most important factors which you need to consider before making a decision:
Power source: some of the tools are rechargeable (through USB, for example) while other might only work with AAA batteries.
Stability
Brightness level
And also, don't forget to read as many reviews as you can for any product which you want to buy, especially when you have more doubts about any particular option of feature of the magnifying glass.