CheapOair Review
CheapOair has been in business since 2005, with several administrative offices in various cities worldwide. It operates under Fareportal, its parent company, to help travelers get discounted prices on tickets, hotels and car rentals around the world.

In comparison to other travel and ticket booking websites, CheapOair offers lower prices. So no matter the destination location is international or domestic, finding good deals is easy through using this website's services.
Customers just need to use the standard search features of the website to find what they're seeking. Main options such as date, location and preferences are offered to get the needed results for flights, hotels, cruises and other bookings. More options are then available to narrow the results such as the area of the destination city or shortest flight.
And for hotel searches, options like special rates for travelers such as active military or senior citizens, star ratings and guest review could be used to sort the search results.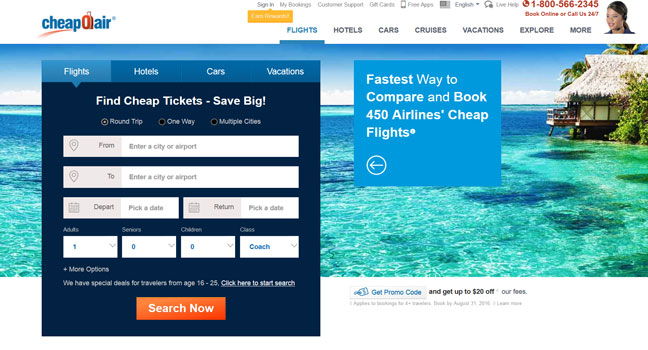 Hotels & car rentals
In addition to flights and cruises, users could also use CheapOair to book rental cars and hotels, like most online travel agencies. And for users who want to have one price for multiple reservations booking (like hotels and flights), they'd be provided combination packages by the website.
On the 'Hotels' section of the website, users could access 'Featured Deals' for hotel reservations. Using them, it's very easy to get up to 35% discounted prices when reserving hotel rooms.
It also offers travelers with car rentals in about 30,000 locations across the globe. And the prices for these rentals start from about $7/day. Find deals from companies like AVIS, Payless, Budget and advantage which could help save up to 35% when renting cars.
Other than these options and the main ticket reserving functionality of the site, some of the other interesting sections of the CheapOair include:
Cruises – the prices for these cruises start from as cheap as around $30 per day. The service let travelers get bargain prices through finding unsold cabins from cruise lines such as Celebrity Cruises, Carnival Cruise Lines and Royal Caribbean.
Vacation packages – for more savings on ticket and other travel expenses, users could bundle their airplane ticket, car and hotel reservations. Popular vacation spots include Las Vegas, Denver, San Diego, Los Angeles, San Francisco, Orlando and so on.
Explore – an interesting part of the site allowing users to see the cheap prices for tickets and fares visually on an interactive map of the world.
More – lots of other useful pages of CheapOair let users find explore deals and prices far more easily. These pages include 4 star hotels under $99, flights under $199, student, senior, or military travel, last minute travel, group travel and top 25 deals.
For a group of travelers which are 10 persons or more the travel agents of the website could provide special offers from airlines such as Lufthansa, Turkish Airlines, British Airways, United Airlines, Avianca, etc.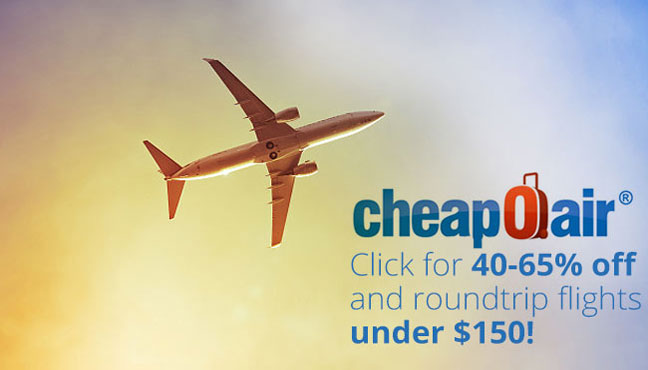 Users could also find testimonials, trends and travel guides throughout the CheapOair website.
Service fees & cancellation policy
One of the most common complaints that many customers have about CheapOair is its somehow high service fees for booking rental cars, flights and especially hotels.
So for instance, when booking a room, users should consider an additional $30 per night as a service fee. It means that, the room's list price doesn't include that fee. However, paying for rental cars and flights include lower fees.
The same is true for cancellation fees. Sometimes, CheapOair's cancellation fees could be higher than the original reservation cost. So travelers should be very careful when booking with this service and should be ready for such high fees if their plans don't work out. But in case of phone cancellation, these fees and charges could be waived for some groups of people like active military members, the bereaved and seniors.
CheapOair coupon codes
People are always looking for ways to get prices that are cheaper even while shopping on a website like CheapOair.
Maybe the Groupon website should be the first resource to visit for CheapOair coupons and promo codes. The coupons include great deals like $100 off for airfare, or up to 35% discount on hotels.
Other recommended online resources and sites to visit for this matter could be RetailMeNot and Coupons.com.
For even more convenient use of CheapOair travel services, users could use its apps. These could be freely downloaded for iOS or Android devices through Google Play Store or Apple iTunes Store. The official website has the links to these resources.