Boohoo Review
If you are looking for an online fashion store to purchase clothes that you want, Boohoo will be one of the names that you will come across first. In fact, Boohoo has been able to maintain a strong reputation throughout the past by offering the best quality fashion items to people. Let's deep dive and figure out how Boohoo offers its service and what you will be able to get out of them.
What is Boohoo? And is it legit?
Boohoo is an online clothing and fashion store, which is owned and managed by Boohoo Group. It was started back in 2006. This online fashion marketplace can cater to the needs of men and women.

You will also be able to find a large number of beauty products and accessories that are available for sale on Boohoo. They range from beauty products, swimwear, lingerie, shoes, jeans, trousers, skirts, tops, dresses, leggings, trousers, playsuits and many more.
Boohoo is also known for offering products at a low price tag. The team has not compromised the quality of products to make them available to you at a lower price tag. Therefore, you can make hassle free purchased when you are buying products that you want from Boohoo.
Boohoo is one of the most popular retailers that you can see in fashion industry as well. So you could be sure that it is legit since so many customers have bought from the website so far.
You can see them expanding to many different areas along with time. In fact, Boohoo keeps on acquiring other prominent fashion stores. Therefore, Boohoo will become a widespread brand in the future and you will love what comes along with it,
Boohoo has been in the industry for 12 long years. Throughout this time period, it has been able to become a fashion powerhouse as well. You can easily locate the presence of Boohoo all over the world. In addition to that, Boohoo is dropping over 100 new products for the people who are interested.
Therefore, you can make sure that you are getting hold of the latest fashion styles with the help and assistance of Boohoo.
Another great feature about Boohoo is social media presence. You can find more than 4 million fans following the Instagram account. Likewise, there are 3 million fans under Boohoo Facebook account and 500,000 followers under Twitter account.
What makes Boohoo popular?
Accurate portrayal of products is one of the great features that has contributed towards the overall popularity of Boohoo. You don't need to keep a doubt in mind when you are purchasing something through Boohoo. That's because it can assist you to learn all the information that you want about the product before you spend your money on it.
In other words, Boohoo can assist you make informed decisions when purchasing products.
Boohoo.com online clothes shopping website includes many categories for men and women clothing including jeans, pants, skirts, sportswear, swimwear, tops and dresses.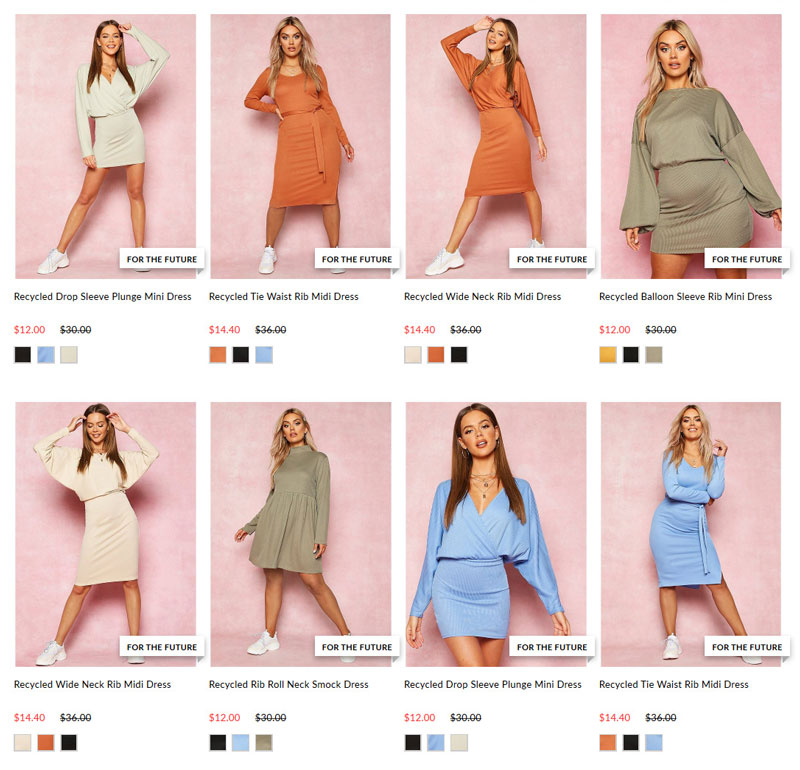 You can find a detailed product description with every single product that is available for sale on Boohoo. In the product description, you can find more information about the dimensions and even material decomposition.
If you are purchasing a dress, you will be able to see measurements of hip, waist, bust, hem and the size of model who wears it. Therefore, you will not keep any doubts when buying it. This will not leave you with any regrets at the end of the day as well.
Boohoo also provides a dedicated mobile app. You can download this dedicated mobile app to your Android or iOS device. Then you will find it as an easy task to go on shopping. In fact, it can provide you with the chance to engage with shopping on the go.
One of the most prominent benefits that you can gain out of this app is that it is right on the home screen. Therefore, you will be able to access the Boohoo online store with ease. Latest promotions and offers that are available on Boohoo will be delivered to you in the form of push notifications. As a result, you will never miss out a deal that is available on Boohoo.
Price of products at Boohoo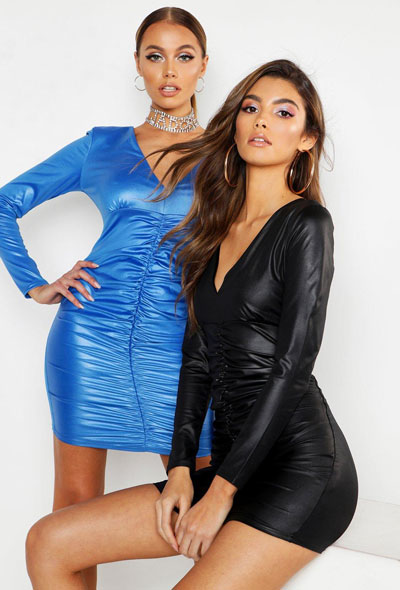 As you already know, a variety of products are available for sale at Boohoo. In addition, they keep on adding new products to the lineup as well.
All these products are marked reasonably. However, the prices of new products released to the store are a bit higher when compared to the price of older products.
You can also find Boohoo running promotional campaigns time to time.
You can keep an eye on these promotional campaigns and purchase what you want at a lower price tag. You will definitely be impressed by these promotional campaigns that are run by the online fashion retailer as well.
Shipping & delivery
Boohoo offers international shipping options. That means that users from most countries could order clothing from this website and receive their products.
Delivery times vary depending on the country and shipping type. For USA addresses, for example, it could take 7 days at maximum for standard shipping. Express shipping, on the other hands, just takes 2 or 3 days usually.
More details about the delivery information could be found at the their website.
Conclusion
Boohoo is an impressive online marketplace, which any person can access to shop for the latest fashionable items and goods without keeping a doubt in mind. You will absolutely fall in love with the exciting collection of products that are available for sale at Boohoo.