SpyHunter Review
SpyHunter is a powerful antimalware and antispyware software equipped with anti-rootkit technology which ensures a real-time protection against the latest online threats.
Many software experts and software comparison and review websites consider SpyHunter as one of the top products in the market for malware and spyware removal. The software is also very powerful in removing rootkits. These threats are malware items using hidden and encrypted files to get unidentified by most security programs. They are very dangerous since they try to take hold of the operating system to run malicious files.
How the program works
While offering smart automatic spyware and malware protection, SpyHunter has a user-friendly interface which makes it very easy for novice users to get their way through the application. All is needed for the software to start scanning computer's files, cookies, registry and memory is a simple click. After the scan is completed, the program will list the infected items for users to check.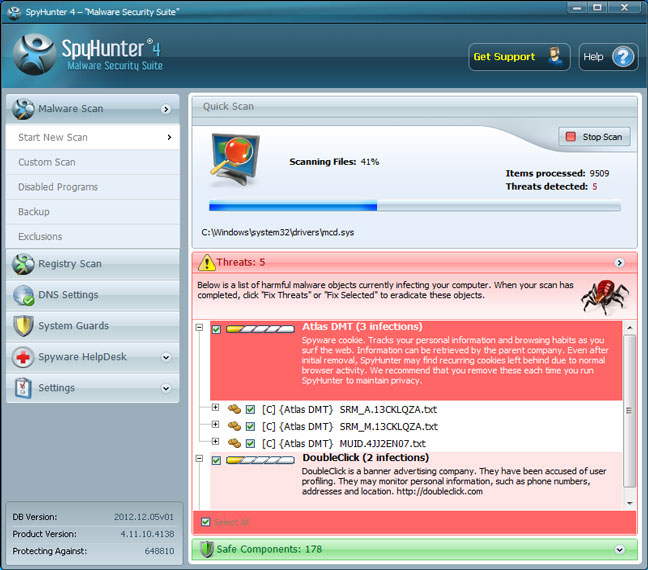 It is also possible to select an object to learn more details about it. Next, clicking the "Start Remove" button will make the software to remove infected files which have been selected by the user. Then, a special quarantine area of the application is the place which those removed objects will be placed in.
Features
Malware protection – SpyHunter detects, blocks and removes different kinds of malware including worms, Trojans, cookies, keyloggers, adware, rootkits and spyware.
Latest updates for malware definition – to ensure full protection against the latest threats, the database of the software get updated regularly on a daily basis.
Compact OS – a compact OS is integrated in the program which makes the malicious software and rootkits infections removal very easy.
Backup – the built-in rollback feature enables users to restore any object removed by the software.
Custom scan – sometimes users want to scan only specific locations of their computer in order to save time. This feature offers different scan types such as cookies, registry, memory, rootkits or files.
Scheduled scans – under the Settings panel of SpyHunter software, users could simply configure and setup "Scan Scheduler". Using this option, it's very easy to define monthly, weekly or daily scanning times for the application, even if the user is away from their system.
Network sentry – another great option which could be found through the Settings panel is "Network Sentry". It doesn't allow malicious objects to disrupt and modify computer's internet connection via providing network settings control to the users. Moreover, DNS servers settings are constantly monitored by this anti-malware software, and in case any unauthorized change happens, the program gives an alarm. This simple act could help against being redirected to malware or phishing websites through Trojans or spywares.
General settings – within the Options panel these settings could be changed: Minimize Security Setup on Startup, Start Scan on Boot, Start Security Suite on Boot, Automatically check for updates, etc.
Download & price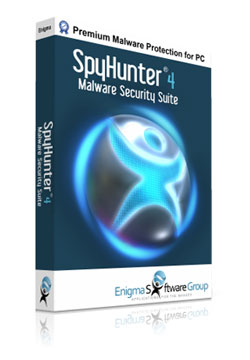 SpyHunter 4 program could be downloaded and installed on a Windows (all versions from Win XP to Windows 10 – 64 or 32-bit) powered desktop computer or laptop. No Mac OS X (or other main OS) version of the software is currently available.
Users could download the free scanner of the software to detect any malware on their systems. But in order to remove any detected items they need to buy the full version of the software for $39.99.
This antispyware program requires minimum system requirements (256MB RAM, 1GHz CPU and 75MB disk space) for installation and run.
Customer support
The Enigma Software Group provides a great support for its SpyHunter customers: a one-on-one and interactive solution for customer support or "Spyware Helpdesk". Any issues not solvable automatically by the software itself could be handled by this help solution. Two separate systems are included in this interface which is completely free to use for customers: Custom Fix System and SpyHunter Support Ticket System.
Other great products made by Enigma Software company includes System Medic (system performance optimizer) and RegHunter (registry errors remover and repair). See the official website at enigmasoftware.com to learn more details.