Ontraport Review & Pricing
Ontraport (formerly called Office Autopilot) is a comprehensive and complete software for small businesses and startups which want to automate and improve sales and marketing processes. The software is made by a company with the same name, located in Santa Barbara, California.
Ontraport combines powerful email marketing tools with CRM (customer relationship management) software features, resulting in an all-in-one solution that fulfills the needs of entrepreneurs and small business owners, while being easy to learn and user-friendly at the same time.
Among several other honors and acknowledgements, in 2014, Ontraport gained no. 71 position on Forbes "America's Most Promising Companies."
Features
Ontraport software offers more than what you get from email marketing and autoresponding services such as MailChimp or AWeber. And although some of its functions and tasks could be accomplished through other great CRM softwares and systems, but none of those provide an integrated system like Ontraport that could offer so many useful features in an easy-to-use manner.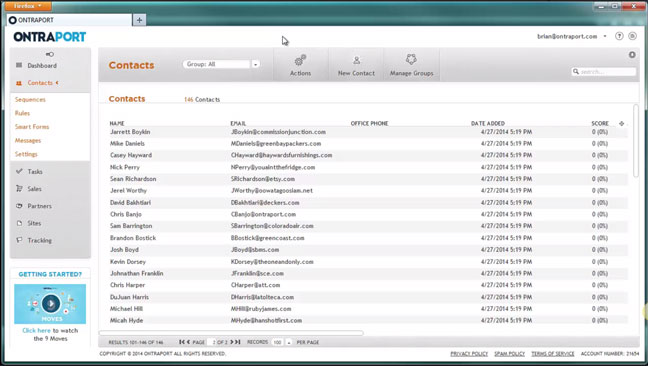 Content management: providing online publishing tools which help to have an online presence in no time, the platform enables users to easily build responsive landing pages, and customize it as they like using an enhanced editor. So no need to worry about extra costs of website development and design if the purpose is as quick and simple as a lead capture. Tracking website visits and actions is also possible.
Marketing: Ontraport offers a powerful marketing tool which could be used across different channels including: email, social media, SMS and even direct mail.
Email marketing together with all of its advanced tools and options is what many users think is the core service of Ontraport. And the potential of this to increase your business's income is very great because of many reasons such as its high email delivery rates and the ability to resend emails to those who didn't open them in the first time.
Payment processing: a complete set of payment services let you create and customize order forms and put them wherever you want, accept different payment methods such as PayPal, credit cards or over the phone payment, enable various payment plans and options such as paid or free trials, recurring billings, customize tax and shipping settings, following up abandoned shopping carts, define coupon/discount codes, etc.
Automation: task automation which is done through if/then rules is where the true power of Ontraport is shown. Using items from drop-down menus to create rules, you could easily automate anything in your online business from changing information of contacts records to scheduling emails and sending postcards. No programming or coding knowledge is required at all.
Affiliate management: affiliates are like cheap sales force which could help increase your online sales and promote your brand. Take advantage of this software's affiliate management system to set up your own affiliate program. Track everything from visits, clicks, sales, refunds, etc. on your end, while giving your partners helpful reports and tools needed to improve their side of the business. It supports different commission plans and affiliate types, and tier 2 commissions as well.
Membership sites: using Ontraport to build membership based websites is very easy. In addition to be quickly customized, they could be used to sell physical or online products. It's also possible to define numerous membership plans with upgrade options.
WordPress plugin and integration: with Ontraport plugin for WordPress (called PilotPress) you could add the power of this great platform to your WordPress website. There are lots of possibilities: creating a customer center for subscriptions and sales management, building a membership site or an affiliate network, integrating forms, and so on.
Split testing: improve visits and sales metrics by conducting different split or A/B testing on landing pages, forms, emails, etc.
Mobile app: users with Android or Apple iOS devices could login to their Ontraport accounts to view, add, and edit contacts, send SMS or email, manage sequences and tags, etc.
API and integration: Ontraport software comes with an API and integrations with more than thirty partners like PayPal, 1ShoppingCart, Quickbooks, WordPress, GoToWebinar, WorldPay, ClickBank, Wistia and FaceBook.
Ontraport pricing
When signing up for Ontraport you'll be offered two packages:
Pro – costs $297 per month for 2 users / 25,000 contacts / 100,000 emails
Team – costs $597 per month for 10 users / 100,000 contacts / 100,000 emails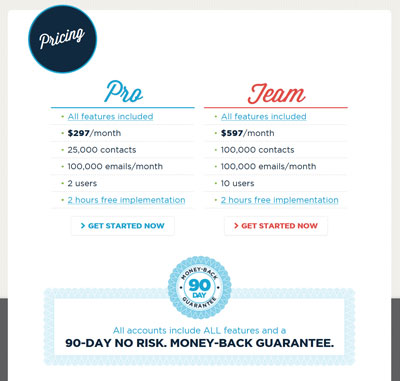 The costs for an additional user or 100,000 email credits are $47 and $99 per month respectively.
Both plans include all features and tools. There are no extra setup fees, and no matter which package you choose, you'll also get two hours of free sessions with Ontraport specialists – should be scheduled within 3 months after sign up – to set up your account.
Although they don't offer a free trial, but you could request for a demo on their website in case you want to see the software in action before making a purchase.
Ontraport vs Infusionsoft
There are several alternatives to Ontraport including HubSpot, Marketo, Salesforce, etc. with each having many features similar to this software and lacking some, but the one with the most similarity is Infusionsoft. So let's make a quick comparison between the features and benefits of these two applications.
In terms of prices and costs, Ontraport is much more affordable. Say, for example, you have 10,000 contacts and need to send them totally 50,000 emails per month. If you want to sign up with Infusionsoft you should choose the "Complete" plan which will cost you $379/month plus a onetime $1,999 setup fee. But with Ontraport you need to select the "Pro" package with a $297/month price tag with no additional costs. And this was just an assumption with average numbers. In more extreme cases the difference is much greater.
Besides that, with Ontraport you get all the features with both packages, while with Infusionsoft, even with higher plans, it's still required to purchase some extra add-ons to get the same options.
On the other hand, Ontraport have integrations with only about 30 services, apps and software, whereas Infusionsoft provides integrating with around 350 different partners.
Customer support
Companies that offer great support services are really hard to find these days. Ontraport is one of these companies, meaning that it really supports their clients and cares about their businesses. The support team could be contacted through phone, chat or email. There is also a forum section where users could ask their questions. And if that's still not enough, you could ask the "Concierge Services" team to do any task – such as setting up a landing page, or designing and sending out an email – on your account.
Online videos on their website and the knowledge base section are great training sources as well.